The Korean drama industry has seen a surge in the international craze. In 2020, amid the pandemic, many resorted to exploring K-dramas and movies. After Bong Joon's Ho sweep at Oscars 2020 with the movie Parasite, there's been a rising interest in movies and television. From beautiful romantic comedies to thrilling dramas to feel-good slice of life shows, they have something for everyone. The Korean language shows are limited in their episodes but the story arc takes the audience through a journey of emotions. "Once you overcome the one-inch tall barrier of subtitles, you will be introduced to so many more amazing films," Bong Joon Ho said at Golden Globes 2020. In the case of Korean languages, it takes minimal effort to get through the barrier of subtitles.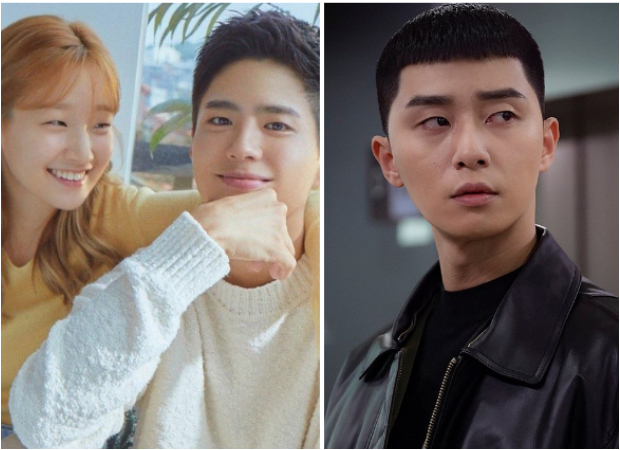 Bollywood Hungama has curated a list of 20 Korean dramas that released in 2020 that were very highly addicting and must-watch for all the K-drama enthusiasts in 2021.
THE WORLD OF THE MARRIED
Adapted from the UK series Doctor Foster that aired on BBC One in 2015, this series swept the ratings by storm and surpassed the 2018 drama Sky Castle's viewing record. Led by Kim Hee-ae, Park Hae-Joon, and Han So-hee, the series received tremendous praise for the incredibly talented cast and brilliant performances. It revolved around a married couple and how circumstances lead to whirlwind intense drama. It tackled the issues of infidelity, failed relationships, betrayal. Mo Wan-il won Best Director and Kim Hee-ae bagged Best Actress at the 56th Baeksang Arts Awards.
IT'S OKAY TO BE NOT OKAY
Starring Kim Soo-Hyun and Seo Ye-Ji, the series marked the return of the lead actor after he completed his mandatory military service. He filmed two cameos - Hotel Del Luna and Crash Landing On You - before finalizing his comeback drama. The series followed the story of the romance between a children's book author who has an anti-social disorder, a man who works at a psychiatric hospital, and his brother. The not-so-usual romance, unlikely friendships, relationships lead to discussions on mental health, discovering themselves as they try to heal their emotional and psychological wounds. The romance, the brotherhood, and re-discovering yourself truly made this K-drama one of the best ones in 2020.
KINGDOM (SEASON 2)
It was Netflix's first original Korean series that premiered in January 2019. Season 2 premiered in March 2020 and it took the series to a different level altogether. The political period horror thriller, set in Korea's Joseon period, has been adapted from the webcomic series The Kingdom of the Gods. Season 2 centered around the King's rise and how a mysterious plague began to spread. To save his people, the Prince had to face the new enemies who were plotting an evil scheme. Written by Kim Eun-hee and directed by Kim Seong-hun, the series stars Ju Ji-hoon, Ryu Seung-ryong, Bae Doona, Kim Sang-ho, Kim Sung-kyu among others.
ITAEWON CLASS
The series marked the return of lead actor Park Seo Joon on Television after his popular series, What's Wrong With Secretary Kim. Starring alongside Kim Da-mi, Yoo Jae-Myung, and Kwon Nara, the series revolves around Park Sae-Royi whose life goes through a tumultuous journey after his father is killed in an accident. He gets expelled from the school and his revenge results in him ending up in jail. The ex-convict, following in his father's footsteps, opens his bar-restaurant DanBam (Honey Night) in Itaewon along with his friends as he strives for success while fighting the battle against a food conglomerate. The Original Soundtrack included music from Gaho and BTS member V as the album became quite popular.
HOSPITAL PLAYLIST
Starring Jo Jung-suk, Yoo Yeon-Seok, Jung Kyung-ho, Kim Dae-Myung, and Jeon Mi-do, the series tells the stories of five doctors and the residents who work at Yulje Medical Center. The doctors, who are working in different positions in the hospital, are friends since they entered medical school in 1999. The supporting cast also became widely popular as the first season left the audience with several unanswered questions. It is truly a feel-good slice-of-life drama that talks about friendships, love, work-life, and relationships. It has already been renewed for season 2 and filming will begin in 2021.
STRANGER (SEASON 2)
Returning after the 2017 premiere, Season 2 unfolds the story of the prosecutor's office and the police who find themselves on opposing sides. The prosecutors, including elite prosecutor Woo Tae-Ha (Choi Moo-Sung), want discretionary power over investigations. Meanwhile, the police, including Choi Bit (Jeon Hye-Ji), try to get the complete investigative authority that is independent of the prosecutor's office. Under this tense situation, Prosecutor Hwang Shi-Mok (Cho Seung-Woo) and Detective Han Yeo-Jin (Bae Doo-Na) chase after the truth in a hidden case.
NOBODY KNOWS
It is easily one of the best thrillers of the year. Cha Young-Jin (Kim Seo-Hyung) is a detective. She lost her friend 19 years ago to a serial killer. Cha Young-Jin still carries guilt and trauma over the death of her friend. Cha Young-Jin chases the serial killer after 19 years as the case reopens.
TELL ME WHAT YOU SAW
According to Viki, the eccentric but genial Oh Hyun Jae (Jang Hyuk) is a shadow of his former self. In his heyday, he was a peerless criminal profiler with phenomenal powers of deduction – the prize of the police force. His world was shattered when a bomb planted by a serial killer took the life of his young fiancée. Oh responded by cutting himself off from the rest of the world, determined to live out the rest of his life in isolation. But when a serial killer who the police thought had died long ago returns to terrorize the city, the police force is desperate and needs urgent help. A rising star of the police force, Hwang Hwa Young (Jin Seo Yun), resolves to outwit the killer. To do so, she decides to team up with both Oh and a remarkable rookie cop – Cha Soo Young (Choi Sooyoung), whose photographic memory may prove to be a powerful crime-fighting weapon. Can the unlikely trio really work together? Does Oh still have his genius-level skills? And will the crime-busters stop the deadly killer from carrying out his gruesome plans?
CRASH LANDING ON YOU
One of the most popular romance dramas of the year! Yoon Se-Ri (Son Ye-Jin) is an heiress to a conglomerate in South Korea. A paragliding accident caused by strong winds leads Yoon Se-Ri to make an emergency landing in North Korea. There, she meets Ri Jeong-Hyeok (Hyun-Bin), who is a North Korean army officer. He tries to protect her and hide her so that she doesn't get caught with the help of his juniours. Soon, Ri Jeong-Hyeok falls in love with Yoon Se-Ri. The romance drama made people around the world fall in love with the lead actors and the supporting cast.
DR. ROMANTIC 2
Teacher Kim Boo Yong-Joo (Han Suk-Kyu) calls himself Dr. Romantic. He is a quirky doctor who does not like to socialize with others. He runs a not-so-popular clinic Doldam in the countryside. A smart and confident Cha Eun-Jae (Lee Sung-Kyung) is a second-year resident for surgery who has hardly experienced failure. An excellent protegee Seo Woo-Jin (Ahn Hyo-Seop) is a second-year fellow for surgery. His personality is cynical since he has faced a tumultuous journey in the past. Circumstances make ex-college mates Cha Eun-Jae and Seo Woo-Jin come to Teacher Kim's hospital where they grow as humans and doctors.
HYENA
Kim Hye‑soo returns to the Television world with a gripping drama. It is a story of two rival attorneys Yoon Hee-Jae (Ju Ji‑hoon) and Jung Geum-Ja (Kim Hye‑soo) who work in a highly competitive environment and tear apart anything that stands in the way of their ambitious goals.
HI BYE, MAMA!
Cha Yu-Ri (Kim Tae-Hee) is a ghost mom who has been silently watching her daughter grow up for the past 5 years is reincarnated — for just 49 days. She sees her husband Jo Kang-Hwa and their child. Will she be able to stay on earth and regain her place with her husband and daughter?  The series stars Lee Kyoo-hyung and Go Bo-gyeol.
RUGAL
An elite detective Kang Ki-Beom (Choi Jin-Hyuk) is busy with the investigation of the criminal organization Argos. During this, he loses everything and everyone he holds dear to him. Asa result, Kang Ki-Beom and the Rugal team set out to take down criminal organizations. Based on the webtoon of the same name by Rel, the drama stars Choi Jin-hyuk, Park Sung-woong, Jo Dong-hyuk, Jung Hye-in, Kim Min-sang, Han Ji-wan, and Park Sun-ho.
FLOWER OF EVIL
The suspense drama sees a man hiding his past life from his family and changes his identity until his police officer wife tracks a past case and uncovers the hidden truth. And so begins the game of chase. It's one of the best and unpredictable dramas of the year starring Lee Joon Gi and Moon Chae Won in the lead roles.
EXTRACURRICULAR
The original Netflix series follows the story of a gifted high school student Oh Ji-soo (Kim Dong-hee) who turns to a life of crime to ensure he can pay for college. Directed by Kim Jin-min, it stars Kim Dong-hee, Jung Da-bin, Park Ju-hyun, Nam Yoon-soo, Choi Min-soo, Park Hyuk-kwon, and Kim Yeo-jin.
MYSTIC POP UP BAR
At this mysterious late-night food cart run by an equally mysterious woman and her part-timer, customers are provided a space for respite and counseling through their dreams. But most importantly, everyone here is treated equally—living or dead. Based on a popular webtoon Twin Tops Bar by Bae Hye-soo, the fantasy drama stars Hwang Jung-eum, Yook Sung-jae, and Choi Won-young.
MEMORIST
Based on the 2016–2018 Daum webtoon, it follows the story of a man Dong Baek who has remarkable powers and the ability to dive into someone's memories! He becomes a detective due to his powers and is gung-ho about his cases. In the search for a new one, he encounters a mysterious serial murder case.
WHEN MY LOVE BLOOMS
Han Jae-hyun (Yoo Ji-tae) and Yoon Ji-soo (Lee Bo-young) were each other's first love in college but due to circumstances they now lead different lives in their 40s. He is a businessman while she is a single mother who has part-time jobs. They meet again after twenty years and the past feelings come rushing back into their lives.  The young couple is played by Jinyoung of popular K-pop group GOT7 and Jeon So‑nee. A slice-of-life romance drama set in two timelines.
WHEN THE WEATHER IS NICE
A slice of life drama revolves around a young Mok Hae‑won (Park Min‑young) who moves back to her hometown after facing hardships in Seoul. She reunites with her childhood friend Im Eun‑seob (Seo Kang‑joon) who now runs a local bookshop. The romance between the two unfolds as they begin to explore their relationship slowly and steadily.
THE GOOD DETECTIVE
A good crime drama is always a must-watch. The story is set in Incheon, South Korea, where Kang Do-Chang (Son Hyun-Joo) and Oh Ji-Hyeok (Jang Seung-Jo) team up to discover a very important case. Their camaraderie on screen is so good that it adds so much thrill to the episodes.
RECORD OF YOUTH
Actor Park Bo-gum, before he enlisted in the military for his mandatory service in South Korea, filmed this series.  The story follows the lives of three friends Sa Hye-Jun (Park Bo-Gum), Won Hae-Hyo (Byeon Woo-Seok), Kim Jin-U (Kwon Soo-Hyun) working towards making their dreams come true. While the former two are renowned faces in the modeling industry and aspiring actors, the latter is an aspiring photographer. Meanwhile, An Jeong-Ha (Park So-Dam) works as a make-up artist who wants to open her own studio. They strive to achieve their dreams and love without despair. What made this show so popular was how it deep dived into the reality of the lives of people in the entertainment industry, the struggles, and the baggage that comes with fame. The supporting cast is quite memorable and adds a lot of emotion to the story. Park So-dam makes her return to the television world after a phenomenal year with Oscar-winning film Parasite.
START-UP
Set in the fictional world of South Korea's Silicon Valley called SandBox, the story revolves around Seo Dal-mi who drops out of university to work multiple jobs in order to help her grandmother (Kim Hae-Sook). Her goal is to become someone like Steve Jobs but doesn't have her ideas set it. Nam Do-San is the founder of Samsan Tech. A developer by profession, he started the company with two of his best friends Kim Yong-San (Kim Do-Wan) and Lee Chul-San (Yoo Su-bin) but the company is not doing well. His dream to find an investor and hopefully enter Sandbox. Han Ji-pyeong (Kim Seon-ho) is the team leader at a company called SH Venture Capital, is known for his investment skills in start-up companies, and is quite honest about his opinions. Won In-jae (Kang Han-na) is Seo Dal-mi's older sister and due to circumstances, they are separated.
Now, in the world of tech, they are competing with each other. All of their lives are intertwined as the lead trio also become romantically involved. Starring Bae Suzy, Nam Joo-hyuk, Kim Seon-ho, and Kang Han-na, the story of this series revolves around the four pivotal characters and the people related to them who are trying to move ahead in their lives and achieve their goals.
The PENTHOUSE: WAR IN LIFE
The over the top drama is the best one bringing so many memorable moments! It is par excellence showcasing the lives of uber-rich residents of Hera Palace, a luxury penthouse apartment with 100 floors, who have a lot of secrets and hidden ambitions. The dialogue delivery, the melodramatic moments will remind you of old-school shows. It is a huge hit already raking in huge viewership. While it is still on the air, it has received a rare two-season renewal. It stars Lee Ji Ah, Kim So Yeon, Eugene, Uhm Ki Joon, Park Eun Seok, and Yoon Jong Hoon among others.
THE UNCANNY COUNTER
One of the late surprises of this year is this superhero action drama. Based on the Daum webtoon Amazing Rumor by Jang Yi, the workers in this drama are noodle shop owners by day and demon hunters by night. The terrific storytelling of this fantasy drama is easily one of the finest. The drama stars Jo Byung-gyu, Yoo Jun-sang, Kim Se-jeong and Yeom Hye-ran.
TRUE BEAUTY
While the series is currently airing, the teen rom-com is based on the long-running webtoon with the same name. It deals with past trauma, unrealistic beauty standards, mental health, dysfunctional family apart from the focus on the love triangle between Im Joo Kyung (Moon Ga Young), Lee Su Ho (Cha Eun Woo) and Han Seo-joon (Hwang In Yeob).
BOLLYWOOD NEWS - LIVE UPDATES
Catch us for latest Bollywood News, New Bollywood Movies update, Box office collection, New Movies Release , Bollywood News Hindi, Entertainment News, Bollywood Live News Today & upcoming movies 2021 and stay updated with latest hindi movies only on Bollywood Hungama.