Bhool Bhulaiyaa (2007) is remembered today for many reasons, be it the super-hit song 'Hare Ram Hare Krishna', humour or the unforgettable and thrilling climax. The performances of many actors were memorable from Akshay Kumar to Rajpal Yadav to Vidya Balan. But there's one more actor who left a huge mark – Jimit Trivedi. His scenes with Akshay Kumar were a highlight and we are not surprised when he told us that even today, people address him as 'Goti' as Kumar calls him in the movie.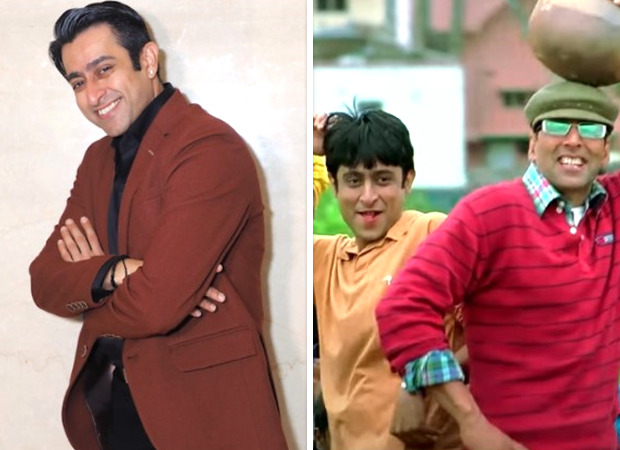 15 Years Of Bhool Bhulaiyaa EXCLUSIVE: Jimit Trivedi says he's still called 'Goti' by fans; reveals he was offered Millimeter's role in 3 Idiots and Rajpal Yadav's role in Waqt
As Bhool Bhulaiyaa completed 15 years on October 12, Bollywood Hungama exclusively spoke to Jimit Trivedi about the film, working with Akshay Kumar and a lot more.
Did you know that Bhool Bhulaiyaa has completed 15 years?
No. Thank you for reminding me. I am not active on social media for a long time. That's why I had no idea. Otherwise, I would have known after seeing people tagging me in the anniversary posts.
How did you bag the role?
It's a long story. I was doing a play called Ba E Mari Boundary. It served as the turning point in my career and was a huge hit. A very close friend of mine, Naushil Mehta, who's also a writer, called to tell me that we have to do a play for the Prithvi Theatre Festival. The name of the play was 'Hu Tane Gamu Chu?'. Prithvi Theatre is an actor's playground. It always gives you creative satisfaction and so, I readily agreed. I was in Rajkot and we adjusted the dates. It was a Wednesday and the show was scheduled to be held on Sunday. I had just 1 ½ days to prepare. It had just two characters and was about their journey from the ages of 10 to 70. We were given to freedom to experiment. So we went all out and decided to essay as many as seven characters. We also incorporated the 2006 Mumbai train blasts track. When it was staged at Prithvi Theatre, viewers loved it. On the second day, I learnt that Neeraj Vora is the play's producer. Until then, I was unaware! I was so consumed by the creative satisfaction I was getting that I didn't even bother to enquire who was producing the play, how much will I be paid, etc (laughs).
Nausheel Mehta introduced me to Neeraj Vora. A month later, he called me to inform me that there was a role for me in a Priyadarshan film. He asked me whether I'll be interested to do it. For me, it was a very big thing as working in Hindi films was a dream. I was like, 'Neki aur pooch pooch'! I instantly gave my nod. So it's all thanks to Neeraj Vora that I got an entry into Bollywood. If not for him, I don't know how I would have managed to enter the industry.
Neeraj Vora told the makers, 'Yeh waala role yehi ladka karega'. Neeraj Vora then narrated to me the story and explained to me my characters and my scenes with Akshay Kumar. He assured me that I'll enjoy it. And he was so right. Film kab shuru hui aur kab khatam hui, mujhe pata bhi nahin chala. The rest is history. People still remember me as 'Goti' (smiles)!
For how many days did you shoot for Bhool Bhulaiyaa?
I shot for 40 days.
How was it to work with Akshay Kumar?
It was superb. I was amazed to see that he was so professional and grounded. He's quite the pro at understanding the technicalities of filmmaking. For me, it was a new world. I had seen film stars on the big screen. Seeing them in front of me was a surreal experience.
I won't say I was conscious or nervous but I was very alert. And the shoot happened in a very disciplined manner thanks to Priyadarshan sir. The shooting used to begin and end dot on time as per the plan.
And Akshay sir made me very comfortable. Even today, when we meet, he greets me very warmly. I remember he had come to see my play with Paresh Rawal sir called Kishan v/s Kanhaiya. I played Lord Krishna in this play and Akshay sir played the same role in OMG Oh My God (2012). He met me and joked with me. He told me, 'Main tera role karne waala hoon'. I also meet him on the sets of OMG Oh My God. He was so chilled out. He must be meeting so many people. Yet, he remembers me and whenever he sees me, he'll call me and talk to me. Otherwise, after so many years, several stars might pretend to not recognize you. He's not like that at all. Hence, I have the deepest respect for him.
You feature in the song 'Allah Hafiz' along with Akshay Kumar. You both are seeing dancing on the bus and in the boat. Was there any memorable experience or accident that occurred while shooting this song?
No. Frankly, I had no idea that there was going to be a song featuring me in the film! I assumed the shoot is over. But one day, the production team informed me to report for the song shoot. Again, I had zero idea about how a song is filmed. That also proved to be a new experience for me. And as you said, we shot atop the bus and in the boat. It was a fun experience. Anyway, Akshay Kumar was doing most of the dancing. I was just following him!
You were not present in the film's climax. Were any of your scenes cut at the editing table?
No, nothing was cut. But maybe, the makers had more scenes featuring me which were not shot. So what happened was that Akshay Kumar had completed the promotions of Heyy Babyy in London and had flown down to Jaipur. This was a time when I was doing a daily soap as well as a play. In the morning, I completed the shoot of the serial and later, also did two performances of the play. The next day, I flew to Jaipur for Bhool Bhulaiyaa's shoot. By the time I returned, I was dead due to exhaustion. I had to be taken in a wheelchair as I was diagnosed with mumps. I had no energy at all. For a week, I was completely bedridden. I was constantly in touch with Priyadarshan sir and his assistants. Realizing that flying back to Jaipur is not possible for me, they created sets in Mumbai. So, the scenes where I jump into the water, the 'Goti' scene and even the sequence where Akshay and I pee together were all shot in Mumbai. Maybe, if the shooting had happened in Jaipur, they might have added a few more scenes of mine.
Did you visit cinema halls to check the audience's reaction?
Yes, I did. From my family, I was the first one to come on the big screen! So all of us had gone together to watch the movie. We were a group of 50! I remember I was watching the film and also paying attention to the reactions of my family members and that of the audience in the hall. I was constantly interacting with my group and my mind was diverted. I was thinking if I am looking fine in the film. Kyunki pehli baar maine apne aap ko screen pe dekha tha! A lot of such thoughts were going through my mind. Due to these reasons, I couldn't see the film properly. And it's been 15 years and till date, I have not watched the film in one go, from start to finish.
But I got a lot of love and it continues even today. A lot of memes of my scenes are going around on social media. Someday, I'll sit down and watch the film.
Did you get more offers from Bollywood?
I was offered a role in 3 Idiots (2009). I got a call from Rajkumar Hirani. It was the role of the boy who irons clothes in the hostel.
That was the character named Millimeter…
I don't remember the name of the character. But I was offered that part. Then, before Bhool Bhulaiyaa, I was called for Rajpal Yadav's role in Vipul Shah's Waqt – The Race Against Time (2005). However, due to various reasons, I couldn't do these films. Nevertheless, the filmmakers started calling me for work as they had noticed me. And that was bound to happen as it was a big film, starring Akshay sir. People also enjoyed it a lot. At that time, I didn't know about PR as I was new.
After the release of Bhool Bhulaiyaa, did people on the streets started addressing you as 'Goti'?
It still happens! Wherever I go, I am called 'Goti'. People know me as 'Goti' (and not by my real name).
And do you mind?
Not really. Initially, it was a bit awkward obviously to be addressed as 'Goti' by people. And some admirers tend to cross the line too. But being actors, we can't react to it. Or else, it can result in negative publicity. I guess I had to pay the price for being famous. I paid the price and am still getting the returns (smiles). I later came to terms with it as I realized ki log pyaar se 'Goti' bula rahe hai.
What are your upcoming projects?
My next Gujarati film will go on floors soon. Apart from that, I have finished working on a Hindi web series. It'll be out next year.
You started your acting journey by working in plays. Would you like to get back on the stage?
In 2019, I had done a comeback play after 8 years, called Aane Bhi Do Yaaro. Iccha toh bahut hai. But it's tough to accommodate a play, along with my other projects. Hopefully, I'll do one soon in near future.
BOLLYWOOD NEWS - LIVE UPDATES
Catch us for latest Bollywood News, New Bollywood Movies update, Box office collection, New Movies Release , Bollywood News Hindi, Entertainment News, Bollywood Live News Today & Upcoming Movies 2023 and stay updated with latest hindi movies only on Bollywood Hungama.