10 years ago, Singham released on this day and Bollywood was never the same again. It came post Salman Khan-starrer Wanted (2009) and Dabangg (2010) had released and had revived the masala genre in Bollywood. But Singham took it one step ahead. With its power packed writing, performances, execution, action and drama, Singham turned out to be an absolutely enjoyable fare. The super-success of the film motivated actor Ajay Devgn and director Rohit Shetty to come up with a sequel, Singham Returns (2014). If that wasn't enough, Rohit spun a cop universe and brought two more cops in the franchise – Simmba (featuring Ranveer Singh) and Sooryavanshi (featuring Akshay Kumar).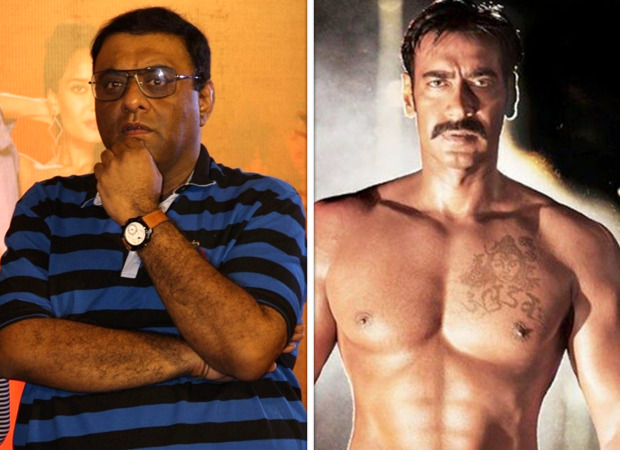 Singham rocked in all departments but the dialogues by Sajid-Farhad are remembered even today. 'Aata Majhi Satakli' became a catchphrase and is already on the list of iconic dialogues of Bollywood, alongside 'Kitne Aadmi The' and 'Mogambo Khush Hua'! As Singham turns 10, Bollywood Hungama spoke exclusively to Sajid Samji on the film's dialogues and a lot more.
Did you remember that Singham was completing 10 years?
Of course. Kaun bhool sakta hai? It was a life-changing experience, not only for the writers but also for Rohit Shetty. Everyone believed that he can only make comedy films. But after Singham, it became clear that he can make any kind of cinema. Honestly, while making the film, we were all sh*t scared.
Why was that?
Arre suddenly from Golmaal kind of films, we jumped onto dialoguebaazi and drama space. Hum pange le rahe the. Jo bus sahi road pe chal rahi hai, uss bus ko kacche raaste se le ke jaane lage.
What was the process like while working with Rohit Shetty on Singham? This was the first time you all were working on a film that was not a laugh-a-minute-riot…
When we saw the original film, we realized ki hero ka character bada kamaal ka hai. But the villain was also important. And to do justice to him, strong dialogues were required. So we all concluded that this time, we'll keep humour aside and focus on drama. So it was a challenge. But kuch cheezein banayi nahi jaati, ban jaati hai. Singham is one such film.
Was Ajay Devgn always the first choice for the role of Bajirao Singham?
He was absolutely the first choice. He had also worked a lot on his body for Singham. Who can forget his entry shot when he comes out of the water? Toh Ajay bhai ne solid mehnat ki thi film ke liye. So both he and Prakash Raj were the original choices.
Did you ever imagine that 'Aata Majhi Satakli' would become a rage?
Not at all! Believe me, humein pata nahi tha ki itna bada impact hoga uska. Even Salim-Javed have said that when they wrote Sholay (1975), they never imagined that 'Kitne Aadmi The?' would become immortal. But the character, the situation and the scene were such that the dialogue enhanced the impact. Something similar happened with 'Aata Majhi Satakli'. Even kids loved it so much. Then the song on this dialogue in Singham Returns pushed it further.
An interesting and underrated character in the film was that of Anant Jog. The way he said 'Nonsense' was very funny. Was that inspired by any real-life person?
Well, it came from the writing department. But it was not inspired by any character. Woh trait likhte likhte paida ho gaya.
The scene where Singham and Jaykant Shikre (Prakash Raj) meet for the first time was terrific, especially the 'Abhi Ke Abhi' dialogue…
I don't deny that the writers play an important role. But the way this particular shot was shot…I mean Rohit Shetty was at his best. The idea of the film was that Jaykant Shikre gets humiliated. But the way he executed it, the scene went on another level.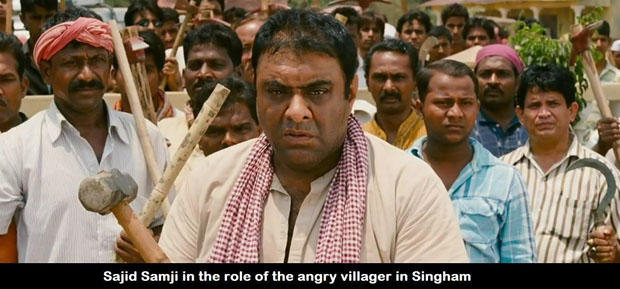 You had even acted in this scene as the angry villager
Yes. I had to break the glass of the car. And mera haath bhi kat gaya tha. I began to bleed. There was panic on the set. Rohit Shetty himself jumped from his seat. He stopped the bleeding on my finger within 2 seconds by applying gum. I didn't know even know that you can stop the bleeding through glue. Rohit Shetty is an expert when it comes to such things. People on the set were saying that I would need stitches. But Rohit Shetty ended the matter with the gum!
The original film was different, especially towards the end…
The credit for it goes to our screenplay writer Yunus Sajawal and director Rohit Shetty. Rohit got the idea of the track of the widow and her son. And that was the soul of the film. We also changed the end and yes, the writing deserves credit for that.
Were you and Farhad present during the shoot of Singham?
There was no film of Rohit Shetty, written by us, where we have not been present on the sets. The dialogue writer usually doesn't need to be present. But agar 100 din ka shoot hai, toh hum 100 din set pe rehte the. It used to be tiring as it was hot. But the experience we got from being on the set helped us direct films. That was like our film school. Without this experience, we wouldn't have been able to direct our films.
How long did it take for you and Farhad to write the dialogues?
I have never said this before. A lot of people read the dialogues and appreciated them. They felt that we must have taken a long time to write. But aapko andar ki baat batau? Farhad and I wrote the dialogues of Singham in just 12 days! But the situations and characters were so clear that we could work fast.
How was it to work with Ajay Devgn? What kind of equation do you guys have with him?
With Ajay, we have done around 10 films. Who itne ghar ke ho gaye na ki unke reaction hi samaj mein nahi aate. Sometimes you feel ki yeh taareef kyun nahi kar rahe? But then you realize that we are doing so many films with him. So it was a case of ghar ki murghi daal barabar. And anyway, he's not that expressive. He won't hug you and tell you that you have written very well. He'd just smile a bit and that means a lot. Baaki unki jo aankhon mein intensity hai, woh real life mein bhi barkaraar hai. He does pranks as well sometimes. I am sure he loved our work and that's why he worked with us again and again. In short, Ajay bhai has been very chilled and has always been supportive. But thode kam expressive hai, yeh ek complaint hai meri!
Did you visit cinema halls to check audience reaction?
Oh yes. Tab toh Rohit Shetty 10-12 bodyguard leke nahi ghoomta tha. Hum hi uske bodyguards hote the! So we used to have a fixed plan. We were a team of 20 people and we used to go to Gaiety-Galaxy in 3 cars. When the first day third show would start, we'd quietly go to the balcony to gauge the reaction. This used to be a great experience, to see something that you wrote is creating frenzy among audiences.
What kind of feedback did you and Farhad get for writing dialogues in Singham?
Farhad and I have written around 40-45 films. Singham is the only film that was nominated in every award for Best Dialogues. Sadly, we didn't win a single award. The Dirty Picture won in the Best Dialogue category that year. But Prakash Raj did win many awards. And whenever he went on the stage, he thanked and credited us along with Rohit Shetty. He's the only actor to do so. I have the recording of the shows even today. I even told him, "Bhai, aapne dil jeet liya".
Which is your favourite scene and dialogue from Singham?
Har scene kamaal ka hai. But 'Abhi Ke Abhi' for me was outstanding. This scene deserves to be stored in a library in film institutes. This scene neatly explains how a screenplay should be, how a villain's entry should be, how the dialoguebaazi should be, etc.
Also Read: Aalim Hakim takes charge of Ajay Devgn's new look; shares picture
BOLLYWOOD NEWS
Catch us for latest Bollywood News, New Bollywood Movies update, Box office collection, New Movies Release , Bollywood News Hindi, Entertainment News, Bollywood News Today & upcoming movies 2020 and stay updated with latest hindi movies only on Bollywood Hungama.