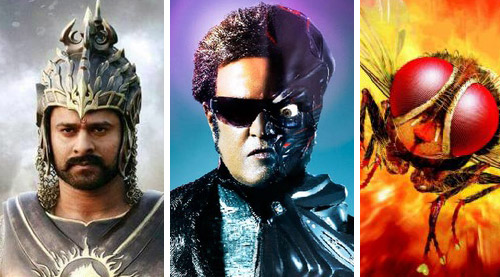 Bahubali-The Beginning, for me, is a perfect '10'. And why do I say that? For one, it is a complete film, not only balancing all elements like romance, action, comedy, drama, emotions and (for South Indians) music, but also the crucial elements of Entertainment, Intelligence and Emotional Quotients in the best measures needed to make it the 10th consecutive S.S. Rajamouli blockbuster.


The film shows how budgets and substance can be cannily combined into an audiovisual extravaganza that smashes conventional box-office assumptions and crosses all demographics.


Bahubali... is also the perfect tenth as a path-breaker film, for in less than three decades, South Indian cinema has given us nine other outstanding masterpieces. Not all have been Hindi successes-although some became cult films on television, but each has left an indelible impress upon the viewer, and about half have been true path-breakers.


Pushpak (1987/ Director: Singheetam Srinivasa Rao)

Though conceived and made as a silent movie, it was renamed for the pan-Indian market from its original title of Pushpak Vimana, or 'The Love Chariot'. In this dark comedy, an unemployed youth gets greedy and impersonating a rich man, only to find an assassin trailing him thinking that he is the tycoon!


Pushpak remains a comic masterpiece in which Kamal Haasan as the youth and Tinnu Anand as the bumbling killer take you through a laugh-riot. We saw Rao's point in making a silent film: the gestures elevate subtle humour to belly-aching hilarity.


Appu Raja (1990 / Singeetham Srinivasa Rao / Original in Tamil)

The Kamal Haasan-Singeetham team made a path-breaker yet again, with the Hindi version released a year after the original Apoorva Sagodharargal. An honest cop (Kamal) is murdered and his pregnant-with-twins wife poisoned. One of the kids born is thus a dwarf; the other becomes a car mechanic. The dwarf starts killing his father's murderers, and the mechanic is suspected! Both roles were again played by Kamal Haasan.


In the pre-digital era, it needed human ingenuity to 'create' the dwarf, like special shoes that fit Kamal's folded legs and supported him, and trenches that concealed the rest of his person for side-angle shots. The intensity of the revenge blended with breezy entertainment and Ilaiyaraja's tangy dubbed songs like 'Aaya Re Aaya Raja Ho Raja' and 'Raja Naam Mera' garnished the cinematic recipe.


It is said that the concept of the dwarf was given by co-writer Dinesh Shailendra, son of legendary Hindi lyricist Shailendra. Gouthami, the main heroine, went on to do several Hindi films, and finally, the film used the idea of siblings taking revenge from a 1949 Tamil film of the same name that also had been dubbed in Hindi!


Anjali (1991 / Mani Rathnam / Tamil)

Anand-Milind supervised the dubbing of the Ilaiyaraja songs (did that start the habit that finally undid the duo, we wonder?) for the Hindi version produced by Nitin Manmohan. A complicated tale about a cute, handicapped child, it barely made ripples in Hindi but won critical acclaim. The cuteness quotient compensated for a convoluted potboiler plot, and Mani's sensitive treatment won the day. A special word of praise was due for three year-old Baby Shamili, who played Anjali. Revathi, who made her Hindi debut later that year opposite Salman Khan in Love, technically appeared first here in a 'Hindi' film.


Mayor Saab (1991 / Director: Suresh Krissna / Telugu)

As Appu Raja heralded a trend of dubs, producer D. Rama Naidu entered the fray with this dub of his 1989 Indrudu Chandrudu, a plot adapted from overseas sources. An intelligently scripted thriller about a masquerade by a mental patient of a murdered mayor, the film did not work in Hindi but was a riveting entertainer that brought together Kamal Haasan and Vijaya Shanthi (who had just made a name in Eeshwar).


The ace up the film's sleeve, apart from Kamal, was the relentlessly crackerjack, often humorous screenplay. Director Suresh Krissna was lapped up for two Salman Khan films, Love and Jaagruti, but failed to make it big.


Roja (1993 / Mani Rathnam / Tamil)

No one realized what an impact the Hindi version of Roja, released a year after the original, and with the story set in terrorism-ridden Kashmir, would have on the nation. Pankaj Kapur hit it big with his role of a terrorist. Madhoo got another boost after her Hindi hit Phool Aur Kaante, and cameraman Santosh Sivan became a big name even in Mumbai.


Above all, Roja and its National award (for the Tamil original)-winning music by A.R. Rahman, went on to forever change the sound and direction of music in Hindi films. Hariharan, who was around in films since 1976, finally earned the label of a successful singer, and Shweta Shetty and Baba Sehgal made passing impacts. Yes, double-meaning songs had come in vogue then and 'Rukmani Rukmani' consolidated that trend too!


Bombay (1995 / Mani Rathnam / Tamil)

Emboldened by the success of Roja, Mani Ratnam explored communal riots in Mumbai, embedding a Hindu-Muslim love story into the political drama, for which Rahman again scored chartbusting music. Manisha Koirala, playing the Muslim girl, put in one of her finest portrayals, and further elevated her star status.


Sivaji-The Boss (2007 / Shankar / Tamil)

Shankar's films had been dubbed before as well (beginning with his only success, Humse Hai Muqabla, in 1995), but Rajnikanth's growing iconic status ensured that Sivaji has become a cult movie. It did limited business in Hindi in some pockets of the country then, but till date, it is one of the most repeated entertainers on TV. The universal theme of Rajnikanth triumphing over all evil is a hit even in Hindi, though Rajni never made it big in mainstream Mumbai.


Robot (2010 / Shankar / Tamil)

Shankar, Rajnikanth and their team designed this truly path-breaking science-fiction saga of a robot with human feelings-and failings. Love was obviously the catalyst and Rajni co-starred with Aishwarya Rai Bachchan in this spellbinding combination of technology (thousands of Rajnikanths were created by VFX in the climax) backing an emotional story. The script never faltered-not for a moment. As it happened, both Aishwarya and main villain Danny took a break after this film, while Rajnikanth has never got that level of success as yet.


Makkhi (2012 / S.S. Rajamouli / Telugu & Tamil)

So original and path-breaking was the concept and so intelligent its execution that Rajamouli went on to win not just national but also widespread international applause and awards. An evil and womanizing tycoon kills a man whom the object of his lust loves, but the young man is reborn as a fly, hence the original title Eega in Telugu and Naan Ee (I am a fly) in Tamil. The audacious premise of how a tiny fly successfully took revenge, also communicating to both his beloved and the villain who it actually was, was spellbindingly shown!


Makkhi is now popular movie on TV, even if it did not take off when it had a theatrical release in Hindi. All we can reveal is why Ajay Devgn promoted it then! Eega was the film that released with Ajay's hit Bol Bachchan and led to poor collections for his movie in Andhra Pradesh! A foxed Devgn watched the 'competition'-and was blown enough to lend (with wife Kajol) voiceovers for the Hindi version!
BOLLYWOOD NEWS
Catch us for latest Bollywood News, New Bollywood Movies update, Box office collection, New Movies Release , Bollywood News Hindi, Entertainment News, Bollywood News Today & upcoming movies 2020 and stay updated with latest hindi movies only on Bollywood Hungama.