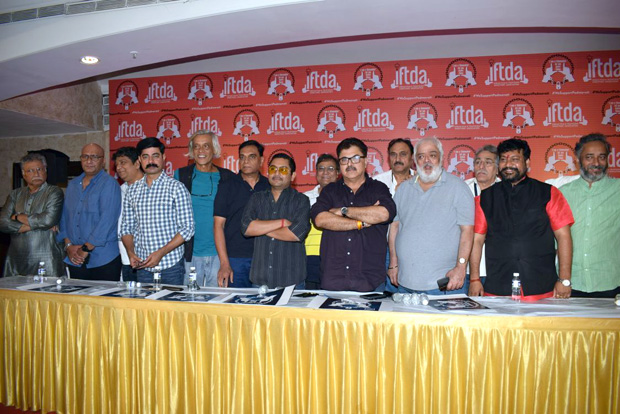 One of the highly anticipated films of the year is Sanjay Leela Bhansali's upcoming magnum opus project Padmavati starring Deepika Padukone as Rani Padmavati, Shahid Kapoor as Maha Rawal Ratan Singh and Ranveer Singh as Sultan Alauddin Khilji. The film has been in the headlines ever since it was first announced.
"Sanjay Leela Bhansali has been treated like someone who has no sense of responsibility," IFTDA supports Padmavati makers
But, soon the news took a drastic turn when Sanjay Leela Bhansali was assaulted by Rajput Karni Sena during their Jaipur shoot schedule, was slapped by one of their members and the film set was vandalized. Then, costumes and posters for the film were burnt in Kolhapur. Since then, threats are being made to the makers to show them the movie first before releasing it officially. In the wake of the on-going protests and rumours surrounding the film, Sanjay Leela Bhansali even released an official video of himself clarifying that there are no scenes between Padmavati and Alauddin Khilji.
On Monday evening, the Indian Film and TV Directors Association (IFTDA) held a press conference to extend support to the movie and its director Sanjay Leela Bhansali at Club Millenium in Mumbai. Every member of the fraternity took turns to show their support to the film and Bhansali and stood against the protestors.
Addressing the media, Askoke Pandit, President of the Indian Motion Pictures Producers' Association, said, "The reason for this press conference is because we are hurt. We have been abused, we have been accused and we have been treated like hoodlums. We are film-makers, we are creative people and we don't deserve to be treated like that. Every now and then we see our directors getting heckled; films are not allowed to get released."
Ashoke Pandit further added, "All the organizations are here today because we think it is important today to stand together and speak together that this is not what we are here for. And we don't deserve this kind of treatment. All the abuses, all the bad words that have been said for Bhansali are not only for him but to all the people who are in the creative fraternity."
Another member also added, "We, as an industry, have just gotten rid of the draconian censor board. Now, that we have new people with Smriti Irani and Prasoon Joshi, this new thing of people is curbing the rights of a filmmaker. As a filmmaker, Sanjay Leela Bhansali is entitled to tell a story. To tell a history in your way is not changing the history. Secondly, whether Padmavati is actually a chapter from history or is it folklore, nobody knows that. So, people make films, even history, when they make it you have to add some kind of element to it. The director has some kind of perception. I find it strange that some people object to films without even knowing what it is about."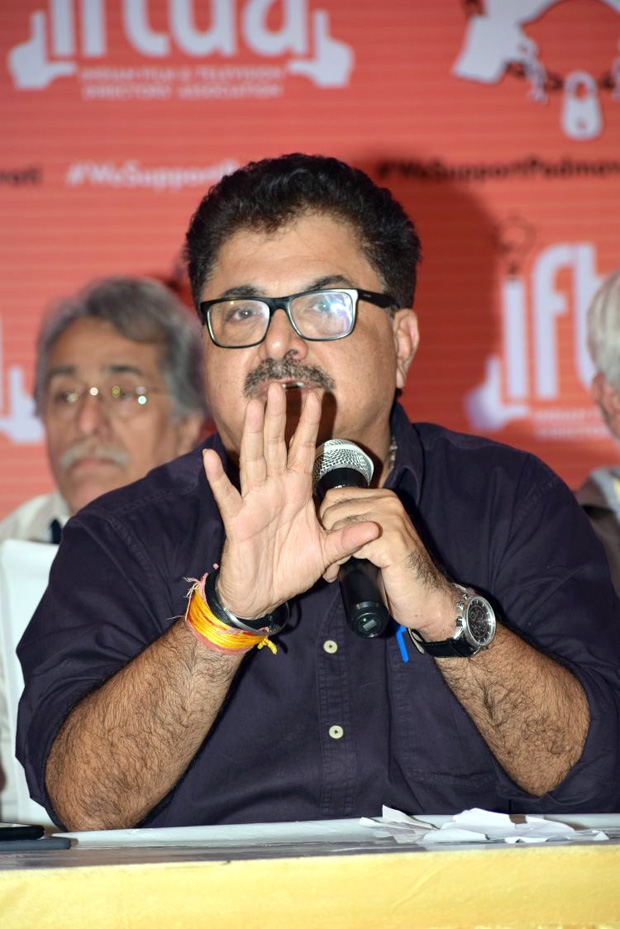 Actor Sushant Singh, too, came forward in support of Bhansali and said, "Sanjay Leela Bhansali has not asked us to hold this press conference but we are doing this as our duty which is to express and we are fighting for our freedom of expression."
Filmmaker Sudhir Mishra said, "The matter is absurd, nobody has seen the movie. Director, the producer, who is one established person, has already said that I have not done what you are accusing me of. Then, I do not understand why these extra-constitutional bodies are treating Bhansali like a petty hoodlum. Bhansali has been treated like someone who has no sense of responsibility; he has been treated like someone you can slap around."
Sudhir Mishra, further, revealed, "Bhansali will submit the movie to CBFC, a constitutional body who will pass the judgment. And we have someone like Prasoon Joshi, who is responsible and knows how to do work. This is an attack on freedom. The history is ours. You can disagree with me, write against me, but let the film release. You can stand 500 metres away from the theatres with banners, start a campaign against the movie, but you cannot stop the movie from being released."
Renowned veteran actor Vikram Gokhale said, "If we don't have democratic liberties then why should we make films, act and direct. I am against this prior censorship. This is my 63rd year in the industry. I have been seeing these things like 'We won't let you do this or make this or hit people with sticks'. But, what eventually happens? The audience is wise. They come, they see. If they dislike, they go away. That is the correct way in the democratic country. We say we stay in a democratic country but do we have any democratic freedom to do anything? Many people have asked to show them the film first and then they would decide that if it should be accepted or not. Sanjay is a responsible person and if the Censor Board has passed the film then why is this all protest happening?"
Ashoke Pandit, lastly, revealed, "There will be a protest in support of Sanjay Leela Bhansali outside the gate of Filmcity. It will be a silent protest in support of him. Sanjay Leela Bhansali is the symbol who is representing the film industry. The entire film industry will come out and request the protestors to allow us to make the films what we want to make. On the same day, from 4- 4:15, there will be no shooting in the entire city. The union and everyone, no will be working for 15minutes. The lights will be switched off. This will be a symbolic support to the entire film industry that in future nobody should take us for granted and start ridiculing us and abusing us. We are well-educated film who work 24 hours and research everything and honest people. We are nationalists, just like them."
Padmavati is set to release on December 1, 2017.
BOLLYWOOD NEWS - LIVE UPDATES
Catch us for latest Bollywood News, New Bollywood Movies update, Box office collection, New Movies Release , Bollywood News Hindi, Entertainment News, Bollywood Live News Today & upcoming movies 2022 and stay updated with latest hindi movies only on Bollywood Hungama.