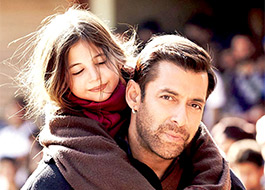 If reports from sources in the know are to be believed, Salman Khan is keen to take on the responsibility of educating little Harshaali Malhotra.
Apparently, Harshaali's parents are "quite capable" of looking after their daughter. But, after spending close to a year with her, Salman is convinced that Harshaali is a very special child meant for a life of greatness.


"Salman Khan feels like Harshaali's guardian. On the sets and on tough locations, the girl depended on her Salman uncle the way she depends on her mother. Salman is naturally fond of children. But his bonding with Harshaali was beyond anything he has shared with the kids. He wants her upbringing to be special," says a source.


When asked about this bonding beyond the camera director Kabir Khan said, "It sounds like a good idea. I hope it's true."