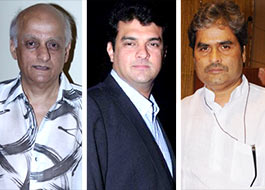 With the increasing difficulties in shooting films on the streets and public places of Mumbai, and with filmmakers openly accusing sections of the administration of seeking bribes before granting permission to shoot in key public places such as the airport and railway stations, major producers approached the Minister of State for the Ministry Of Information & Broadcasting Rajyavardhan Singh Rathore for a solution.


The Bollywood delegation met the Minister on 25th February. Sources close to the Ministry say Mr. Rathore assured the Bollywood delegation that the problems pertaining to shooting at outdoor locations would be looked into very seriously.


Singer-turned-Central Minister Babul Supriyo, who accompanied the Bollywood delegation, says the meeting was highly fruitful. "Mr. Rathore assured the delegation that the problems regarding outdoor shootings would be looked into. It is such a shame that producers have to face a string of red tapism when they want a simple permission to shoot at a railway station or an airport. Producers prefer to shoot abroad where getting permission to shoot in public places is much easier. How can we generate an interest in our country if our films run away from shooting in the country?"


The Bollywood delegation, which comprised powerful producers like Mukesh Bhatt, Siddharth Roy Kapur and Vishal Bhardwaj, was assured that shooting within the country would again be me cinema-friendly.


When asked in what capacity Babul accompanied the Bollywood delegation to the I & B Minister, Babul said, "In the humanitarian and film-related capacities. I am part of the industry and now, I am a Minister in Narendra Modiji's government. If the film industry needs me to connect their problems to the government, I'd gladly do so. But, I am not a mediator between the film industry and the government."