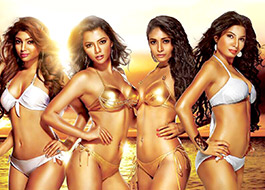 Madhur Bhandarkar, who likes it mentioned in every write-up on him that he's a 3-times National award winner, can breathe a sigh of relief.


Calendar Girls, the latest work from that creator of modern feminine fables was cleared by the censor board on Wednesday with some verbal and no visual cuts. But with an 'Adults Only' tag.


Says a source in the know, "The censor board felt the film's content and visuals immediately warranted an 'A' certificate. Some abusive words were cut. All the shots of girls in bikinis have been left intact."


Bhandarkar and his producers are apparently not happy with the 'Adults' certification and will apparently appeal against it to the CBFC's Revising Committee.


However if Bhandarkar appeals for a 'UA' certificate, sources say the bikini shots would have to be considerably reduced.


"That wouldn't leave much for audiences to enjoy," says the source.