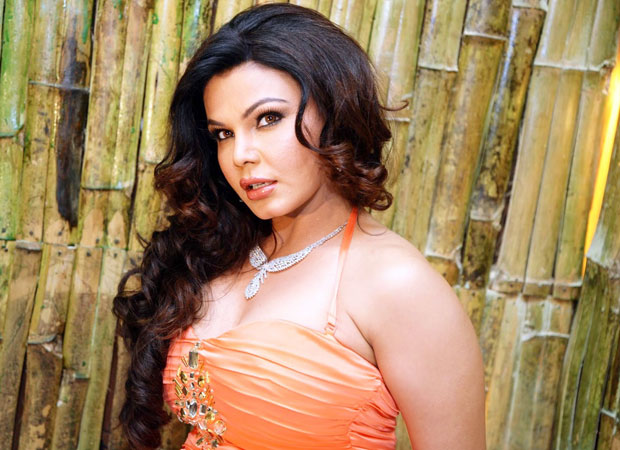 The unstoppable Rakhi Sawant is shooting for her Honeypreet Insaan bio-pic in Delhi when I catch up with her on her latest escapade. Yes, believe it or nuts, Rakhi is indeed playing Honeypreet Insaan. A bit of a flurry to catch the bus considering the case is still so raw and the lady in question is on the run.
Says the enthusiastic queen of controversies, "I agree it all happened suddenly. But I felt we needed to expose Ram Rahim and his so-called daughter's kale kartoot (evil deeds) so that the public doesn't fall for such evil godmen. When my brother came up with the idea I immediately latched on to it."
Wait. Is Rakhi's brother making the film? She beams with filial nepotistic pride. "Yes, my brother Rakesh Sawant is directing the film. We've named the film Ab Insaan Hoga. We shot an item song Bewafaa item (she sings the opening line for me. I go wow). The film will be called Ab Insaaf Hoga…Bewafaa Item."
Errr…so would Rakhi shed some light on her association with the Bewafaa Item and her famous Daddy? "Yes, I've known them well for years. I am best qualified to expose Ram Rahim and his so-called daughter. Initially I was introduced to them as father and daughter. Lekin bahot jald hi mujhe daal mein kuch kala laga (very soon I realized there was something amiss). There was nothing father-daughter about their behaviour. I also visited Sirsa, to see Baba's secret gufa (cave). He told me he performs all his pujas there. Later I came to know this is where he rapes all those poor innocent children. I was so shocked and repulsed I didn't know what to do."
Rakhi rather rightly blames the rape victims' parents. "The children would go back and tell their parents about the kaand (misdeeds) done to them. But the parents would send them right back to this Baba. Do you know why?"
Tell me, Rakhi.
"Because they were bribed. And you know what the bribe was? Daru (alcohol). They would be swinging and swaying drunk while their daughters were crying for help. This is our India," says Rakhi all set to expose Baby and his baby with a melodrama where we would see shots of Baba's lechery being intercut with visuals of inebriated parents.
Recalling how she got to know about Babajee's exacerbated libido Rakhi Sawant says. "I was once invited to the Marriott to meet Ram Rahim by his secretary C P Arora. And guess what I saw in Baba's room? Viagra! What was Viagra doing in a godman's room? Mera to dimaag hil gaya (my mind was boggled). I decided I'd expose him one day so here I am."
Interesting Rakhi Sawant says a lot of people in the film industry know Ram Rahim and Honeypreet. "I've personally introduced them to Hrithik Roshan. I've pictures of Baba, Honeypreet and Hrithik together."
The film, Rakhi Sawant reveals, will begin in jail where we will see Ram Rahim chakki peeso-ing. As he weeps he recalls his past.
Exults the excited bio-pic maker, "Then the whole story will be revealed. We've found an actor who looks like a carbon copy of Baba Ram Rahim, ekdum ditto. Same hair, walk, talk everything. Audiences will be fooled. They will wonder, Yeh kahaan se aa gaya?"
So does Rakhi look anything like Honeypreet? "I am an actress," she declares loftily.
BOLLYWOOD NEWS
Catch us for latest Bollywood News, New Bollywood Movies update, Box office collection, New Movies Release , Bollywood News Hindi, Entertainment News, Bollywood News Today & upcoming movies 2020 and stay updated with latest hindi movies only on Bollywood Hungama.