Tanushree Dutta's controversy is not dying anytime soon, we are sure. Well, while a few industry people have supported her against her fight with veteran actor Nana Patekar and director Vivek Agnihotri, there are a few people close to the accused who have lashed out on Tanushree Dutta for her supposedly false allegations for mere publicity.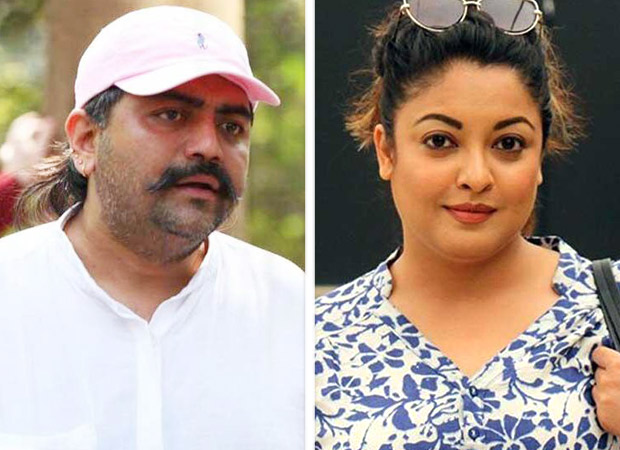 AD of movie Chocolate BLASTS TANUSHREE DUTTA, claims her allegations against Vivek Agnihotri are absolutely FALSE
After Ganesh Acharya and Rakhi Sawant, Chocolate film's assistant director Sattyajit Gazme wrote a long Facebook post slamming Dutta and gave a step by step account of what actually happened on the sets of the movie Chocolate which was being directed by Agnihotri. Tanushree Dutta has claimed that Agnihotri asked her to take off her bathrobe and dance in front of Irrfan Khan despite she not being in the frame. Gazme said that Dutta had little or no knowledge of how a camera works and therefore did not comprehend that she had to be in her character costume because it was a multiple camera set up. The song in question is called 'Bheega Bheega Sa'. Following is the video of the song:
Here is Gazmer's full account:
"I have been busy with my film edit and my dad's operation so just got time to see Tanushree Dutta episode. I am disturbed to read all the stories. Specially, about her shooting in Chocolate where I was directly involved as Associate Director. I ran the sets so I know best what happened. I find the entire story wrong and nothing of the sort ever happened. I have nothing to do with any politics and I don't understand it. What I am saying is about films. I worship my work so I am just trying to present the truth and facts as they happened.
If you don't know she worked first time with me and Rahul Sood in 'Saiyan dil mein aana Re' music video. Soon after that I was appointed as Associate Director of Vivek Agnihotri's 'Chocloate' with Anil kapur, Suneil Shetty, Emraan Hashmi, Irfan Khan and Arshad Warsi. At that time they had signed Bipasha Basu for two films in the main lead. Chocolate was one of them. But due to 5 big and busy actors date coordination with Bipasha had become a big problem. Producers were considering to sign a new girl so that dates shouldn't be a problem. That's when I suggested to Vivek sir to cast Tanushree. I told him honestly that she was technically absolutely new and doesn't understand any command and that's why Geeta Kapur the choreographer of the Saiyan Music video used to be very upset with her. But she had all the dates and shooting was round the corner. Vivek sir asked me if she can take the pressure of shooting with big stars so I told him honestly that Tanushree has major mood swings but she was very photogenic and also is Miss India. This convinced the producers. Vivek Sir met Tanushree with her manager Bhola Malviya and after few auditions she was signed because only her dates matched. Vivek sir also told me that she is a very sweet girl and maybe on the sets of music video she was under pressure. She was absolutely fresh and had no idea about camera or technical things. Vivek sir asked his wife Pallavi ji to coach her in acting and technical aspect. Pallavi ji for one month trained her and Sushma Reddy in her own house.
On the first day of the shoot we realized that with 5 trained stars its going to be very difficult to shoot with Tanushree because she didn't understand instructions and took many takes. Stars don't have patience to waste time for other actors retakes. Chocolatre had best technicians of that time and they are perfectionists. So Vivek ji made me incharge of Tanu as I knew her from before. Anyone who has worked with Vivek Ji knows that he doesn't give directions directly, it's always through the associate or the 1st AD. I have always said Action, Cut etc. on the sets. Since I understand beats very well on all dance sequences I am on the set telling actors what to do. This can be checked with anyone from Anil Kapur to John Abraham (I was Associate in Goal also) and any choreographer from Remo to jayesh or stanley. In films where I have not been involved Vivek ji calls me for the dance sequences.
I read in DNA and then in many papers about Tanushree saying that Vivek ji asked her to take off clothes. The third rate media didn't even bother to ask her 'which clothes'? So here is the minute by minute account:
Tanushree had a bad habit of disappearing in her van and not come out for long time for the reasons best known to her. That's why I didn't let her go to the van as much as possible. This was the 3rd day of the shoot and we had to clear the set so everyone was in a hurry. Tanushree was taking too many takes so the entire AD department was hassled. In the song Tanushree was supposed to be wet under a water leakage from a pipe. I appointed two of my lady assistants and lady costume director and her lady assistant to be around Tanu and give her bathrobe immediately after each take to keep her warm besides the hairdresser Didi. We also put a Multi light to keep her warm. If she is talking about the wet song then we shot it only for one day at Film City. Remo DeSouza was the Dance Director. It was a multiple camera set up and at any time two cameras were rolling specially the one on the jimmy jib. In this particular shot there was one camera directly on Irfan Bhai's close and the jimmy Jib camera was on Tanushree's back which was supposed to move, leave her and go on Irfan Bhai's close. When we called Tanushree she did her rehearsals in the bathrobe. When the Dance Director Remo got ready for the shot one of my assistants asked her to take off the bathrobe. She asked why should she if it's Irfan's Close up. The assistant tried to explain to her but she didn't understand that she was in OS (Over the shoulder) shot of another camera. Then I was called and I explained to her. She didn't understand that in multiple camera set up the main camera can be on someone's close but other cameras were shooting her. I asked to take off her bathrobe and shoot in film costume which she was anyways wearing under the bathrobe. It's a pink colour dress which anyone can check on you tube. The song was "Bheega bheega sa December hai". In the interview Tanushree and the media has made it sound as if she was asked to strip which is absolutely false. If she was sick then she should have told me.
We have all worked in films for more than 25 years and have shot many songs and music videos with actresses in skimpy clothes and all kinds of awkward situations but it is beyond my imagination that anyone can ever ask an actress to strip on a film set where 200 people are standing. In fact Suneil sir sarcastically asked if he can give the cue. What was actually a jibe in good spirit by Suneil sir is being used as if there was something wrong with our command. I ask all media how is it possible to shoot in a Bathrobe? Please media tell me how would you ask a girl to shoot without a bathrobe? Wouldn't we ask her to remove it before the shot? How can Suneil Shetty or any other experienced actor in right senses ever offer to give dance cues of a heroine? Is it possible to say something like that unless it's a sarcasm? How is it possible to harass or behave badly when her manager Bhola was present there? Don't these media people have any common sense? Pallavi ji was also present on the set who had come only to give confidence to Tanushree. Use your common sense and tell me is it possible to ask a heroine to strip in front of so many people and specially director's wife and Tanushree's own manager and other 200 people being present on the sets? Hey Media, are you dumb or stupid or just nasty?
In fact immediately after that song we shot in London for 40 days and we have fond memories of working with Tanushree. In fact, whenever it got late Vivek sir always took Tanushree and her mother in his car. One night when Tanushree didn't return to hotel the entire night Vivek sir and I kept awake in the lobby and kept waiting for her as her mother was worried. In fact, when Tanushree's dialogue delivery didn't turn out to be right and sound designer suggested that we dub it, Pallavi ji dubbed for Tanushree free of cost.
After the film once Vivek ji and I had gone for a party wehre we met Tasnushree who had come with her sister and she kept telling us about her experience in Ashram in south. Since she didn't know many people we gave her company and she was very friendly and affectionate. She asked if we could help her for some work as it appeared she wanted work desperately. I haven't met her after that.
This incident has no gender bias or any harassment or any bad behavior. It is not about man vs woman. Everything is not feminism. It's about work. About how two professionals talk on a film set. This is how anyone in this world will shoot and even if these media people are asked to shoot they will also ask the heroine to take off outside clothes and shoot in continuity costume. Even if a hero was there same command would be given to him also. In this case, I don't know what is the ultimate purpose of Tanushree but if she wants I am willing to sit face to face with her and repeat minute by minute account with her for media to check. But I must tell all my friends that our media is the worst in the world. It has put a blemish on the film industry, director and the entire honest team without even once caring to confirm. I stand with women and #MeToo but please don't run a media mafia for your own agenda and destroy credibility of good people for your own selfish political agenda."
Also Read: CINTAA stands by Tanushree Dutta's molestation charge against Nana Patekar but CANNOT re-open the case
BOLLYWOOD NEWS - LIVE UPDATES
Catch us for latest Bollywood News, New Bollywood Movies update, Box office collection, New Movies Release , Bollywood News Hindi, Entertainment News, Bollywood Live News Today & Upcoming Movies 2023 and stay updated with latest hindi movies only on Bollywood Hungama.