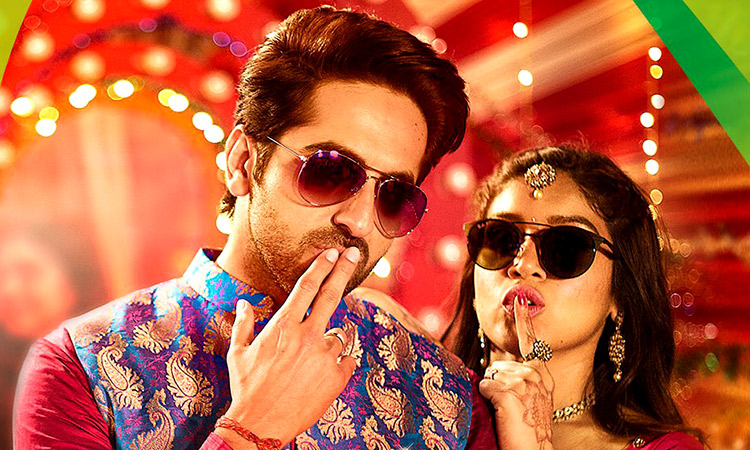 In 2012, VICKY DONOR turned out to be a landmark film in Hindi cinema. It dealt with sperm donation but it was handled sensitively and smartly. Despite being based on a taboo subject, it was accepted widely and was hailed as a family entertainer. Five years later, SHUBH MANGAL SAAVDHAN makers attempt to recreate the magic of VICKY DONOR or go even beyond, as the film talks about erectile dysfunction. So, does it manage to entertain and amuse or does it turn out to be a poor show, let's analyse.
SHUBH MANGAL SAAVDHAN is the story of two lovebirds who are about to get married but they stumble across an expected roadblock. Mudit (Ayushmann Khurrana) and Sugandha (Bhumi Pedenkar) fall for each other but neither approaches the other. Sugandha is waiting for Mudit to make the first move. When he does, things however go horribly wrong. Nevertheless, they fall in love and decide to get married. Their respective families also agree for this union. One night, when Mudit is alone with Sugandha at her place, they decide to make love. Sadly, Mudit is unable to perform due to anxiety. A shocked Mudit refuses to even talk about it. Unfortunately, the news of this 'tragedy' spreads and Sugandha's parents find out. They assume Mudit is infertile and contemplate cancelling the wedding. How Mudit and Sugandha come out of this madness forms the rest of the film.
Shubh Mangal Saavdhan's two biggest strengths are its dialogues and the duration. In just 105 minutes of duration, the film packs in a lot. The introduction of characters is done swiftly and it's all done in an entertaining way. Of course, the film really picks up when the lovers decide to have sex but fail. This crucial sequence is very well handled. In fact the entire film is sensitively executed. The sequences are peppered by humour but it never even once gets indecent. The makers in fact deserve loads of kudos for handling such a taboo topic so beautifully. Unfortunately, the second half is where the film slips. Conflicts are forced into the narrative. It becomes difficult to comprehend exactly what's going on. The track of Mudit's old flame Neha complicates the narrative. What was the relevance of her? And if Mudit managed to perform with her, what went wrong with Sugandha? A tension filled sequence is added in the climax which works only partly, as again it was added in the film just to end the film on a high.
R S Prasanna's story is unconventional but nicely written in a conventional family entertainer format. Hitesh Kavalya screenplay is highly effective but only till the middle of the second half. After that, it falters. Hitesh Kewalya's dialogues are terrific and surely one of the best of the year.
R S Prasanna's direction is neat but gets a bit haywire later on. But overall, it's a fine job, especially for tackling such a subject. Also, few scenes are exceptionally directed like Sugandha taking Mudit to a park to seduce him (notice how smoothly this scene changes from being funny to moving),  Sugandha's father and uncle suddenly realising how they are so similar, the doctor sequence, Mudit entering the Haridwar mansion again but in a better way etc.
Ayushmann Khurrana delivers a yet another smashing performance after BAREILLY KI BARFI. In fact, in that film, his fine performance was overshadowed by Rajkummar Rao. Here he gets to show his acting prowess. Notice his act in his monologue and one realises that he is one of the best actors around! Bhumi Pednekar too is in top form and gives a performance which is as terrific as her previous two films (DUM LAGA KE HAISHA and TOILET- EK PREM KATHA). Her dilemma and the way she manages a performance in confrontational scenes is noteworthy. Seema Pahwa (Vimla, Sugandha's mother) is too good and rocks from her first sequence itself (the funny movie theatre scene). Her conversation with Bhumi on Alibaba is bound to bring the house down. The actors playing Sugandha and Mudit's father's are also scene stealers and have an important part in the madness. Same goes for Brijendra Kala (Sugandha's uncle). Gopal Dutt (Doctor) leaves a mark in a special appearance. Anshul Chauhan (Ginni) is decent. Supriya Shukla (Mudit's mother) gets overshadowed.
The Music of the film is quite okay. 'Laddooo' is memorable while 'Rocket Saiyyan' is catchy. 'Kanha' is shot well. Rachita Arora's background score is entertaining.
Laxmi Keluskar and Sandeep Meher's production design is authentic. Anuj Rakesh Dhawan's cinematography is simple and neat. Ninad Khanolkar's editing is crisp.
On the whole, SHUBH MANGAL SAAVDHAN is a light hearted flick that can be seen by the whole family despite its taboo subject. At the box office, it has the potential to grow by word of mouth and emerge as the surprise of the season. Definitely recommended.