EXPECTATIONS
You expect rustic music to be the core of Pataakha. After all, the promo has conveyed loud and clear that the film is attached to the roots. Moreover, with Vishal Bhardwaj and Gulzar coming together, you expect certain sound in Pataakha. That said, you are also sure that it would be tough to find any true commercial ingredients in there since the film too has an offbeat feel to it.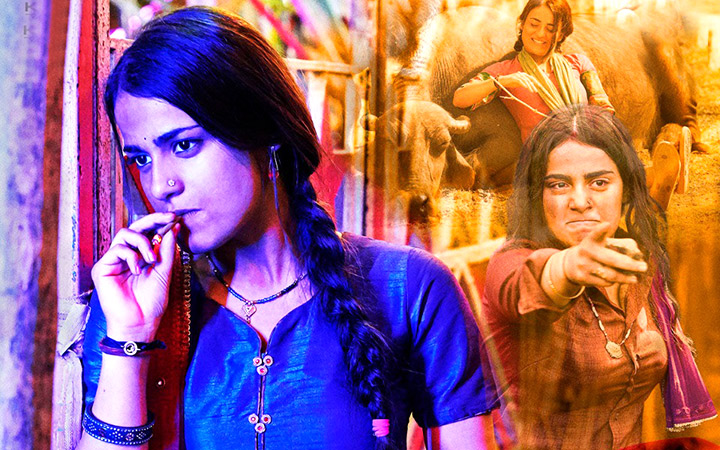 MUSIC
As expected, it is Rekha Bhardwaj who kick-starts the proceedings for Pataakha. She sings 'Balma' and right away the listener is introduced to a rustic sound. Lyrics too are on the same lines and as a matter when Sunidhi Chauhan comes on board, her voice is hardly recognizable. With a 60s feel to it, the song just about introduced the listener to the milieu of Pataakha but doesn't quite make you stick around.
Vishal Bhardwaj brings himself behind the mike for the title song 'Pataakha'. This one too has a 60s feel to it and one can almost imagine a Biswajeet or a Joy Mukherjee dancing along to this song which has a Western influence to it. The song tries to be all peppy and lively as it details the interactions between the two sisters but at best one can expect this to have a situational appeal and that's about it.
It is back to Rekha Bhardwaj with 'Hello Hello' and this one goes further deep into the interiors with the kind of lyrics and musical arrangements that one hears. One can well expect Gulzar to have had some fun writing this one. However the same can't really be said for the listener as the song doesn't quite bring in much incentive to command a repeat hearing for itself.
After a largely family outing so far, it's the voice of Arijit Singh which is heard in 'Naina Banjare'. A romantic number which is set in Vishal Bhardwaj territory, this one aims to be all poetic. Compared to the songs heard before, this one still has a comparatively better appeal from the commercial perspective. As a matter of fact it flows seamlessly from 'mukhda' to 'antara' though one doesn't see one topping the charts.
Last to arrive is 'Gali Gali' which has Sukhwinder Singh in charge. This too is an old fashioned number and the stage and setting this time around is the festive occasion of Holi. Yet again, the song's shelf life would be restricted to the play of the film.
OVERALL
One didn't have many expectations to begin with from the music of Pataakha and what one eventually gets to hear is on the same lines as well.
OUR PICK(S)
'Naina Banjare'