Meri Pyaari Bindu Review {3.5/5} & Review Rating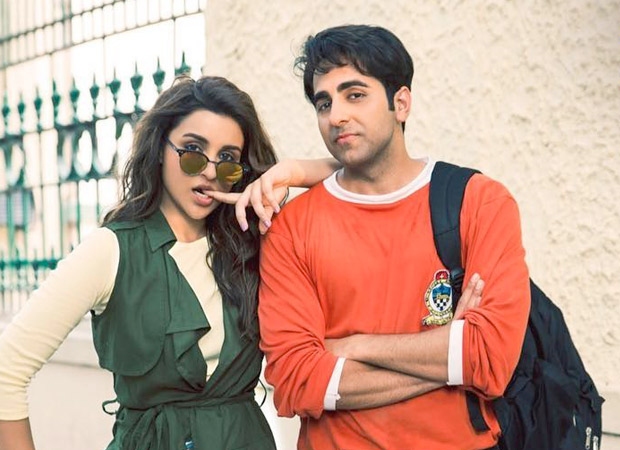 EXPECTATIONS
The multiple musical promos of Meri Pyaari Bindu did the trick right at the onset! With the message being loud and clear that the Ayushmann Khurranna and Parineeti Chopra starrer is a musical treat in the offering, what with many a song from the yesteryear helping the film's narrative move forward, one looked forward to what the soundtrack had to offer. Well, there is a surprise in store as even as one waits to hear the retro tracks in the film, there are five original songs that have been composed by Sachin-Jigar with Kausar Munir as the lyricist.
MUSIC
It is a retro beginning for the album with the sound of guitar bringing on excitement right at the onset. Soon enough Nakash Aziz begins his rendition of 'Yeh Jawani Teri' and you end up remembering many a song that was picturised on the likes of Shashi Kapoor in 60s/70s. As a matter of fact the song that you end up remembering is Laxmikant-Pyaarelal's 'O Meri Maina' from Pyaar Kiye Jaa which incidentally had Mehmood and Mumtaz grooving to the funky tune even as Shashi Kapoor was just an observer. A well paced dance number that has Jonita Gandhi turning out to be a good accpmpanying partner of Nakash.
However, the song that is destined to have a really long run is 'Haareya' which has been penned by guest lyricist Priya Saraiya. It is the usual suspect Arijit Singh who comes behind the mike for this one and though the singer has been pretty consistent with his songs over the years, this one is indeed special in the way it is composed, written and sung. A beautiful song that has a good start to it, is well accompanied by a guitar throughout (which by the way also has a place in the song's choreography) and has a consistent 'antara' which fits in quite well with the overall piece, 'Haareya' entertains right through its duration.
Lyricist Kausar Munir returns to the scene with the highlight song of Meri Pyaari Bindu, 'Maana Ke Hum Yaar Nahin'. This one marks the singing debut of Parineeti Chopra and one has to admit that she does a really good job in rendering this one. The kind of 'thehrav' that she brings with her singing here is truly remarkable. In case of 'Maana Ke Hum Yaar Nahin', one has to truly credit the all around effort of Sachin-Jigar, Kausar and Parineeti as together, the quartet does an amazing job in making sure that the 'ghazal' would play on for many months and years to come, leave aside just a few days or weeks.
From 'desi Hindustani' music, the mood of the album changes to 80s retro, what with Clinton Cerejo and Dominique Cerejo grooving on to 'Iss Tarah'. In fact there is a hint of Shankar-Ehsaan-Loy in play here from the sheer inspiration perspective, even as Sachin-Jigar bring in their own individuality into play here. In fact at this point in the album you truly want to compliment the young composer duo for trying out a different tune for each of the songs so far, hence reiterating their versatility when it comes to putting together some really different yet entertaining music for a Bollywood flick.
It is the sound of guitar at play once again as it leads the way for Monali Thakur to sing along a few Bengali words (by guest lyricist Rana Mazumder) even as Kausar Munir brings her own lovey-dovey feeling into play soon enough. A beautiful number which could well have been put together for a Bengali film, this one just has Monali singing along with the sound of guitar, hence coming up with a soulful track that can just be played on in loop without any external noise to bother whatsoever. What further works is the manner in which more Bengali words are interspersed in the play of the song, hence making it truly unique.
OVERALL
The music of Meri Pyaari Bindu is quite good and thankfully ends the wait for a true blue Hindi soundtrack to be out there for an offering. This one is indeed a mix of some good and tunes that cut through genres, hence making the entire soundtrack a breezy affair. Sachin-Jigar along with their lyrics team [Kausar Munir, Priya Saraiya, Rana Mazumder] have indeed hit a strong boundary with this one.
OUR PICK(S)
'Haareya', 'Maana Ke Hum Yaar Nahin', 'Yeh Jawani Teri'