Jagga Jasoos Review {3.5/5} & Review Rating
EXPECTATIONS
It is rather surprising that despite being such a biggie, the music of which was much awaited, Jagga Jasoos saw the release of its jukebox almost a week after the film hit the screens. While the singles put together by Pritam and lyricist Amitabh Bhattacharya were already out there for consumption during last few weeks, it is a different feeling altogether to catch hold of the entire soundtrack.
MUSIC
When you come across a song with a title that goes as 'Ullu Ka Pattha', you wonder what it would actually have to offer. In fact, you wonder it would actually be an appropriate track to hear, though somehow you are convinced that it won't be awkward considering the kind of credentials that are attached to the film. Well, this is what actually happens as the song turns out to be a breezy affair with Arijit Singh taking lead right from the word 'go'. An easy going number that has a good pace to it and is pleasant sounding indeed, what turns out to be a pleasant surprise are the vocals of Nikhita Gandhi that are truly unique.
The song that turns out to be riotous indeed is 'Galti Se Mistake' which has Arijit Singh in a different mode altogether. A fun track about all-male school students coming together for a coming-of-age number, this one has Amit Mishra giving good company to Arijit and letting his hair down. What is particularly exciting about the song are Amitabh Bhattacharya's lyrics that should turn out to be quite popular amongst the hostel and campus crowds. A chartbuster all the way, this one has an addictive beat to it that plays on your mind long after you have heard the song just once.
It is time for three back to back sober numbers. From this point on, it really catches your attention enough to warrant repeat hearing. First to arrive is 'Jhumritalaiyya' and this time around, Arijit Singh gets into the non-filmy mode as he goes about rendering this easy-on-ears number that could well be heard on a lazy drive on a highway. Mohan Kanan also steps into 'Jhumritalaiyya' which is written by the guest lyricist Neelesh Misra. Yet again, there is good lyrical quality to this melodic track that may not hit the charts hard, but, does well enough to fit into the soundtrack.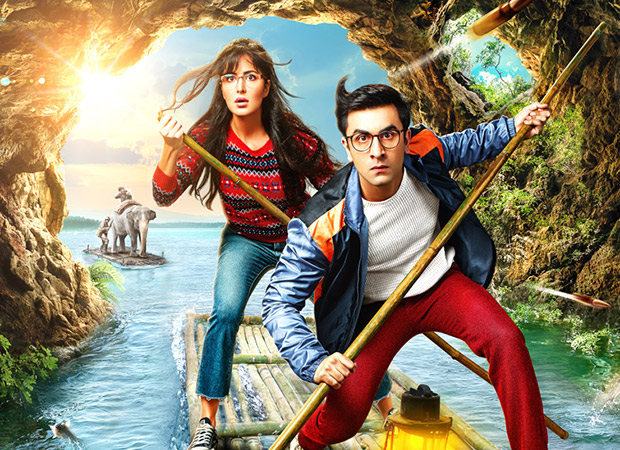 Arijit Singh makes it four in a row with 'Phir Wahi' which also turns out to be the best of the enterprise. A beautiful song that is elevated to greater high due to the kind of poetic lyrics put together by Amitabh Bhattacharya. This is a kind of song that deserves to have a real long shelf life. Though, in the film, it is picturised as a song where a son remembers his father, the lyrics are such that they could fit into any situation where a lonely heart remembers the one who is indeed loved and missed the most. A beautiful composition all the way.
This is followed by 'Musafir' which sees a new lead singer come on board in the form of Tushar Joshi. The youngster gives a very good account of himself as he renders this wonderfully written track that is put to tune quite effectively by Pritam. The song is a good follow up to 'Phir Wahi' and this time around, it is romantic all the way, what with pain, sadness and pathos coming together in equal measure and still not allowing the track to get into a depressing zone. Listen to this one on a loop!
Last to arrive is 'Khaana Khaake' which has to be one of the most experimental tracks to be put together by Pritam and Amitabh Bhattacharya. This one reminds one of the times when R.D. Burman used to create such mad outings in a dozen and come up with a whopper of a tune. Here too, lyrics like 'Khaana Khaake Daaru Peeke Chale Gaye' could have sounded so tough on paper to be put to tune. However, Pritam manages this and how, hence, coming up with a playful track where he brings himself behind the mike along with Amitabh Bhattacharya, Tushar, Geet Sagar, June, Antara, Amit, Ashwin, Aroh and Sunny.
OVERALL
The soundtrack of Jagga Jasoos is quite impressive and actually deserved to cover a much longer distance than it would eventually do. Since the film hasn't done well, the songs may not become overtly popular in time to come. However you must check it out to know what you have actually missed.
OUR PICK(S)
'Galti Se Mistake', 'Ullu Ka Pattha', 'Phir Wahi', 'Musafir'