"This time can't be stopped / When the season changes / where no regrets are left / this time is aflame / followed by blooming spring / remember this time / never let it fade away / for all my life / let it be summer," – croons singer-songwriter Young K in his pre-release track 'Let It Be Summer' from his full-length album Letters With Notes. As the 29-year-old multi-hyphenated musician is back from his two-year hiatus (as he was serving in the military), he compares his life to the changing seasons while expressing the desire to maintain youthful enthusiasm. The melodic pop-punk track definitely enhances the vocals of the gifted singer, who was missed from the music scene for the past two years.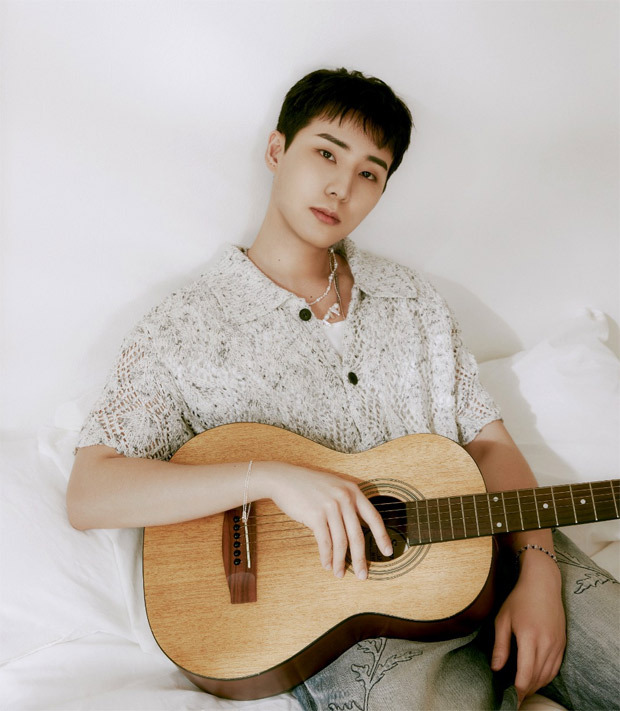 EXCLUSIVE: Young K sends 'Letters with notes' to fans in joyous return; talks about evolving as a musician, upcoming DAY6 anniversary
Over the past 8 years, Young K, birth name Kang Young Hyun, has about 160 songs copyrighted under his name. He has been the bassist, lead vocalist, and rapper in DAY6 and continues to excel as a versatile singer. He is easily one of the most valuable musicians of our time who often dabbles in different genres including rock, pop-rock, and alternative rock. Returning to the music scene after two years with Letters with notes, the 11-track album, which he was heavily involved in from scratch, sees him play with a lot of nostalgia.
While 'dreamer' has influences of '60s rock-n-roll, 'babo' has elements of '60s rock with the groove of R&B; 'waited' has that '90s melodic modern rock rhythm, 'playground' infuses the elements of '60s Motown funk and rhythm and blues. He ended the song 'Guard You' from his 2021 album Eternal with 'I'll Hold You Until The End' and begins with the same lyric in 'nothing but', the title track of his new album where he is unable to let go of the love. It is poetic how he uses a metaphor for the world ending in the first track whereas in his latest track, uses the same line as his world is collapsing. There is a reason Young K is called a gifted musician. He plays around with sounds and easily makes you go through varied emotions. This album takes you on a journey of different phases of love, which comes in any form, and the beauty and intricacies of it.
Discharged from his military service in April 2023, Young K became the first Korean idol to join the Korean Augmentation to the United States Army (KATUSA). It is the branch of military service that requires applicants with fluency in English to a high degree and only recruits about 2,000 men every year. Between April and August, he had four months to prepare and complete the album. Addressing his fans over the three-day concert held at Kwangwoon University's Donghae Culture and Arts Center in Nowon-gu, Seoul between September 1-3, Young K said, as per Korea Herald, "The opening to today's set list is also the first track in my new album. While working on this song, I imagined the moment I finally stepped on stage to meet you. The first words that came to my mind were, 'I'm nervous,' and that's how I started the lyrics. Then I wanted to ask if you've been well and eaten well. I'm so happy to be performing in front of you."
Before enlisting, Young K exclusively told Bollywood Hungama in 2021, "I learned to love more. The love My Days have shown made me think about it a lot and since I write and sing about it, I guess it was one of the biggest issues and concepts I tried to know more about. I can't say I know what love exactly is, but I did learn how to give more." Now, as he returned, we spoke to him again and this time. He had a lot more to share about his craft and his creative process of making Letters with notes.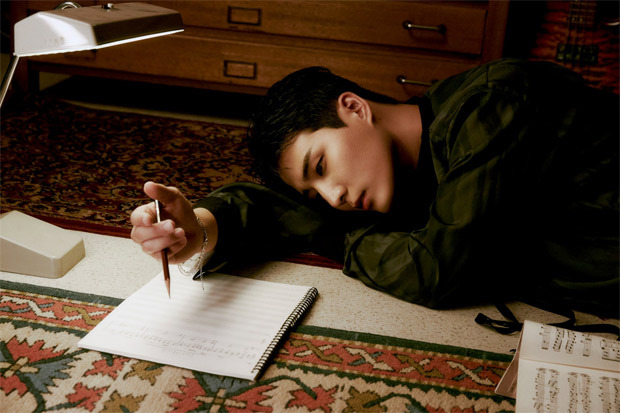 First and foremost Young K, welcome back. The music scene has missed you and your soothing vocals. How much have you missed releasing music for your audience?
Young K: First of all, thank you for the kind words. It's been a while, so I've waited for this moment quite a lot. As an artist, I thought it'd be important to come back with an album as soon as possible, so here it is.
Congratulations on the Letters with notes. One of the teasers said '6 sides of Young K' and mentioned Hexagon. Symbolically, the hexagon also stands for harmony and balance. After your return from the military, what significance does this album hold for you and why was this an apt album title?
Young K: 'Letters With Notes' can mean the lyrics, which are literally letters that has notes. The sum of those letters turns into a song, which is an individual letter sent to the world. 11 letters all combined, the album itself became 'Letters With Notes'.
A full-length album is truly a heavy work. When did you begin to put together 11 tracks? Which was the first track and last track you worked on?
Young K: All of the recordings began after I was discharged, but I had been having ideas beforehand. So it's really hard to say when the exact album preparation began. All of the ideas were mixed up, so I don't really remember which one came first.
The pre-release pop-punk track 'let it be summer' truly narrates the youthful enthusiasm of life. Also, the song is so Young K, it's great to see you back. Where do you draw the inspiration for a song like this one?
Young K: The track itself had a very powerful energy, so I wanted to narrate something that would match the vibe. I thought youth holds an explosion of feelings and emotions, so I tried comparing life to change of seasons, having summer as the most burning era.
There are 11 tracks on the album but you chose 'nothing but' as the main track. The blending of the '60s British sound with 80s American hard rock ballads is a truly unique way to approach the song. The song is about someone 'unable to let go of love'. Tell me your approach regarding this track and how you decided on making it the title song.
Young K: Producer Jisang Hong and I were talking about how I tend to have a hard time letting go of things. And I guess this concept turned into a song. An example would be – sometimes me having a hard time leaving food behind even when there's no need to finish everything. After submitting all the demos, we went through a monitoring system to choose a title song. And 'nothing but' was selected.
There are so many favourites on the album but one particular track that caught attention was 'natural' which signifies that you don't have to be insecure in love. Am I right? What can you tell me about it?
Young K:
The word '
natural
' caught my attention for some reason, and I started thinking about what could be natural. Breathing, having a meal, the flow of time and such came to my mind. It added on to how it's natural to love, so there's no need to worry.
This album feels so personal in terms of how you go about the storytelling. When you work on an album on this scale where you have so many songs to create, what is the progression like? Is it exciting or does it get stressful?
Young K: It's always exciting and stressful at the same time. To make sure it's made at a good quality, even when it seems like it's over I feel like there has to be a point where you go through it. So I always check whether it's good to be presented or not. I'm not a perfectionist, but it's the least I can do.
Thematically, the album seems to be about different stages. What is it about "love" that excites and do you think you were able to showcase it through this full-length album?
Young K: "Love" can be in countless different forms. Love for your family, love for My Days(fans), love towards music, etc. Without love in our lives, I feel like it'd be very difficult to go on.
Are you someone deeply romantic? Is this why the majority of themes of your music reflect that emotion?
Young K: I consider myself a storyteller as I'm writing, and I guess I wish to talk about various stories from many different views. In music, I don't think I want to define that storyteller as someone in a certain way. So yes, sometimes romantic, sometimes maybe not.
Are you someone who is hyper-focused during the process of album making or someone who enjoys a good balance between work and life?
Young K: I would prefer a good balance of work and life. I don't feel like I need to be intensely focused on album-making only for a period of time, but when I am at the session, I am focused.
What do you enjoy more – songwriting or producing? Are there any times when you feel words aren't flowing how you wanted? In those times, where do you seek inspiration from?
Young K: Whenever I get a writer's block, I take a break. Short or long. I try to refresh my mind and look around. If nothing found, I try to let my mind take me anywhere to come up with something that's adequate for the music. That's also why in my everyday life I let myself be open to all the ideas that come to me. For now, I consider myself a singer and a performer most importantly. And the rest, I'm good with anything.
The fans are so happy to see you back doing radio. That gives so much joy to everyone but also showcases your relaxed side. Are you elated to be back? Do you enjoy being on the radio?
Young K: Radio lets me look into bits of many lives. I get to communicate with lots of new people and think from different perspectives. For example, a kid says she really doesn't want to go to school. The next person says she also doesn't want to go to school, but this time, it's coming from a teacher. Another merit would be me being able to send my voice to My Days and my parents every day. How can I not be elated?
DAY6 will complete 8 years on September 7, a day prior to my birthday, which I am always pumped about. Interestingly, the album drops in the same month. Is this month special to you? Have you ever sat back and wondered about your musical journey over the years?
Young K: Happy Birthday! From time to time I tend to look back on what I've done. I realize what I've done good, and what I've lacked. I learn from the mistakes and grow. The more I get to know, the more I see. Never perfected it, but it was the best that I could do.
I have often wondered if you ever had a chance to watch any content from India or heard any of the artists. If yes, what or who are they?
Young K: I'm still not quite familiar with artists from India, but I'm willing to know more! Please give me recommendations!
The last time you left a message for Indian fans of DAY6, they were extremely delighted and also praying for your safe return. Is there a message you want to leave for fans on this comeback?
Young K: I gotta say thank you for all the support. The only thing I wish for you guys is to stay healthy and happy. Hope I get a chance to visit you guys too!
BOLLYWOOD NEWS - LIVE UPDATES
Catch us for latest Bollywood News, New Bollywood Movies update, Box office collection, New Movies Release , Bollywood News Hindi, Entertainment News, Bollywood Live News Today & Upcoming Movies 2023 and stay updated with latest hindi movies only on Bollywood Hungama.