From a shape-shifting lead to a fantasy time travel, to even a morally gray character, the month of October 2023 has a delightful treat of K-dramas to choose from! Park Eun Bin returns to the small screen after the success of Extraordinary Attorney Woo. Bae Suzy is also back once again. There is a considerable rise in K-dramas adapted from webtoons and we also see a slight nostalgia with Strong Girl Nam Soon. Let's take a look at the upcoming K-dramas releasing in October 2023.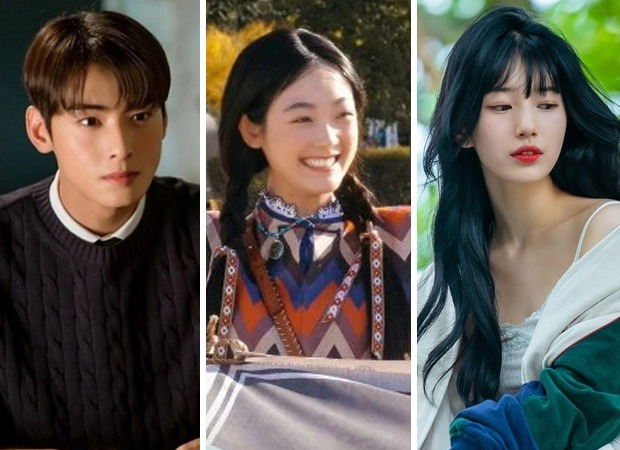 From Cha Eun Woo-led A Good Day To Be A Dog to Bae Suzy starrer Doona – 8 K-dramas to watch in October 2023
1. STRONG GIRL NAM SOON
Nod if you miss BongBong and MinMin! Back in 2017, Strong Woman Do Bong Soon gave us a treasure trove of cuteness, silliness and butterflies in the stomach romance. Now, in 2023 there is a new story in the same vein to delight us! Strong Girl Nam Soon is a spinoff based on Strong Woman Do Bong Soon. The show follows Kang Nam Soon, a distant relative of Do Bong Soon who has the same powers of strength as Bong Soon. As a kid, she had gone missing in Mongolia and grew up there. Now an adult, she comes to South Korea to find her family. She meets her mother and maternal grandmother who also possesses those powers. The trio get embroiled in a drug case. They cross paths with Detective Kang Hee Shik who is assigned the case. Amidst the drug case investigation, signs of romance bloom between Nam Soon and Hee Shik. Strong Girl Nam Soon is slated to release on October 17, 2023.
2. A GOOD DAY TO BE A DOG
Park Gyu Young, whom we last saw in Celebrity, is back in a new avatar. This time she appears in a sweet rom-com A Good Day to be a Dog. The drama follows the story of Kang Hae Na, a high school teacher who has a miserable love life due to an ancestral curse. The curse is that she would turn into a dog whenever she kisses someone. The effect of the curse lasts for six hours and can be only reversed when she kisses the person in her dog form. Unfortunately, on one drunken night, she kisses Jin Seo Won (ASTRO's Cha Eun Woo) who has a fear of dogs. This k-drama is an adaptation of a webtoon. A Good Day to be a Dog will be released on October 11, 2023.
3. EVILIVE
If you wanted madness, morally grey characters and a simply nail-biting story then Evilive is the one good choice from the dramas releasing this month. Starring Shin Ha Kyun and Kim Young Kwang in lead roles, Evilive is a thriller story about a lawyer named Han Dong Soo who visits prisons and picks a case to fight. Shin Jae Ha is his younger half-brother. He works at a second-hand computer shop and also helps Dong Soo with getting new clients. Something changes in Dong Soo after he takes the case of Seo Do Young, the second most important member of a crime organization. Beneath the masks of calm and collected outlooks, lies something much more dangerous and sinister. Evilive will be released on October 14, 2023.
4. CASTAWAY DIVA
Comebacks after a year, two or even three years are known, but what about a comeback after 15 long years? Castaway Diva tells the story of Seo Mok Ha (played by Park Eun Bin) who aspires to be a K-pop idol. On a fateful day, when she is heading to Seoul to start her career she ends up on a deserted island. Considered dead initially, she is found alive and surviving on the same island. This drama tells the story of Seok Ha's return to the singing scene and her attempts to restart her career. Castaway Diva is slated to release on October 28, 2023.
5. DOONA!
Be honest, who all missed Bae Suzy on screen? After the success of Startup in 2020 and a short stint in 2022 as Anna in Anna, Bae Suzy has finally made a comeback to the K-drama scene this year. She will be seen as a former K-pop idol Lee Doo Na in Doona! In the drama, Doo Na chooses to retire from her idol career and live a quiet life in the suburbs. She soon meets Won Joon (played by Yang Se Jong) who is surprised to find that he is a neighbor to a former K-pop idol. This K-drama is an adaptation of a webtoon of the same name. Doona! is slated to air on October 20 on Netflix.
6. THE MATCHMAKER
Rowoon seems to be on a roll on the acting front. Currently seen in Destined With You opposite Jo Bo Ah, he already has another title in the works. A fictional historical tale set during the Joseon dynasty, The Matchmaker follows Shim Jung Woo (played by SF9's Rowoon), a genius scholar. His life gets turned upside down when his lover, the princess, dies. He is unable to enlist in the government and soon crosses paths with Jung Soon Deok (played by Cho Yi Hyun). Soon Deok is a widow who secretly operates as a matchmaker and peddler named Yeo Joo. Jung Woo and Soon Deok join hands to match young couples. The Matchmaker is slated to release on October 30, 2023. No teaser has been released for the drama yet.
7. MOON IN THE DAY
Were you thinking there needs to be one more historical K-drama in the list? Well, Moon in the Day is just the addition then. Starring Kim Young Dae in a dual role, first as a vengeful spirit of a nobleman named Do Ha from the Silla dynasty and second as a top star Han Joon Oh with an inferiority complex. Do Ha possesses Joon Oh's body after the latter gets injured in an accident. Kang Yong Hwa, a firefighter saved Do Ha and later becomes his bodyguard. Twist is, Do Ha was killed by his wife Han Ri Ta and Yong Hwa is the spitting image of Do Ha's killer wife. Moon in the Day is adapted from a webtoon and is slated for release on October 25, 2023.
8. PERFECT MARRIAGE REVENGE
It won't be a Sung Hoon drama without a lot of DRAMA in it. Perfect Marriage Revenge is a revenge fantasy time travel and romance drama starring Jung Yoo Min in the lead as Han Ye Joo. She finds out that her sister Yoo Ra and her husband have fallen in love. Shortly after, she dies in a car accident but somehow wakes up in the past. Having woken up in the past, she decides to court the man whom Yoo Ra wishes to marry. She ends up in a contractual marriage with Seo Do Kook. Do Kook agrees to Ye Joo's terms but soon finds himself hoping for a real shot at romance.
BONUS: BALLERINA
Netflix's latest offering in K-content is not limited to just K-dramas this month. We also see the release of a K-movie titled Ballerina. The movie tells the story of a scorned former bodyguard who decides to avenge a ballerina's murder. The movie stars Jeon Jeong Seo in the lead with Kim Ji Hoon and Park Yu Rim in pivotal roles. Ballerina is slated to release globally on Netflix on October 6, 2023.
Also Read: ASTRO's Cha Eun Woo turns down offer to star in new crime series Bulk
BOLLYWOOD NEWS - LIVE UPDATES
Catch us for latest Bollywood News, New Bollywood Movies update, Box office collection, New Movies Release , Bollywood News Hindi, Entertainment News, Bollywood Live News Today & Upcoming Movies 2023 and stay updated with latest hindi movies only on Bollywood Hungama.