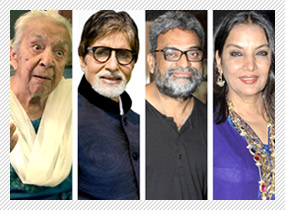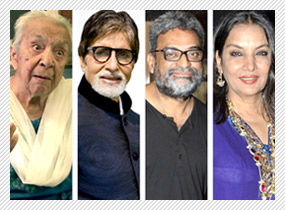 To die at 102 is no mean achievement. For the spirited Zohra Sehgal, time never stopped ticking until her last breath. The last time the unvanquished queen of histrionics was in the news was when she was trying to convince the Delhi government to give her a ground-floor accommodation. Her spirit always resided on the top floor.


To imagine the performing arts without Zohra Sehgal is a tall order. Born on 27 April 1912, Zohra started her career with the dancer-choreographer Uday Shankar. No wonder, her spirit never stopped dancing.


In 2007, in one of her last screen roles, Zohraji had played Amitabh Bachchan's sprightly octogenarian mother in R. Balki's Cheeni Kum. Coincidentally, the Big B was working with the same director on Thursday in Europe when news of Zohraji's death reached him.


Reacting to the death of an era, the Big B says, "What a lady! What a journey! What an incredible co-star. Ever -smiling effervescent, brimming over with the zest for life. My prayers for her soul."


Adds Balki, who directed her in Cheeni Kum, "She was 94 when she worked with me, and a buddy. She is 102 now...and I speak of her in the present tense because a spirit like Zohraji can never die. She will never stop being a super-content soul and great friend no matter where she is. Zohraji is a loss to humanity, and not just to cinema. She was the happiest soul in the world, I am sure of that. Forever spunky spirited and full of life... No wonder her performances were so spirited."


Recalling his shooting experience with Zohraji, Balki says, "Every day that I shot with Zohraji is etched in my memory. I'll cherish and smile at every single moment I spent working with her. I can say this with full certainty that Cheeni Kum couldn't have been made with any other human being. Nothing can take her away from me, not even death."


Shabana Azmi, who shared close family ties with Zohraji says, "We must not mourn we must celebrate Zohra Aapa's life which she lived on her own terms. She was an institution and a towering personality of the theatre. My mum Shaukat Kaifi was her junior at Prithvi Theatre and was greatly inspired by her."


Shabana's association with Zohraji goes as far back as humanly possible. "Zohra Aapa knew me when I was an infant strapped to my mum's back and would play with me when mum was performing in stage. I got a chance to work with her only when I did a play written by Roysten Abel with her and Nandita Das in 2003. Zohra Aapa would reach rehearsals on the dot. She made no fuss. She was a thorough professional. She knew all her lines and would keep everyone in splits with her off-color jokes."


Shabana says the Zohra Sehgal that one saw on stage was far superior to the one in films. Zohraji held the same opinion about her mentor Prithviraj Kapoor.


Says Shabana, "Those who missed watching her on stage, don't know what an experience they've missed. She was delightful on screen as well. But not a patch on what she was on stage. I salute her, even as my heart reaches out to her daughter Kiran."


Adds Nandita Das, "I knew Zohra Aapa since I was very young. I don't think I have seen a more spirited person in my life. I have also had the great privilege of working with her in a play called Diary of Anne Frank. I think it was the best play I have ever done, but sadly we could do only 9 shows as Shabanaji couldn't do more due to her Rajya Sabha commitments. But no regret at all, as I had a lifetime experience of watching this grand old lady in her 90s, rehearse and perform, sheer delight!"


Nandita idolized Zohraji. "I was in awe of her hard work, commitment, talent and understanding of the art form. She lived a full life and inspired many. Her legends will continue and she will go down in history as a woman of great substance. My deepest condolences to all her near and dear one, and they are countless. Thank you Zohra Aapa for touching my life. May your vibrant soul rest in peace."