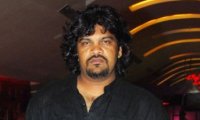 He is someone who has made up his mind that it is going to be only horror films for him. Whether it is first film Ho Sakta Hai, his subsequent release Mallika, his ready film Ghat - The Hill Station, his in-progress Shout or his Friday's release Kaalo - each of his outings has belonged to horror genre. As India's first ever day-horror flick, Kaalo, which has a 'unknown and unnamed creature' as the central protagonist gets ready to release, Wilson Louis talks about what fascinates him to pick up the horror genre time and again. Here is presenting (concluding) Part II of the director's cut, in his own words.
Nothing fake here
I did explore creating mood. Due to this, using special effects and editing became more important in showing us glimpses or giving us an impression of violence. For a film like this I certainly embraced modern filmmaking technology. The fact though is that CGI is overused and, quite frankly, more often than not it still looks really fake. In general, it just provides a better packaging for the movie, and it also makes the storytelling more engaging and compelling.
Walking the talk
My history in visual effects is slightly bigger than my history as a director. I started directing in about '2004'; I had made my first short film then. And I have slipped in and out of the genre with my short films to the idea of making movies, hence switching my career from TV, visual effects and trailer/channel packaging work. Also, sound designing is something that one has to be cognizant of. It should be in one's mind while filming. It may sound ridiculous on shoot when I remove all the horrific sounds but at least I am sure of its result. A horror film on shoot and edit is half work done; rest is your sound designing. We are on the right sound track for sure!
Make horror believable
I want characters in my films to embrace or rise above their own perceived flaws in order to succeed or fail, just as any human being does. I think that's what makes characters identifiable, and it makes them as audience would want to watch them. Create situations for characters where you know you can't do anything about them. Put characters in such situations. What really inspires me to do horror films is not necessarily a horror film with good characters but to think of it as a character piece or a drama where you have a lot of emotion but set in horror setting. So think of a drama film and then throw a creature in there; now that's kind of the whole thing that I like to do.
Making the 'look' believable
It was indeed a huge challenge to apply prosthetics for the make up of Kaalo. The whole process would take four hours every day. Also, the film was shot at a temperature of 40-42 degrees Celsius continuously for thirty days. Once the makeup and prosthetics was applied, this actor could not have any solid food till 7pm. Liquid diet had to be given to him through a straw. This wasn't all as there were more challenges involved to bring alive Kaalo. Two storm fans were directly hitting Kaalo to avoid the heat since he couldn't be in the AC vanity van which could ruin the makeup. Also, he could give not more than five shots a day and hence scenes were planned according to his availability. Before the shoot a professional acrobat was hired to train him for specialized stunts. The actor who has played Kaalo is one of the known artists in the film industry. His identity will be revealed on the release of the film."
Putting in place the 'unbelievable'
With the help of a great prosthetic team, action director team, cinematographer team, art direction team, direction team, line producers, VFX team and a director's producer, things were set on for a great shoot in the summer of Rajasthan. Teamwork was quite evident even when a major accident took place where the entire team supported by the actors of the film helped me to go ahead with the shoot as planned. In a particular shot where I needed a huge fan in the middle of the sand dunes, which could take more time by the limited manpower in the setting department, I could see all the department heads and assistants rushing to get the job done which I bet can be seen only in our Indian film production.
'Cheeni' not really 'kum'
Swini Khara (of Cheeni Kum fame), the child artist of the film, is to be admired not only for her acting capabilities but for her sheer professionalism. I was a great horror fan when I started this project but it was through the process of going back and watching all of the key horror films that shaped who I am now. This is when I realized that I am in fact an enormous fan of the genre. On paper I deal with myself, with my own idea and my own imagination. Nobody ever bothers you, I just write and then I finish it. Behind the lens I have to deal with so many people. So many problems come to visit you. The job is not directing a movie; the job is then to solve all the problems to save your creative view and your original idea right from the cameraman to your film distributor.
The final word
Sometimes I wonder if its filmmaking or film saving but then I guess that's being a real director. You have to juggle a million balls in the air at all times. A lot of money is at stake, as if you're self-financing, it's your money. Kaalo will make its mark in the Indian film industry; it will definitely set in a new genre of horror films in India. And I don't mind leading such a genre of films at all even if I have to become a real creature for it.
Click here to read the first part of this feature
BOLLYWOOD NEWS
Catch us for latest Bollywood News, New Bollywood Movies update, Box office collection, New Movies Release , Bollywood News Hindi, Entertainment News, Bollywood News Today & upcoming movies 2020 and stay updated with latest hindi movies only on Bollywood Hungama.