The box office game has always been unpredictable. But post-pandemic, it is delivering many surprises as well as shocks to even the biggest of experts. The Shahid Kapoor-starrer Jersey was released on April 22. It seemed like a film that would manage to grow with a word of mouth and then sustain well in cinemas on the weekdays. However, the film had a very poor opening of Rs. 3.75 crore. Though the film grew on Saturday and collected Rs. 5.50 crore, it collected a similar amount on Sunday, though one expected the collection to rise on Day 3. On Monday, as expected, the film crashed and collected around Rs. 1.75 crore. The four-day collections now stand at around 16.50 crore and the lifetime earnings are expected to be around Rs. 20 crore. This means that Jersey's lifetime collections would be the same as the day 1 earnings of Shahid Kapoor's last film, Kabir Singh (Rs. 20.21 crore).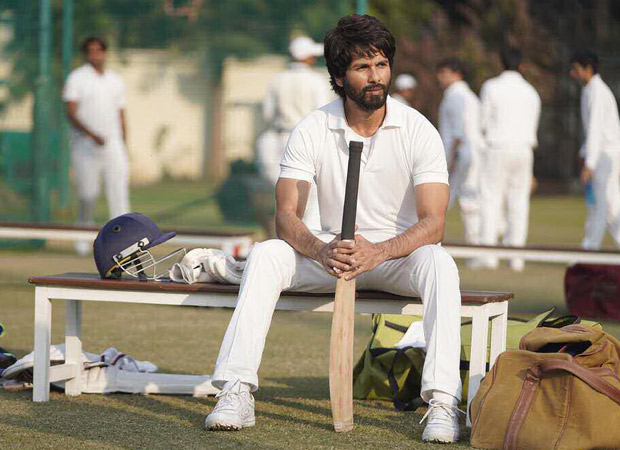 What went wrong with Shahid Kapoor starrer Jersey? Trade experts share their views on possible lifetime box office collections
We asked trade experts what went wrong with Jersey. Trade veteran Taran Adarsh said, "There are various reasons. The tastes of the audiences have changed post-pandemic. The Kashmir Files was an exception but the other films which were hits like Sooryavanshi, Pushpa, RRR, and KGF - Chapter 2 were all commercial masala entertainers. Basically, larger-than-life, wholesome experiences are what the audience wants from films now, and Jersey doesn't fit in this category. Secondly, a lot of people have already watched the original version of Jersey or its dubbed Hindi version. Thirdly, the film appeals only in bits and pieces. I liked the conflict between the husband and wife. I loved the bond between the father and the son. However, the second hour largely focused on just cricket, and on top of that, the commentary was in English. Even '83 had this issue and it was rejected."
Akshaye Rathi, a film exhibitor, and distributor agreed, "One, the KGF - Chapter 2 wave of course took a lot of people to the cinemas. In a country that is emerging from the pandemic and where disposable incomes are still limited, our audiences become choosy about what they want to pay to buy a ticket for, and what they can possibly watch in the comfort of their homes later, without losing too much of the experience of consumption. And coming a week after KGF - Chapter 2 didn't help too much. Secondly, while it's a compelling tale, the original version's Hindi version has also been seen very widely and has been enjoyed by the audiences. Perhaps, that could have been another factor that may have prevented audiences from going to the cinemas."
Taran Adarsh continued, "Moreover, realistic films like these can be sorrowful. Somewhere, we all want escapist cinema. Songs of Jersey also didn't work. If you compare it with Kabir Singh, the songs here are not memorable. On the plus side, Shahid Kapoor was outstanding and so was the child artist. The director handled certain parts. However, the film needs to be trimmed. A near-3 hour duration for a film that is a family drama with the backdrop of cricket doesn't really work. A 3-hour-long duration can work for, say, RRR where every scene is a spectacle. Ditto for KGF - Chapter 2, Pushpa and Sooryavanshi."
Trade expert Komal Nahta however felt that only one factor can be attributed to Jersey's failure, "I can only think of one reason and that's the whole hangover or rather the whole wave of KGF - Chapter 2. Audiences just don't want to see anything else other than KGF - Chapter 2. So, they are watching KGF - Chapter 2 again but are not going for Jersey."
Raj Bansal, the owner of Entertainment Paradise in Jaipur, said that Jersey flopped "maybe because the dates were shifted 3-4 times. It came at a time when no one was interested in seeing such a kind of cinema."
A case of a bad release date?
Jersey was supposed to be released on December 31, 2021. However, it was postponed as theatres were shut in Delhi due to the third wave. It was the first film to be delayed and hence, it was expected that it'll be the first major release to hit cinemas when things normalized. However, the makers chose to wait till 100% occupancy was allowed everywhere. Earlier, the plan was to release the film on April 14 and thus clash with KGF - Chapter 2. The decision to postpone it by a week was taken after the Yash-starrer registered a thunderous advance.
So what would have been the ideal release date for Jersey? Akshaye Rathi replied, "Had it come a week earlier, on April 8, it would have found better traction as it would have been before the KGF wave hit the country."
Komal Nahta felt it should have come in February. "100% it would have worked then since it had the merits. It was a well-made, well-structured film. The first half was a bit lengthy but once the drama begins, it picks up like a bullet. So, I reiterate that if Jersey has not worked, it is only and only because of KGF - Chapter 2."
Raj Bansal, too, agreed, "Things would have been very different with this film had it been released in February."
Taran Adarsh disagreed that Jersey got affected due to KGF - Chapter 2. "Let's not blame any wave," he said and explained, "The second-weekend collections of KGF - Chapter 2 has crossed the Rs. 50 crore mark. It had a jump from Rs. 11 crores on Friday to Rs. 22 crore on Sunday. This kind of jump was missing in Jersey. The other films meanwhile also have done well. So it's not like there's no cinema business. Aisa bhi nahi hai ki logon ke paas paise khatam ho gaye hai. People want to spend but at the right places. Hence, this rejection for Jersey." He also added, "When your inherent content doesn't cater to the masses, then the numbers don't really add up."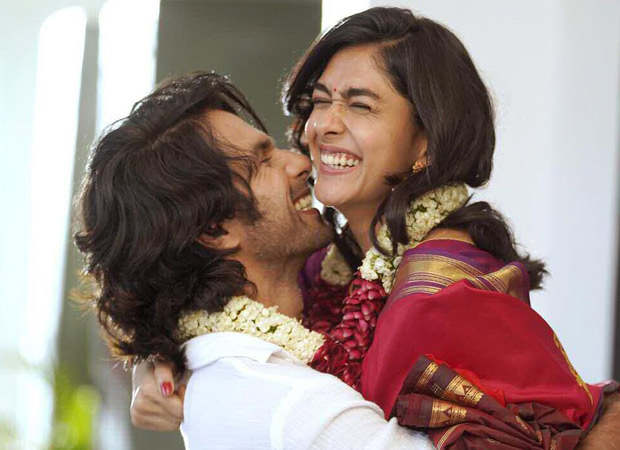 Possible lifetime collections?
With the film crashing on the weekdays, the trade feels that Jersey would end up with disastrous lifetime numbers. Taran Adarsh said, "It'll do business in the range Rs. 25-30 crore business in its lifetime."
Komal Nahta stated, "Reaching the Rs. 30 crore mark will also be difficult as next week, there are two new releases. So the showcasing will go to Heropanti 2, Runway 34, and KGF - Chapter 2. Hence, Rs. 30 crore lifetime is also a distant dream now."
Raj Bansal explained, "Jersey will finish with a lifetime of Rs. 25-26 crore. It has collected Rs. 13.50-14 crore in the opening weekend. On Monday, it has done less than Friday. By Thursday, the collection would have further come down. With two films releasing this Friday, it'll fail to find ample shows in Week 2. Hence, even crossing the Rs. 25 crore mark seems difficult."
Does Jersey's failure affect Shahid Kapoor's credibility?
Shahid Kapoor's last film Kabir Singh was a huge blockbuster, earning Rs. 278.24 crore. His stardom had got a boost, as a result. With Jersey flopping and how, will it affect his stardom and credibility? Raj Bansal replied, "His stardom remains intact. One film's failure doesn't affect an actor's credibility at all."
Akshaye Rathi reasoned, "One success doesn't build credibility and one failure one doesn't take away the credibility. True blue stardom is built not with one film but with successful films delivered over decades. Amitabh Bachchan, Shah Rukh Khan, Salman Khan, Aamir Khan, Ajay Devgn, and Akshay Kumar didn't become stars with one success."
Komal Nahta explained, "Stardom aise khatam nahi hota hai but there's definitely a dent. Superstardom means successes in a row. If you have a break, then you don't become a superstar. If you give a flop, you don't have to start from A but if you have reached P, you probably come back to H or I or J again."
Taran Adarsh opined, "I genuinely feel that you are known by your last film. Also, I believe that hit hai toh fit hai. I have seen Amitabh Bachchan being unhappy after seeing the failure of Agneepath. He was at his peak at that time. Manmohan Desai was so upset after the failure of Gangaa Jamunaa Saraswati. It happens with everyone. These are phases. I genuinely feel that Shahid is a brilliant actor. It's a matter of one hit and he'll be back again. But of course, this (the debacle of Jersey) is a speed breaker."
Shahid Kapoor-Pankaj Kapur: the unlucky jodi?
Shahid Kapoor's real-life father Pankaj Kapur also featured in an important role in Jersey. This was their third outing together. They collaborated for the first time in Mausam (2011), where Pankaj Kapur was seen in the capacity of a director. They shared screen space for the first time in Shaandaar (2015). Incidentally, all three films – Mausam, Shaandaar, and Jersey – have failed. This has prompted many in the industry and social media to dub Shahid Kapoor-Pankaj Kapur pairing an unlucky one.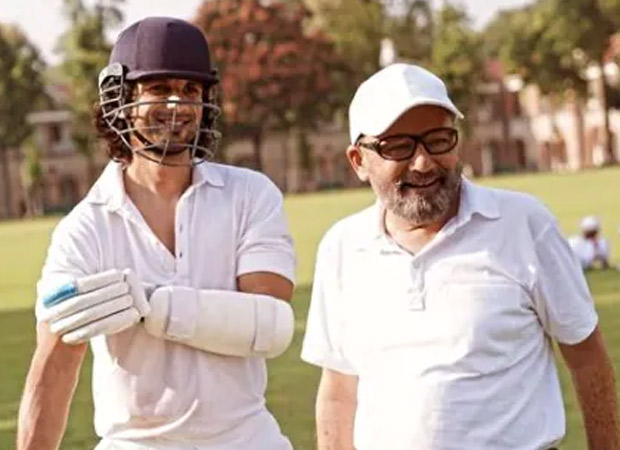 All the trade experts unanimously dejected this perception. Akshaye Rathi proved his point by saying, "Shah Rukh Khan and Salman Khan came together for blockbusters like Kuch Kuch Hota Hai and Karan Arjun on one side and also in a flop like Hum Tumhare Hain Sanam on the other. There are enough combinations of actors and stars who have had massive successes as well as massive failures together. I don't think anything of this sort should be taken seriously because both Pankaj Kapur and Shahid Kapoor are fantastic performers. It's only a matter of time before they are brought together for some script which will really fire off in a big way, which will exploit not just their acting capabilities but also the phenomenal chemistry that these actors share."
Taran Adarsh said, "It's unfair. How can you blame them? Pankaj Kapur is too accomplished an actor. Shahid, over the years, has evolved into a fantastic actor. When a film bombs, it of course affects the credibility of the main actor. Jersey did find some flavor on Saturday in the multiplexes. However, there was no growth on Sunday. The content hasn't struck a chord. You can't blame an actor or an actor duo for it."
Komal Nahta, in agreement, stated, "Mausam and Shaandaar were bad and hence didn't work. Jersey is a well-made film and it has failed to work mainly due to KGF - Chapter 2. Hence, I'd not like to say that it's an unlucky pair."
Also Read: Ram Gopal Varma comments on the 'disastrous fate of Jersey'; says releasing the dubbed version of Nani's original would have saved money and time
BOLLYWOOD NEWS - LIVE UPDATES
Catch us for latest Bollywood News, New Bollywood Movies update, Box office collection, New Movies Release , Bollywood News Hindi, Entertainment News, Bollywood Live News Today & upcoming movies 2022 and stay updated with latest hindi movies only on Bollywood Hungama.