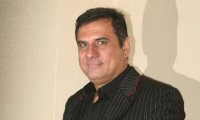 They say that when actors reach their forties, they've either turned themselves into superstars or are thrown out of the business. But what would you call an actor who has got into the business of acting in his forties? What would you call an actor who has redefined the word superstar in his own right? And what would you call an actor who has won, not only critical acclaim and awards in his mid forties and fifties now, but has also won the respect, recognition and a rare grandiosity from his fellow co-stars? There's more! A rarity which makes this big man Boman come to tears when Dia Mirza once asked Irani to give her away to her future husband. We call it 'bidai'. A true father in every sense, Boman Irani is known amongst his female co-stars as 'Pops' or 'Abba'. The first time I met him in London, the actor came across as so effortlessly charming that you almost expect him to be carrying a briefcase full of vacuum cleaner parts to assemble and demonstrate. For me, he had perfected the salesman's patter, the direct eye contact, the firm but respectful handshake but yet an aristocrat who was sitting right next to me speaking effortless English like the Duke of Kent. UK's Harrow Observer columnist and Bollywood Hungama's London correspondent talks to the father figure, the God Father and the respectful Boman Irani over the phone to know more about his love for cinema, love for his fellow co-stars, love for Shyam Benegal and Minissha Lamba and love for one of his most challenging roles in Well Done Abba. Didn't we say it's difficult to dislike a man like Boman Irani?



After Dance India Dance show, everybody on Facebook and Twitter has started calling me 'Abba'

Am I talking to a god father? Am I talking to a 'paa' which actresses can't get away with or am I talking to a man who is simple loved by the entire film fraternity for no rhyme or reason?
No, no. What are you saying man? Dia Mirza is giving me a bad name (laughs). Seriously, I'm touched. Minissha calls me 'Abba' and after this Dance India Dance show, everybody on Facebook and Twitter has started calling me 'Abba' too. There is a lot of affection that is added to why these people call me 'Abba' or 'Pops' or more. This love keeps me going.


What about the emotional factor Boman? We hear that Dia Mirza wanted you to do her 'Bidai' ceremony when she gets married in the near future?

Yes, it is an emotional journey. It's not a small thing. I am giving away the girl for the wedding, a father who is giving away his daughter for the wedding. Its immense responsibility and respect involved in doing so and I accept it with great humility and am almost moved by it. Let me be really honest here. It's very moving and touching of Dia to address such a responsibility.


Critics who've seen Shyam Benegal's Welcome to Sajjanpur say that Well Done Abba has turned out even better than his previous work.

Yes, I think so too. Welcome to Sajjanpur was a lovely film too. But Shyam Benegal has taken this one to an all time high. You need to see it to believe it.


We also hear that Well Done Abba isn't getting a theatrical release in the UK in spite of the film getting a standing ovation at last year's London Film Festival.

It will happen in a week or two after it has released in India. Not as yet.



Well Done Abba is one of the most challenging films I've done since a while

It clearly indicated that either the overseas audiences do not want to watch Boman Irani and Minissha Lamba or a film like Well Done Abba...

I do not agree with your statement. At the moment, we are concentrating on the theatrical release in India first because films like Well Done Abba need to be monitored well. I disagree with you that there isn't an audience for a cinema like this. Yes, there is. It isn't a trial and error strategy. Well Done Abba is a small film and I do believe that there will be a great response to it. People all over the world are craving for a good cinema to hit the theatres which is entertaining too. Well Done Abba falls in that domain.


You've mentioned the word 'challenging' a lot of times when you've been speaking about Well Done Abba. Please elaborate.
Well Done Abba is one of the most challenging films I've done since a while. Yes, it is because it's a Shyam Benegal film and audiences have never seen me in a portrayal like this before. You have to be on the top of your game to be ready to do a Shyam Benegal film. More so because it's a lead role. Secondly, it's a challenge because the role I portray of Armaan Ali is a very simple character. He is a driver and how to make the driver exciting enough was the tough task. Challenge is to make the driver more watchable. The situation that I was put into was challenging as Armaan Ali came out to be a larger than life person even though he was a driver. There isn't any heroic deed which I do but the fact that my role is an every man's role makes it interesting.


When Indian cinema is venturing out into different cinema these days with films like Ishqiya, Paa, LSD, Road Movie, Dev D, etc, do you think there is a high scope of such films taking over our so called commercial pot boilers?

Yes, I do so. You're right. I completely agree with you. On the flip side, if we say that such kind of films you just mentioned doesn't have any audience or commercial value, how can we explain the success of Khosla Ka Ghosla, Bheja Fry, A Wednesday, Page 3, etc. In fact, Welcome to Sajjanpur turned out to be UTV's most successful film last year. If there is no audience for a cinema like these, I'd like to believe that there isn't an audience for any kind of cinema. Munnabhai MBBS was a loser of a film when it opened. It turned out to be a cult film. Khosla Ka Ghosla was in the cans for three years after it was made. After its release, it turned out to be one of the most critically acclaimed films. Well Done Abba promises to deliver intelligence, entertainment and diverse cinema.


Let's talk about the humorous side of Shyam Benegal

When I started working with him, I didn't know about it myself. It is such a revelation to see a man like Shyam Benegal so full of ideas, has so much to say, he is always talking on the mike, and has a fun side to him after the pack up. When you meet him in social gatherings, he is simple and quiet. But at work, he is like an animal that is raring to go. He belongs on the sets and is hell bent on making cinema that I and you will enjoy. He isn't like an elderly statesman who tells people what and what not to do. That's one of the reasons why I came to London with him to promote Well Done Abba last year. He is a man with whom you want to desperately spend some time.



Minissha is at her best in Well Done Abba

Minissha Lamba is at her best ever in Well Done Abba. She is climbing the ladder of success slowly but surely. Are these the right statements to make?

I think your statements are very accurate. I've worked with Minissha Lamba before in Honeymoon Travels Pvt Ltd but this one is ten notches higher. It's unfair to say that Minissha Lamba is the surprise package of the film because that's where you're giving a back handed compliment. I truly feel that every actor learns and grows stronger and better by each passing film and Minissha is at her best in Well Done Abba. She is on the same run. She has a very big role in this film. It's a huge one actually because she is expected to deliver a performance of stature and she's done it.


Everybody wants a piece of Boman Irani. Is Mr. Irani getting too delicious?

How can you expect me to answer a question like this? (Laughs). I can't say, "Yeah yeah. I am hot right now. Come and have me". Come on man! Yes, you're right but I can't answer a difficult question like that. Yes, I am busy like a bee in Bollywood in my last six years. It's just that with each passing year I'd like to believe that I've grown as an actor, I'd like to grow my respectability and I'd like to be challenged a little more. That's what I want and that's what I am looking for.


Sameer Dattani, the underdog. Is he not a one trip pony?

He certainly isn't a one trip pony. No one is. When Mr. Shyam Benegal cast him, he was a learner. Today, he has passed out with flying colours. He is a young man and started out slowly. Well Done Abba has been a huge learning experience for Sameer. He has come out wiser, more confident and has learnt the craft of acting even better after doing a film like this. He is doing a Karan Johar film as we speak and that only shows growth for an actor. If directors are giving him time, I'm sure we should too give him time to prove himself.


Well Done Abba in one word please.

There can't be a word to describe a film like this. You're asking difficult questions here. Don't make me do that. I can speak volumes about this film but to speak in a nut shell about this film rather than one word, Well Done Abba is the best days of my life.
BOLLYWOOD NEWS
Catch us for latest Bollywood News, New Bollywood Movies update, Box office collection, New Movies Release , Bollywood News Hindi, Entertainment News, Bollywood News Today & upcoming movies 2020 and stay updated with latest hindi movies only on Bollywood Hungama.