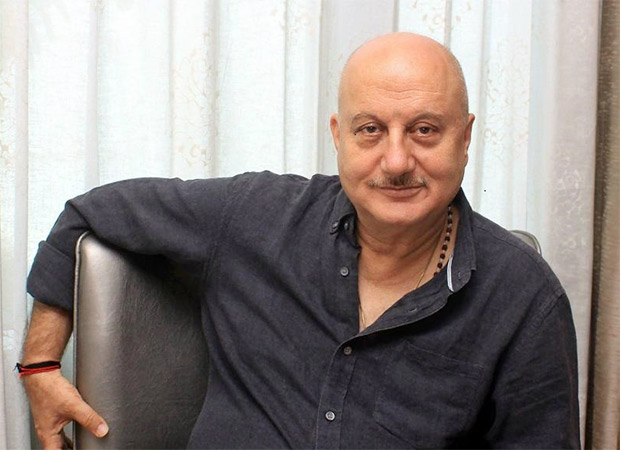 "It was strange that I and Naseer sahab spent more time promoting A Wednesday rather than on screen together," stated Mr Anupam Kher in a Bollywood Hungama exclusive interview with Faridoon Shahryar. A Wednesday released on September 5, 2008 and today it completes 9 years. Ironically the film was complete in August 2007 but it released a year later. Mr Kher talks about the virtue of patience especially when you believe in a work of Art. He turns nostalgic and shares some unique insights about the film.
Sir I spoke to Neeraj Pandey regarding 9 years of A Wednesday. My first question is that, apparently the film had been completed in August 2007 and was released in September 2008, what is your take on that. A film that you are so excited about, finds the release after more than a year.
The magic of great work is that you are confident that when it releases it will create the buzz that it needs to create. Of course I was very excited and I wanted it to come on time or faster but I have been in movies for such a long time that it kind of makes you patient about life and about how these things work. They constantly kept saying that it has to have a proper release which I understand. Though I felt that this film will always make its own niche which of course it did. Two of my best films met with this kind of situation. Khosla Ka Ghosla and 'A Wednesday', both of them were stuck for a year or two. But I was sure that whenever it comes to the market it will hit with a bang.
Sir when anyone talks about your filmography then A Wednesday is always spoken about as one of your most notable films. How significant a place does this film have in your professional career so far?
A Wednesday was a game changer in Indian cinema. It was an edge of the seat film and it had a very different contemporary look at terrorism. There were no nonsense characters and in the lead were two characters even when one was pretending to be something else, but there was something really identifiable with both characters. It was one of the finest written scripts I have read in a long, long time. Both this and Khosla Ka Ghosla. In dono ka written format hi kamaal ka tha. I would rate them among top 10 out of the 510 films that I have done.
The way the movie was promoted was interesting too. I still remember that you and Naseer sahab had a photo opportunity at Marine Lines. How was that experience like?
It was strange that I and Naseer spend more time in promoting the film together than on-screen together. We just had one scene together and ironically that was shot on the first day and it was the last scene of the film. I think it was wonderful the way we connect and it gives great joy. We don't meet each other very often but I have great love and respect. And it was fantastic to be on the train. I think we were promoting for the first time on a train and there was quite a bit of up and down. I was sitting in a train after a long time after my earlier days as a struggling actor. I have done that route so many times. The body of work that I and Naseer have done, it felt like a perfect casting. The screenplay was so strong that you just have to have 2 people who believe that what they are saying is the truth. It was an interesting project to be a part of.
The way you and Naseer sahab interacted on the phone was phenomenal. People in the cinema halls used to clap at the punchy dialogues shared between the two of you. 
Humare shots bilkul alag hue hai. I was not there to give his cue aur mere shots police control room mein shoot hue hai and he was not there to give the cue. Assistants used to read out the cues but still it worked. Acche kaam ki ek khusboo hoti hai aur woh acchi phelti hai. So when you get a great script you automatically get focused. An actor is really hungry and greedy for great roles, so when something like that happens and when you have a director who knows what he is doing and who has written a script then you automatically get centred. My reference point was my friend Rakesh Maria. He was not the police commissioner at that time but I think he was in ATS and I had the opportunity of spending time with him and I took Neeraj with me to meet him. Background score was fantastic! Background score is one of the characters that is required in such films.
Your dialogue 'Log naam mein Mazhab dhund lete hain' is considered one of the most memorable dialogues in Bollywood films ever. It sealed it for the film and said that this film is about terrorism and not religion. 
Also the common man i.e. Naseer's character, people identified with him that all are affected by terrorism and there are no particular people affected by that. Iss liye uss dialogue meh bahut baat thi. I remember during the release of the film I had gone to Chandigarh and the cricket team was there and Dhoni whom I had met for the first time told me sir ek sawal puchna chahta hu jo mujhe bada pareshaan kar raha hai ke Bande ka naam kya tha film mein?
I am sure a lot of people must have asked you that!
We discussed that a lot and I asked Neeraj also. And the fact that the commissioner who is chasing him throughout the film knows who he is but he lets him go.
Usually it's the other way round but A Wednesday is among those that was remade in other languages. It was remade in Hollywood as A Common Man and there were several South Indian versions with prominent superstars helming the respective projects. 
I remember I had gone to film festival and over there it was shown and a lot of army officers and officers came up to me and said that this is an amazing universal film and its reach and approach is great. Today everyone is somewhere or the other a victim of terrorism. And it was made that way, that even if you see it in France, Poland or in America it will have its identification. I can't believe that 9 years have passed.
One thing that strongly comes to mind is that there are so many stereotypes in our films and you have also been part of many of them. The typical hero, heroine, romance, songs, comedy track etc. But the way your character in A Wednesday gets heroic and the way you are leading the scene and Naseer saab, that has paved way for many films which break the formula and which are about screenplay and script.
Heroes are not someone who always sing and dance. Heroes are the one that inspire people. Heroes are those people who become reference points. There is a reality about Bollywood that it's about being larger than life but today the audience is accepting these kinds of films. This is the first of its kind film to have become such a big hit with a background like this otherwise usually these films go into different category. Anumpan Kher hai Naeser saab hai aur ek naya banda hai. prithvi mein 12-3 dikhaynge aur fir yeh TV pe ajaygi jaldi. Yeh film TV pe bhi 500 baar dikhayi jaa chuki hai and the magic of that is that I have known you for 13-14 years but you have never called me up for anniversary of any film. That's the magic of the film that it inspires a person like you and we are still talking about it 9 years later with so much passion. Credit goes to Neeraj and the whole team.
BOLLYWOOD NEWS
Catch us for latest Bollywood News, New Bollywood Movies update, Box office collection, New Movies Release , Bollywood News Hindi, Entertainment News, Bollywood News Today & upcoming movies 2020 and stay updated with latest hindi movies only on Bollywood Hungama.