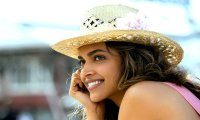 In the first part of the super exclusive interview with Deepika Padukone with Bollywood Hungama's Satish Sundaresan, she spoke all about her 'transformation' into Veronica, the preparations that went behind it, the costumes etc.. In this second part of the interview, hear Deepika talk about the film's director Homi Adajania, the music of the film, the film that she's envious of... and much more.
Over to you, Deepika!
Deepika, the film's director Homi Adajania went on record to say that Cocktail is your 'Best Performance' till date. What do you have to say about that?
If he has said so…then I am sure that he must not be lying! (laughs). Homi has had a lot of faith in me since the beginning. The kind of body language and attitude that one sees of Veronica on screen was possible only due to Homi's undying conviction in me. Looking at the way that Homi has guided me through the characterization of Veronica, we often used to tease him saying that Veronica is his female version!
Since the role of Veronica required you to be in great shape, we heard that while in London and Cape Town, you had a local Pilate's trainer and that you worked out every night after shooting, no matter what. Is it true?
It's indeed true that I got myself a Pilate's instructor in London and Cape Town. I made sure that, no matter what time we packed up, I had to work out! And if I knew that we were to pack up late at night, then, I would call my trainer early in the morning so that I did not miss out on that day. Such was my dedication and yes... before you ask; let me tell you that I was on a very strict diet.
Drifting a bit from the reel life, tell me, in real life, what actually happens when friends fall in love?
Sticky and messy are the two words that immediately come to my mind when I think of a situation when friends fall in love. Thankfully, I have never come across such a situation in real life!
In a nutshell, tell us what's the confusion between the lead characters in Cocktail?
In a nutshell? Satish… I am not telling you the story even in a shell! (laughs heartily). One has to watch the film to know what the confusion between the lead characters is. Take my word for it, you will enjoy every moment of the film. All I can say is that the film is all about the coming together of different people, their personalities and emotions. Beyond this, I can't tell you where the story goes from here!
You have worked in many two-heroine projects, including Cocktail. Do you feel that two can actresses ever be friends?
Firstly, it's a statement that cannot be generalized. Secondly, it all depends on the co-stars with whom you are working. Third, and most importantly, I feel it's the way you act and react to situations when you are with your co-stars. Lastly, it's a very competitive atmosphere out there. And thanks to my sports background, I really know the meaning of the term 'sportsmanship' in the true sense of the word. Having said all that, I feel that if friendship is true and selfless, two actresses can always be friends.
You have done a grand party song at the Clapham Junction. That must have been quite an experience, right?
As I had told you earlier that the character of Veronica was an outlet for many of my internal emotions and dancing was one of them. We were there for three days at the famous Clapham Junction. I was positioned on the third level, spotlighted in the club's sweeping psychedelic floodlights, surrounded by a cheering crowd, gyrating to the track 'Main Sharaabi'. I have to tell you that the Clapham Grand has a terrific vibe. One has to witness it to 'feel' what I am saying! Let me confess that I loved all the attention. What a feeling that was!
Your favourite track from the album of Cocktail?
It has to be 'Tumhi Ho Bandu'! I love the lyrics, the beats, the rhythms, the vocals, the performance... Everything about this song is so magical!
Did you ever feel that you could have pulled off Nargis' role in Rockstar?
Frankly speaking, I don't know if I could have done a better job than Nargis. But, it's a role that I am really very envious of! It's a film that I am strangely very proud of, because I am a fan of such genre of films. Secondly, the film was made by Imtiaz, whose works I have always admired.
The tagline of Cocktail states that 'Friendship is confusing and Love is complicated'. Do you feel that the same happens in real life as well?

It's as confusing or complicated as you make it. I think that we all tend to make our lives very complicated in today's world. In the same breath, let me also add that we can keep it simple if we want to.
Name the 3 directors that you want to work with?
Raju Hirani, Zoya Akhtar, Anurag Kashyap.
How do you pick the brands that you endorse?
The brand picks me. If any brand feels that I can justify their communication to the consumers, they choose me. And if I too feel the same, I sign the dotted lines. In short, the brands that I endorse are an extension of me.
Has there been any role that you declined and later regretted?
Never! Touch wood to that. So far I have been with associated with the films that I always wanted to be. I do agree that there are films that I have done which have not fared well at the box office. But, I never regret anything that I do. As I told earlier that Iam solely responsible for the choice of my films that I do.
Lastly, give us three reasons to watch Cocktail?
Firstly, Cocktail is the coming together of Saif and me, post Love Aaj Kal. Secondly, it's a love story that everyone will surely identify with. Thirdly, it's my personal guarantee that the film is very, very entertaining! Go, watch it!
Click here to read the first part of this feature
BOLLYWOOD NEWS
Catch us for latest Bollywood News, New Bollywood Movies update, Box office collection, New Movies Release , Bollywood News Hindi, Entertainment News, Bollywood News Today & upcoming movies 2020 and stay updated with latest hindi movies only on Bollywood Hungama.