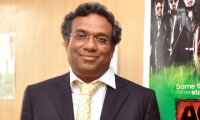 Diwali is fast approaching and at the height of all the festivity, the cinegoers will reach an all new level of appetite for films. Making this year special is the new venture of a well known brand Mahindra, that is getting into the field of Bollywood with a new look towards production of films and structuring of the film industry. Their upcoming film is the action thriller Acid Factory. Bollywood Hungama caught up with the man behind the initiative, Andre Purushottam, to find out the generics of this new venture and his vision for a new Bollywood in this rolling conversation about films, production, piracy and a lot more.


Andre- The Man:

We went to interview Andre at the Mumbai Mantra office late in the afternoon. When we entered his office, the jovial gentleman in his mid 40's introduced himself as "Purushottam, Andre Purushottam". Andre has had a distinguished career spanning 22 years in general management, business strategy, advertising, marketing and media, in India and abroad, after starting his career in Client Servicing with Lintas. Andre tells us, "My name is where I shall begin as it is because I was born in Moscow, where my father was in the foreign services, and dropped his last name and named me Andre. And today I am married to a Punju and have three kids and I feel that it's a perfect example of the international integrated Indian."


Business Accumen:

"Well, I am a graduate from IIMA, and have worked majorly in the advertising field with Lintas and later, in my second stint with Lintas, I was Indonesia's Director, client servicing dept. Then I returned to India as Head of Initiative Media in Lintas India, and served there for 2 years, after which I worked as the Managing Director of Asiacontent.net, which was a startup venture as an Internet company that integrated branded content sites across Asia. My last stint before joining Mumbai Mantra was as the Managing Director of Starcom, India. So yes I do have a very diverse field of experience backing me."


Mahindra & Mumbai Mantra:

"Let me start by saying that Mahindra has always reserved the right to enter into a business that reflects the growth story of India, and which better industry than films and media? Here I am looking at a business strategy across the group and have been entrusted to set up the entire strategy for the company. One of the recommendations was that we needed to branch off and diversify into other areas. Here at Mumbai Mantra which is backed by Mahindra, we are not just looking at film and the film industry per say, we are in fact looking at entering in new media and also the television domain. As you cannot be a serious entrant into this business without looking at films and television.


The idea behind Mahindra's venture was based on the study done of the disproportionate growth of certain sectors when the overall GDP reaches approximately 1000$ per annum. In this case it is clear that the segment in question is the film industry. Fleshing it out our GDP growth is 7% while that of the industry is close to 17%, just looking at these two figures and you can make out the difference."


Film Structuring:

"What we here are trying to do is basically bring some kind of a corporate structure into the field of filmmaking. Currently, this space is desperately in need of professionalism and it has already started with it. Like television has already started, but movies is still at a nascent stage as far as being professional goes. I think that by making this field professional, it would bring in a more precise way and method of doing things. So, for example, while selecting a script is mostly done on the basis of personal biases, we can introduce a structure wherein we collate scripts and make them better by analyzing the key aspects that work with the audience and also cater to their needs specifically. So, it remains a right brain creative activity with a touch of the left brain structure to it. Thus in the process we are converting films from a complete lottery to something that can be predicted and more stable."


New Media Exploration:

"In the research that Mahindra had conducted, we found that the producers stand the least risk of running a loss, but things have changed with time and now with piracy taking place blatantly, we see a lot of damage happening to the film world. This needs to stop. However, the flip side is that this problem cannot be totally put to rest. So, the best option would be to constantly develop some new techniques to keep this menace in check. With this and lot of other things that I am currently not in a position to disclose, Mumbai Mantra and Mahindra have decided to venture into the field of new media."
BOLLYWOOD NEWS
Catch us for latest Bollywood News, New Bollywood Movies update, Box office collection, New Movies Release , Bollywood News Hindi, Entertainment News, Bollywood News Today & upcoming movies 2020 and stay updated with latest hindi movies only on Bollywood Hungama.