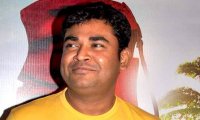 It does take quite some effort to 'fry' somebody's 'bheja' but for director Sagar Ballary it comes quite naturally. So after directing the hilarious Bheja Fry, Sagar is back with the funnier, madder and crazier sequel Bheja Fry 2 where he once again presents the 'Pride of India- Bharat Bhushan'. In an exclusive interview with Bollywood Hungama's Nikhil Ramsubramaniam, Sagar talks about this highly anticipated sequel in detail. Read on...
There were plans for a sequel as soon as Bheja Fry released and became a smash hit in 2007, what took it so long for the film to materialise?
After Bheja Fry became a hit, we did talk about making a sequel but things were pretty unclear. Besides, I didn't want to jump into making a sequel without having the right script. I was also a bit worried at that point of time that I shouldn't get slotted as a director who just makes Bheja Fry series. In the meanwhile I already had the script of Kachcha Limboo ready and I wanted to try something different and hence began work on that film which was a children's film. While working on Kachcha Limboo, I also simultaneously began work on the scripting of Bheja Fry 2.

After Bheja Fry became a hit, we did talk about making a sequel but things were pretty unclear.

In what way does the film take the story of 'Bharat Bhushan' forward?
We were very clear that the sequel had to be bigger and better than the original. The character of 'Bharat Bhushan' played by Vinay is the same, his quirks are the same but the film is about his journey ahead and the different characters he meets along the way. The original film was set in a flat where Vinay's character literally fries the brains of the character played by Rajat Kapoor. While working on the script, we were mulling over various possibilities of how we could take the buffoonery of the Idiot to the next level. That's when we got the idea of 'What would happen if you were marooned on an island with an idiot?' That formed the basic premise...we knew that the fun begins when you are stuck with the idiot with no way to escape and hence we decided to shoot the film aboard the luxury cruise liner Star Cruise Virgo and the Bintan Islands. In a cruise you can run, you can hide but you can't escape from the Idiot.
Why is it that besides Vinay you have not repeated any of the actors from the original film in the sequel?
I knew it right from the beginning that we couldn't fry Rajat Kapoor's brains any more. He was already 'Bheja Fried' in the first version. If we had again tried the same gags on Rajat, it would have become repetitive and boring. We knew that we had to offer something new to the audience and hence this time it is Kay Kay Menon who unknowingly gets caught with the Idiot and has his Bheja Fried. With Ranvir, it's simply a case of industry bad luck. In spite of trying our level best, the dates just couldn't match our requirement since Ranvir was shooting for another film at the same and hence he unfortunately couldn't be a part of the project.

I knew it right from the beginning that we couldn't fry Rajat Kapoor's brains any more.

Coming to Vinay, how Idiotic does the Idiot get in this film?
Vinay gets more annoying, stupid and irritating this time. His idiosyncrasies remain the same, his way of closing the door, his way of carrying his bag and a lot of other things. He has got some new gadgets and paraphernalia this time with him. His getting involved in situations which he is not needed to be involved in, his typical 'Ha Ha Ha' trademark laughter, his unique ability of messing up every single situation is all very much intact. We are playing it to the gallery this time around because we know we have a much larger audience base now but we have made sure that it is not slapstick. Credit to the funny dialogues goes to Sharad Kataria who also wrote the dialogues of Bheja Fry.
Take us through some of the other actors and the characters they play in Bheja Fry 2...
Kay Kay Menon: Kay Kay plays Ajit Talwar. He is as good as the lead character of the film. He is present throughout the film. His character is what I call this white collared, intelligent mafia. For Ajit Talwar's role, we needed a person with a very strong gravity, someone who nobody would dare to mess with. And Kay Kay has that image. We even thought of Nana Patekar to play the role but that didn't work out. Kay Kay plays this suave, flamboyant marketing guy who runs 5-6 big media companies…he is a big intelligent fraudster…he belongs to the noveau rich intelligent class…he is running from a tax raid when he accidentally bumps into Bharat Bhushan who is a tax inspector as you all know and that's where all the fun starts. The more he tries to get rid of him, the more he gets stuck with him until finally he is marooned on an island with Vinay and then it's the ultimate pay-off of justice.
We thought of Nana Patekar initially for the character of Ajit Talwar

Amole Gupte: Amole Gupte plays this recluse photographer called Raghu Burman who hates human beings. He feels, 'What have human beings given to this world.' He comes in the second half of the film and plays a pivotal part even in the outrageously funny climax. He is your typical Bengali who loves his radio and is absolutely possessive about it and as luck would have it 'The Idiot' breaks his radio. I loved Amole's work in Kaminey and wanted to work with him. He readily agreed to be a part of this project and told me that whatever money you pay me for this film, I will put it in Stanley Ka Dabba.
Minissha Lamba: Minissha plays a petite, working class girl who Bharat Bhushan's character has the hots for. After his wife Indumati has left him in the first part, he has never been romantically involved with anybody till he meets Minissha's character. Minissha is everything that he dreams of and he has always aspired to have a partner like her. She always helps him in the film and he gets enamoured by this fact. We knew that Bharat being this roly-poly, short, stout guy, he can't fall in love with a hot, voluptuous babe and hence we wanted a petite beautiful actress and thought of Minissha.
Suresh Menon: Suresh plays this righteous South Indian tax inspector called M.P.Shekhar. The moment I wrote this character I knew that nobody can play this part except Suresh. He has done some fabulous South Indian characters on radio like Angry Ganeshan but with this role he has simply broken all records. Suresh and Vinay play best friends in the film and the whole South Indian- North Indian bickering between them is among the highlights of the film. In fact, I showed the film to Rajat Kapoor recently and he was blown apart by the chemistry between Vinay and Suresh.
After Bheja Fry, Vinay did a series of solo-hero films such as Straight, Dasvidaniya, Oh My God etc. but none of them really worked wonders at the Box Office. Does that bother you?
To be honest, it does not bother me because if a film fails to click at the Box Office you can't simply blame one actor. Filmmaking is a collaborative team effort. By that I don't mean that the combined effort of others who made films with Vinay were not as good as mine. I would rather say that many films click for various reasons. However, if you see Vinay's latest film Chalo Dilli, it has done more business than all the other 9 films which released on that date. Vinay as a talent is fantastic, he needs a lot of support from the filmmaker, writer etc. It's unfair for him to take the burden of an entire film on his shoulders. He has been fabulous in films like Johnny Gaddaar, Antardwand and even Rab Ne Bana Di Jodi where he shared screen space with SRK.
Vinay as a talent is fantastic, he needs a lot of support from the filmmaker, writer etc…its unfair for him to take the burden of an entire film on his shoulders.

Bheja Fry despite being a box office success did garner some negative feedback because it was a copy of the French film Le Diner de Cons. Is Bheja Fry 2 an original idea or is it also inspired from a foreign film?
When Bheja Fry was made, I always maintained that it was a remake of the French film Le Diner de Cons. Bheja Fry 2 is a completely original idea. The story is written by me while the screenplay, I have co-written along with Sharad Kataria who has also written the dialogues. When the last Bheja Fry released, we had garnered a lot of negative feedback because of the fact that it was a remake without taking the rights. So we wanted to make sure not to repeat that error and also to prove that we also have some talent.
While the original Bheja Fry was produced by Sunil Doshi, this time you have Mukul Deora as the producer of the sequel. How has been the transition?
It's been fantastic. The original producer Sunil Doshi and Mukul Deora had an amicable decision that Mukul would take over. He acquired the rights. Sunil didn't want to produce the sequel. The film had a very huge budget compared to the earlier Bheja Fry. I was friends with Mukul even before I made Bheja Fry and we always wanted to work on a film together and when this opportunity came along we were more than happy to work together. The kind of marketing and publicity he is doing is simply amazing. He is the best producer we could have got for this project. Mukul is a musician and writes some wonderful poetry. This is his first film and he is taking his baby steps in the industry but am sure that he is going to make a name for himself in the days to come.

The kind of marketing and publicity Mukul is doing is simply amazing. He is the best producer we could have got for this project.
With so many funny actors on set, how was the shooting experience?
We shot aboard the luxury cruise liner- Super Star Cruise Virgo and also at the Bintan Islands Resorts. It was an awesome experience. We shot the film in just 40 days including 12 days on the cruise. The best thing about shooting on the cruise was that none of the actors or crew members wanted to stay inside their rooms. All the actors would gather together and play dumb charades during free time. Suresh Menon has entertained us thoroughly. Everybody was laughing their guts out. His mimicry of Sanjeey Kumar, Mehmood, Asrani had us all in splits.

Suresh Menon had us all in splits with his mimicry of Sanjeey Kumar, Mehmood, and Asrani

Bheja Fry didn't have any songs per se but for the sequel you have 3 music composers. Talk us through the music of the film.
There are 2 songs in the film out of which one is picturised and the other plays in the background. The song which has been picturised has been composed by Sneha Khanwlakar, its picturised in a very different black and white style. The background song has been done by Sagar Desai while Ishq Bector has come up with few promotional tracks which completely encapsulate the madness of Bharat Bhushan's character. Never has it happened that a film has 4 promotional music videos and Mukul has really gone out to create the awareness about the film.
Finally what are your future projects after Bheja Fry 2?
My next film is Hum Tum Shabana which is almost ready. There is just 4 days of shooting left in which we plan to wrap up 2 songs. It's a romantic comedy starring Tusshar, Shreyas and Minissha which goes on to comedy of magic proportions with the entry of Satish Kaushik and Sanjay Mishra. It's slated to release in August-September. There is also a film with the Irani Brothers which is a bank heist, a caper flick starring Arshad Warsi, Ranvir Shorey, Vinay Pathak, and Jackky Bhagnani. It's an original story written by 2 new writers- Janak and Hriday. We are still on the lookout for one more hero and the film will also star 3 heroines...it's on the lines of Lock, Stock And Two Smoking Barrels. I am trying different genres with different combination of actors.
BOLLYWOOD NEWS
Catch us for latest Bollywood News, New Bollywood Movies update, Box office collection, New Movies Release , Bollywood News Hindi, Entertainment News, Bollywood News Today & upcoming movies 2020 and stay updated with latest hindi movies only on Bollywood Hungama.