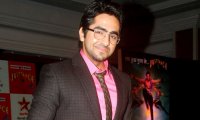 From being a theatre actor, RJ, blogger, reality show winner, VJ, anchor, poet, singer and music composer, Ayushmann Khurana has done it all. So Bollywood is a natural progression in his career graph. One of the most popular and much in demand face on television, Ayushmann is all set to make his big screen debut with John Abraham Entertainment's rom-com Vicky Donor.


Bollywood Hungama's Divya Rajani caught up with Ayushmann Khurana, where the charismatic, witty and charming VJ-turned-actor spoke about his debut film Vicky Donor, his journey from reality show Roadies to films, his film producer John Abraham, his views on sperm donation and much more.


Did you always want to be an actor?

I always wanted to be an actor. I think since childhood I just dreamt of being an actor.


Your first break.

My first break was being a contestant on MTV Roadies. It was in 2004, I was in my final year in college and after that the turning point was when I became a MTV VJ. In between I also did theatre and radio.


Tell us something about your journey from Roadies to Vicky Donor.

It was a very long arduous but happy journey. It was a lot of fun. As I told you, when I did Roadies I was in my final year of college but I wasn't ready to be in front of the camera, so I went back and completed my education. I did my English honors and did journalism and radio for two years. I was also doing theatre side by side. When I thought I was prepared I came to Mumbai.


How did you get this film?

I waited for four years for Vicky Donor. You can do a lot of stuff on television, you can fool around, mimic, make fun of people and a lot more but when it comes to films, you have to be really choosy as it is all about the choices you make. Shoojit Sircar was looking for a person who had a youth connect and I think I was quite lucky because I was associated with a youth channel, as I was a MTV VJ. He was also looking for guy who was from up north, a Punjabi who is a decent actor. I just fit the bill.



What is Vicky Donor all about?

Vicky Donor is the story of a guy who is good for nothing. He passed out from Delhi University with 53% and has got certain talents like he is a cricketer, he can sing and dance and his great grandfather had 19 kids, so that also proves that he has a good sperm count. So eventually he becomes a professional sperm donor.


How did you prepare for this role?

It came naturally to me. Sperm donation comes naturally to every male (laughs). Having said that, it is also about the character, since I am from Chandigarh, I can think, read and write in Punjabi. While doing this role, I had kept around five friends and acquaintances in mind and their certain characteristics and quirkiness which I got into the role. I also took a workshop in Delhi for 30 days with Professor NK Sharma, who heads Act One Theatre Group because it was very important to unlearn a lot of stuff. I anchor a lot and anchoring is talking to the camera while acting is ignoring the camera, so they are two totally different things.


What are your thoughts on sperm donation?

I think one should go for it because in the last 20 years from 1982 to 2002 there has been a phenomenal rise in childless couples. It is around 30 percent at least, so I think it is good for the society if you are a teetotaler, you are healthy and fit, and between 18-40 years then I think you should completely go for it. There was this awareness campaign in IIT Powai during Mood Indigo (festival) and they wanted all healthy techies to donate their sperms.


TV actress Yami Gautam has been paired opposite you in this film…

She is brilliant. We are from the same city and have known each other since childhood. She is technically correct as an actor while I am still imperfect and quite raw so I think the combination worked pretty well.


How was your experience of working with a veteran actor like Annu Kapoor?

He has been in the industry for the past 30 years and I am not even 30 years old yet, that says a lot. He is from National School of Drama, he has been there and done that. The best part is that both of us are anchors, so there was a lot of spontaneity on the sets, both of us created our own lines and we were very impromptu, we use to improvise a lot while shooting. So it was good fun.




Director Shoojit Sircar has earlier directed the critically acclaimed film Yahaan, which was a love story with terrorism in Kashmir as the backdrop and now his second release Vicky Donor is a rom-com. How was your experience of working with him?

Working with Shoojit was a great experience. He is a very credible director and only a director of his ilk and maturity can direct a film on the issue of sperm donation, which is a very sensitive topic. There is a very thin line between being frivolous and being comic. This film is a light hearted take on the issue of sperm donation. Having said that there are also lots of other surprises in the film.


Vicky Donor is John Abraham's debut film as a producer. Had you ever worked with him before while you were anchoring?

No I hadn't. This is the first time I have worked with John, though I have met him before. More than a producer, he is like a buddy and an elder brother. He gives you gyan on attitude not on acting or any creative stuff because he is like an elder brother, he will tell you just lie low, be humble, if you are famous you don't have to take it to your head, which is very sweet of him.


Vicky Donor is not just your debut film as an actor but also as a singer and composer. You have sung and composed a song called 'Paani' in the film…

I composed the song in the year 2003 with my friend Ruchak Kohli, who is heading a radio channel in Mumbai. We had composed the song during our theatre days in Chandigarh. It is a Punjabi love ballet and we were looking for the right opportunity to release it. Initially I thought I will just shoot an amateur video and put it up on YouTube. But I think this is the apt opportunity, since I am acting in the film, I am the leading guy, I am singing and I have also composed the song, what more can you ask for.


While promoting your film, you made the statement "This is the age of designer babies.", which has miffed the doctors of IVF clinics as they feel it is an insensitive remark you made just to promote his film.

Yes, I made that statement. I think designer is not a medical jargon and anybody can use this term. By designer babies I meant that childless couples look for certain traits in their kids for which they can go for specific sperm donors. For example on 14th January, 2012 there was this article in the newspaper where a Chennai based childless couple was looking for the sperms of an IIT student. For me that is a designer baby but in medical terms designer babies in certain cases means you can tweak the genes of the baby and that is genetic engineering, that is completely different and has nothing to do with sperm donation. I made this statement in the context of Sperm donor and not in the other context.



What next?

I have signed another film with Shoojit Sircar, it is called Hamara Bajaj. It is the story of a struggling actor from a small town and his name is Sanjay Bajaj in the film thus the name Humara Bajaj.


Now that you are doing films does that mean you have quit television?

Nothing like that, I think it is a very cute symbiotic relationship between television people and films because people like Shah Rukh Khan are hosting shows, they are anchoring television and award shows. I am already doing that so I think I have the full right and liberty to go into films. I am open to good quality work be it television or films.


Fast Five


Favourite Actor: Amitabh Bachchan.


Favourite Movie: It's a long list… Rang De Basanti, Jo Jeeta Wohi Sikandar, Waqt, Lamhe and many more.


Favourite Director: As of now it is Shoojit Sircar, but I would love to work with Raju Hirani, Sanjay Leela Bhansali as I like his canvas, every frame of a SLB film looks like a painting so I can look like one not so beautiful prop in the frame and Prakash Jha because I love speaking in Hindi as that is my first language, I have written blogs and poems in Hindi. I have done theatre in Hindi.


Hottest Actress: Katrina Kaif and yesteryears I used to find Mumtaz very hot.


Television or Films: Films.
BOLLYWOOD NEWS
Catch us for latest Bollywood News, New Bollywood Movies update, Box office collection, New Movies Release , Bollywood News Hindi, Entertainment News, Bollywood News Today & upcoming movies 2020 and stay updated with latest hindi movies only on Bollywood Hungama.