Renowned Indian actor Mr. Paresh Rawal steps into a new role, as Brand Ambassador for Dear Government Lottery's 'A ticket to a good life, in just ₹6' scheme. With a strong presence in both cinema and politics, he infuses credibility into the TVC campaign, becoming a symbol of trust. His unwavering reputation and clean image make him the perfect leader for this exciting venture.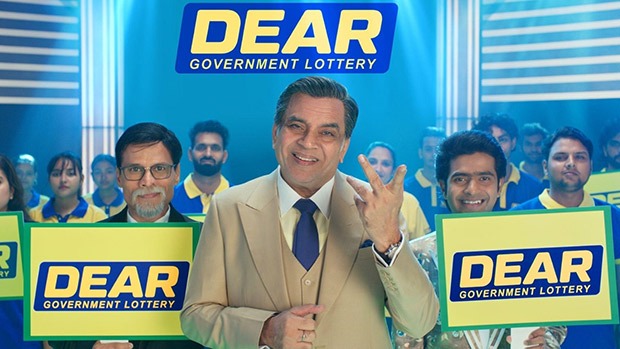 A ticket to a good life, in just ₹6! Nagaland State Dear Lottery launches Mr. Paresh Rawal as its Brand Ambassador in a new TVC
Guided by creative director Mr. Mohsin Khan, the TVC promises innovation. Notably, Mr. Khan's upcoming film (untitled) will showcase his skill. Accompanying him are Marathi and Bollywood stars, Mr. Prathamesh Parab and Miss Ritika Shrotri.
DEAR Lottery's reliability is unquestionable, with live draw results ensuring trust and transparency. The unique campaign of the DEAR Lottery ₹6 schemes of the Nagaland State Government urges buyers to play and try their luck to become Crorepatis thrice daily. Over 2424+ Lucky Crorepatis Winner have already realized their dream.
Esteemed figures like Mr. Paresh Rawal Ji, Mr. Mohsin Khan, Mr. Prathmesh Parab, and Mr. Mustaq Khan, with 400+ films to his name, associate with the TVC. Their involvement embodies the Dear Lottery's mission: turning dreams into reality.
Mr. Paresh Rawal fervently encourages support for the Dear Lottery scheme, highlighting the alluring aspect of 'A ticket to a good life, in just ₹6.' Mr. Mohsin Khan echoes this, recognizing Mr. Paresh Rawal's charisma and image, which enhance the Dear Lottery's reputation and outreach.
As the curtain rises, a better life for just ₹6 becomes attainable for all Ghar Ghar Dear Dear Hi Dear': TVC's Captivating Journey. The new TV commercial (TVC) is a visual delight, showcasing the mesmerizing 'Ghar Ghar Dear Dear Hi Dear' theme. The TVC introduces the thrilling Dear ₹6 Lottery and delves into the intriguing world of Astrology. Accomplished actor Paresh Rawal ji shines in highlighting his versatility across diverse themes.
While Mr. Paresh Rawal ji adds charisma, the commercial also features an array of characters and stories that blend harmoniously. This offers audiences a comprehensive glimpse into the Dear ₹6 lottery Schemes, allowing them to explore the depth and diversity of the Dear Lottery.
The TVC spotlights Astrology, adding intrigue to the campaign. Mr. Paresh Rawal ji's portrayal and a well-crafted narrative are set to capture the audience's imagination.
Anticipate an engaging visual experience that entertains and educates. The 'Ghar Ghar Dear Dear Hi Dear' theme bridges concepts seamlessly, showcasing Mr. Paresh Rawal ji's acting charm. Beyond an advertisement, the TVC invites viewers to share in the excitement of Dear ₹6 lottery Schemes and the enigma of Astrology.
Lottery is a Game of Chance: Chasing Luck, Finding Hope In the world of possibilities, lotteries shine like a hopeful star. We think of them as games of chance, where winning can make us rich in a snap. Yes, lotteries are about luck. They're like mysteries where fate decides. But they're more than just luck. They're about the thrill of hoping and waiting. Lotteries aren't just about winning money; they're about dreaming big.
That's what lotteries offer – a chance for dreams to come true. Think about it: every ticket we buy is a bit of hope shared with others. It's like joining a club of dreamers, all wanting something special. So, does the uncertainty of lotteries make them less fun? Not really. They remind us that life is full of surprises. It's about believing, dreaming, and hoping against the odds.
On August 1, 2023, Times Now reported that 11 women in the Indian state of Kerala purchased lottery tickets for Rs 250 and won a Rs 10 Crore jackpot. This is an example that demonstrates a lot about the opportunities and fortune the lottery sector provides for people at the bottom of an uneven society's ladder.
Also Read: The Storyteller to have Australian premiere at Indian Film Festival of Melbourne; Paresh Rawal REACTS
BOLLYWOOD NEWS - LIVE UPDATES
Catch us for latest Bollywood News, New Bollywood Movies update, Box office collection, New Movies Release , Bollywood News Hindi, Entertainment News, Bollywood Live News Today & Upcoming Movies 2023 and stay updated with latest hindi movies only on Bollywood Hungama.