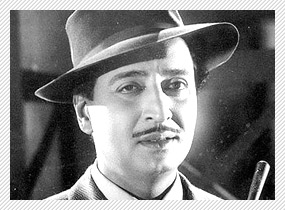 Pran is no more. Apart from the legacy of performances full of pran (life), he has also left behind a vibrant and formidable treasury of songs enacted by him on screen - mostly as a 'noble' character artiste, but also as villain and of course as hero too!
The legend had a peculiar relationship with songs. It began with his first Hindi film, Khandaan (1942), also his debut as a hero. The famous song 'Udd Jaa, Udd Jaa Panchhi' was enacted by singing star Noorjahan (making her debut) and Pran with Ghulam Haider, the composer, doubling up as Pran's voice. Heavily decked up in period costume, Pran was as natural as was permitted in songs in that era!
His early films like Sahara (1943) and Kaise Kahun (1945) also had Pran doing the standard song routine and that is what finally made the handsome actor decide that screen 'heroism' was not for him and that he would prefer to be a villain!
When we met up many years ago, this is what he had stated: "I hated singing songs around trees with heroines! If you notice, all my songs later as a character artiste are actually scenes told musically and not items thrust in to make the people happy. 'Kasme Vaade Pyar Wafaa' (Upkar), 'Yaari Hai Imaan Mera' (Zanjeer), 'Raaz Ki Baat Keh Doon To' (Dharma) and 'Daru Ki Botal Mein' (Majboor) were integral parts of their stories."
Pran scrupulously avoided songs even in his sole co-production Lakshmanrekha (1993) directed by son Sunil Sikand. However, his son's debut as a filmmaker, Farishta (1984), saw probably the last song enacted by him, 'Zamane Mein Koi Hamara Nahin' sung by good friend and early playback singer and co-star Kishore Kumar.
In between, there was such a variegated song parade that the veteran actor could easily be termed our most musical male character artiste of all time! From comedies to qawwalis and devotionals, the actor enacted myriad melodies with the brilliance that for which he was known. Largely dependent on facial expressions, Pran made the song come alive - to be full of the vitality his screen name stood for!
As he had candidly put it, "For Upkar, I told Manoj Kumar that I was very scared of songs. I requested him to keep the tape playing the song at its loudest and that he too should enact the song with me and in front of me! 'Kasme Vaade Pyar Wafaa' was an outstanding song in every aspect, sung by Manna Dey, but Kalyanji-bhai (of Kalyanji-Anandji) tried persuading Manoj that the song will be ruined as the public would reject it because I was enacting it. But after the song was filmed, Kalyanji-bhai was the first to call up and praise me, and to apologize for trying to rob me this song! He said that I was the first artiste who had not just lip-synched the song but sung it from deep within."
Kalyanji-Anandji, after Upkar, were the composers who gave him the maximum cult songs, including 'Bacche Mein Hai Bhagwan' (Manna Dey/Nanha Farishta) filmed on Pran, Ajit and Anwar Hussain as three dacoits.
'Do Bechare Bina Sahare' (Mahendra Kapoor) filmed on Pran and Ashok Kumar playing lovable rogues in Victoria No. 203, Hindi cinema's first powerful male-bonding song, 'Yaari Hai Imaan Mera' (Manna Dey/Zanjeer) and the whacky 'Hum Bolega To Bologe Ke Bolta Hai' (Kishore Kumar/Kasauti) were all huge chartbusters that all led the music scores of these films - a Pran trademark in many cases simply because of the lethal combination of lyrics, music and Pran! However, the music duo's last 'sixer' for Pran, 'Chal Musafir Teri Manzil Hai Door', sung by Mohammed Rafi for Ganga Ki Saugandh, went unsung despite being one of the finest songs filmed on the actor.
After K-A, it was Laxmikant-Pyarelal who gave him the maximum songs that made either a popular or a qualitative mark: 'Daru Ki Botal Mein' (Kishore Kumar/Majboor), 'Tu Gaddaar Sahi' (Gaddaar), 'Shaam Suhani Aayi' (Mahendra Kapoor/Zinda Dil), 'Kamaal Hai Kamaal Hai' (Manna Dey/Karz), 'Jaa Meri Behena' (Manna Dey /Ladies Tailor) and last but not the least, that splendid theme devotional from Subhash Ghai's Krodhi, Manna Dey's 'Krodh Lobh Maya Main Taj Kar Ram Tere Ghar Aaya'.
Here it was that we saw Pran's unparalleled range as an actor, from the happy-go-lucky inebriate Michael of Majboor to the 'spiritual' singer of the last film. 'Malang Chacha' of Upkar, the intense Pathan, Sher Khan in Zanjeer, and the Nepali buddy in Kasauti were all in-between these extremes, showing that Pran 'lived' the song as much as he breathed all he histrionically possessed into his characters!
There were many lesser songs filmed on Pran, in films as assorted as Rahu Ketu, Lafange, Vishwanath, Raja Aur Rana, Waqt Ki Deewaar, Lakhon Mein Ek and others, of which the maximum came in the '70s, when he commanded a position and price next only to the top three heroes! Leading the rest of the output was Mohammed Rafi's masterpiece, 'Raaz Ki Baat Keh Doon', composed by Sonik-Omi, in which he spars verbally with the evil-intentioned Bindu on screen in Dharma (1973). And this was the first song for which I have witnessed coins being thrown on the screen by the audience! Yet another qawwali he sang with characteristic gusto was R.D. Burman's Rafi-rendered 'Jeena Hai To Ussika' in the 1971 Adhikar.
Some other relatively ordinary numbers Pran brought to life included Shankar-Jaikishan's 'Hum Do Mast Malang' In Beimaan (Kishore), R.D. Burman's 'Shivji Ka Naam Leke Yaaron' In Chor Ho To Aisa (Hemant Kumar), K-A's 'Meri Nazar Se Bacha Na Koi' In Chori Mera Kaam (Kishore), L-P's 'Na Tum Ho Yaar Aloo' In Dus Numbri (Manna Dey), and Sonik-Omi's 'Ameeron Watan Se Garibi Hatao' in Shankar Dada (Rafi).
But here is where we explode the myth that Pran was only about 'item'-like songs in the '70s and early '80s, after he shifted to 'goodness'. As the villain, he had Kishore Kumar singing 'Aake Seedhi Lagi Dil Pe Jaise Katariya' in two voices, the original for Pran and in a 'female' tone for himself (dressed in female garb!) for the comedy Half Ticket. The Shailendra comic classic was composed by Salil Chowdhury. Pran's antics matched Kishore's intentionally-gimmicky vocals so well that the villain himself seemed to be singing on screen!
In S.D. Burman's 1960 Bewaqoof, Manna Dey came in as Pran's voice in another on-screen duet between Kishore and Pran, 'Tu Tu Tu Jaam Liye Jaa'. Mukesh also became his voice in the 1948 Ghulam Mohammed film Grahasti in which he enacted the love duet 'Tere Naaz Uthaane Ko Jee Chahata Hai' with a co-artiste.
And to culminate Pran's love-hate relationship with music, we have to end with that playful number from the 1955 Munimji, 'Dil Ki Umangein Hai Jawaan', sung by Hemant Kumar and Geeta Dutt for Dev Anand and Nalini Jaywant under S.D. Burman. On the original record, a singer named 'Thakur' was mentioned as Pran's voice, because as the villain, his character obliges the heroine by trying to sing with them in completely off-key pattern. Later, it was revealed that Dada had made Pran sing his own portions in those days of live recordings - and Pran had deliberately and credibly sung the song in the wrong pitch!
BOLLYWOOD NEWS
Catch us for latest Bollywood News, New Bollywood Movies update, Box office collection, New Movies Release , Bollywood News Hindi, Entertainment News, Bollywood News Today & upcoming movies 2020 and stay updated with latest hindi movies only on Bollywood Hungama.