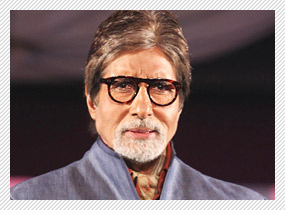 There is no doubt that India has never seen and will never see a star-actor like Amitabh Bachchan. But it's the human being that I admire even more. It's the man who calls me his friend whom I look up to. A truer friend would be harder to find. This is the same super-icon who braved serious security hazards to come to my home in Patna, simply because he had promised he would.


To Amitji, a promise is inviolable. Though he was told that a visit to my home in Patna would be a threat to his security, Amitji came for dinner...and was greeted by 10,000 roaring fans in front of my house. My entire street was a sea of humanity.


I panicked, and even suggested he cancel the long-promised visit. My fears were unfounded. The minute Amitji's cavalcade arrived, the crowds parted to make way. He came out of the car and plunged right into the crowds with folded hands as the security guards and cops ran after him in naked nervousness.


That is the quintessential Amitabh Bachchan. Warm and approachable. Never afraid to reach out to those who love him.


Though he's by far the biggest icon of showbiz, his failure to come to terms with the mind-games that people play is inexplicable. It's very difficult to win AB's confidence. Once you do, it's even more difficult to lose his trust. He doesn't trust easily. But when he finally does, he trusts blindly and completely.


That's why my bonding with the Bachchan is so precious. In his own special way he lets the other person know how special he is. While some of my other 'close' star- friends in Mumbai like to keep their friendship with me away from prying eyes, AB is extremely demonstrative about his feelings for his true friends.


Many years ago when Kaun Banega Crorepati was blossoming and growing on television I got the surprise of my life when one evening AB announced to a contestant from Patna that a very dear friend of his lived in that city. It was a big moment and a turning point in my relationship with AB. In a way it was his way of acknowledging his trust in me. Until that point in my rapport with AB I didn't really feel close to him the way I did with his wife Jaya or his son Abhishek.


During my very first interview with him, I covered my nervousness with cockiness and said, "Jaya steals the show each time the two of you come together in any movie."


There was a disturbing silence. When like a fool I prodded him for an answer, he replied, "What can I say to that?"


Since then, I've come to know it's a part of Mr. Bachchan's basic nature to suffer in silence. "That's the story of my life," he recently said in an unguarded moment.


I sincerely believe no biography can do justice to the enigma called Amitabh Bachchan. We all know the suffering and humiliation that this mega-star has gone through as a public figure, first as a politician and then as an entrepreneur. Betrayed by those very people whom he trusted, no one knows how much he has gone through for simply being 'Amitabh Bachchan'.


And yet he has never lost faith in humankind.


I remember during my first meeting with him, AB hardly spoke. He was attentive and warm. But there was no real verbal interaction from him. The next morning on the sets of a film he was a different person. "I hope I was talking sense yesterday. Because I was heavily medicated for a health problem," he told me.


I didn't tell him that there was hardly any talk to talk about.


It takes him a while to find a comfort zone even with the people he trusts. Once there, he's all there. Whether it's Anil Ambani or a simple non-celebrity journalist from Patna, AB is equally proud of his association with all his true friends. He doesn't measure their value in his life by their social standing or their bank accounts.


It's a slow and cautious process but if he gives you his friendship, it is unconditional and also irrevocable, unless you happen to do something to hurt him radically. People very close to him have done him immense damage. These betrayals haven't made him bitter or cautious in his dealings with human beings. They've just left him a bit baffled and bruised.


But his attitude to human contact remains supremely positive. Amitji loves to reach out to people, make new friends...He loves to connect with his son Abhishek's generation. "Whenever I shoot with the younger generation I want to socialize with them, go out to a discotheque, freak out...But they seem uncomfortable with me," he was crestfallen.


Not too many people know about the fun side of Amitji. He's a great one for SMS, our mega-star is. The messages can be pithy or funny or both. But they make their point tellingly. I'm not at liberty to share some of his naughtier messages here. But I will say one thing... At 70, AB remains the youngest person in the Bachchan household. When he's at home with family or with close friends, he's completely relaxed. And often wickedly humorous.


All the 4 Bachchans, AB, Jaya, Aishwarya and Abhishek are great hosts. One of the things that I look forward to in Mumbai is my evening at Jalsa, the Bachchan residence. Each time I'm invited for a meal, Jaya and Abhishek make sure I've a perfect evening. And if for some reason the head of the family is unable to be home he makes sure to call to say he hopes I enjoy myself in his absence.


You've heard reams about AB's professionalism. But you still haven't heard enough. I've known this astounding workaholic to sweat it out under worst possible circumstances without a word of complaint. In Los Angeles for Sanjay Gupta's Kaante, Amitji had a severe back problem and a tooth that felt like labour pains in the mouth. He not only bore all the pain he shot action sequences and made sure the shooting didn't suffer on his account. While shooting for Gaurang Doshi's Deewaar, Amitji was ensconced for hours together in a set depicting a cave which was barely 5 feet in height. At the end of the day he couldn't stand straight. But there wasn't a word of complain.


It's because he voluntarily bends down to fulfill his professional commitments that he can stand so tall, so above all, where his colleagues and contemporaries in the film industry have to look up to him with binoculars.


Most important of all, Amitji is a man of tremendous integrity. If you're a friend he'll go out of his way to accommodate you. The number of films he has done recently just to bail out old friends from financial troubles is legion.


Once a non-Hindi actor needed Amitji to put in a flash guest appearance. Since I knew exactly how crowded his schedule was, I was hesitant to ask. But since this was a really close friend who genuinely needed AB's presence in his film, I sent him an SMS. The response was immediate. And positive. Of course he would do it!


If I ever make a film (which is doubtful) I know one star who will unquestioningly support my endeavour, and that's Amitji. I can't say the same about anyone else in the industry. I only have to see that unflinching look of warm acceptance in his eyes to know that this man means business...Or rather; he means a lot more than just business.


During a private conversation when we spoke about the state of the nation-when Amitji expresses concern about the growing vulgarity and mediocrity in every walk of life he speaks in Hindi and that's when you know he's really disturbed - he suddenly said. "I've very few friends. I depend on a few people...like you."


To you Amitji, that may have been a casual observation. To me it's a great responsibility. I hope I am up to it, now and for as long as you remain India's biggest humblest and most cultured star ever.


This man never speaks without reason. In the 12 years that I've known him I've never seen this marathon runner talking frivolous or criticizing anyone. The one time AB lost his cool was when he reacted to Subhash Ghai's statements against AB Corp Ltd. Without mincing words AB put Ghai in his place.


I couldn't sleep on the night of the interview. Should he speak this way? Wouldn't it go against his softspoken genteel nature? To his credit AB never went back on his words. My greatest triumph as a journalist was when one of the mediapersons Pritish Nandy whom I respect the most called to ask, "How did you get AB to open up this way?"


Today when I watch him reinvented as the Crorepati anchor I wonder how he manages to be so comfortable with so many people. AB isn't a crowd person. And yet when put into one he can be the life and soul, without trying.


As India's greatest star-actor turns 70, Hindi cinema has much reason to be proud . If Dilip Kumar defined male acting in the 1950s onwards, AB took over from the mid-70s. Today we see a glimpse of him in every actor who shows up on screen. And even AB's star-contestants on KBC subconsciously lapse into his genteel wry demeanour.


'There will NEVER be another Amitabh Bachchan'


Keep trying.
BOLLYWOOD NEWS
Catch us for latest Bollywood News, New Bollywood Movies update, Box office collection, New Movies Release , Bollywood News Hindi, Entertainment News, Bollywood News Today & upcoming movies 2020 and stay updated with latest hindi movies only on Bollywood Hungama.