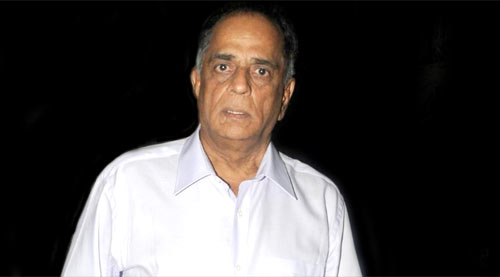 "Interpole ka pole, Mera haath Jagannath, din mein sister raat mein bistar are the portions that have been removed from Tamasha as they were a little non-veg and have
been rightly censored," said Ranbir Kapoor in a Bollywood Hungama video interview recently. With a movie up for release, the biggest of actors and filmmakers are willing to placate the
ruthless scissors of Censor Board and compromise upon their right to freedom of expression. I don't see anything objectionable in the lines that Ranbir mentioned and it is silly to edit them out.
The film industry is simmering with discontent due to the dictatorship of Censor Board chief Pahlaj Nihalani who has the unique distinction of taming James Bond's flirtatious proclivity and
teaching him how to stay away from his luscious ladies.


"Angry Indian Goddesses is an important film. It is a harmless film and we are hoping and praying that we are not murdered and butchered," Sandhya Mridul told me in an interview recently
when I asked her about the apprehensions that she may be having considering her film has expletives and a few scenes that may be slaughtered at the Censor table. A few days later a news story came
out that objections have been raised about certain scenes in the film, usage of word 'Goddesses' and it is having a tough time. Watching movies has become an irritating experience these days
because of the many disclaimers and the beeped-out-madness. I saw a few films at the Jagran Film Festival this year and thankfully they were uncensored. It was an extremely pleasant movie watching
experience.


A war is going on between Censor Board chief Pahlaj Nihalani and the other Censor Board members especially Ashok Pandit. Mr Pandit has been a vocal critic of Nihalani who, on a rebound is asking
questions like, "This means you want to do sex in your house with your door open. And show to people the way you are doing sex." The problem is that no steps are being taken to resist the onslaught
of Pahlaj Nihalani. A few months back many senior producers had openly defied the Censor chief and requested Rajyavardhan Singh Rathore, the minister of state for Information and Broadcasting to do
away with the Censor system and instead introduce a rating guideline. Mr Rathore agreed with this request and promised that it will be brought into practice as well. Much water has passed since
then but there's nothing to restrain Nihalani-on-a-rampage and the ratings system is nowhere in sight.


The central government hasn't handled the FTII crisis properly. It seems they are not serious about the Censor issue either. No concrete steps have yet been taken. The emphasis is on ensuring that
the status quo is maintained. So Gajendra Chauhan continues to be the chairman of FTII much against the wishes of the students as well as most of the film industry. Pahlaj Nihalani is flaunting his
closeness to Prime Minister Modi (he has made a short film on him recently) and many say, that is the reason why he shall continue being in the hot seat.


The film industry needs to take a serious note of the current situation. Many people across the world know about India because of the film industry. As per data shared by Twitter India, amongst the
top 10 celebrities in terms of followers, 8 belong to the Hindi film fraternity. The descendants of Peshvas have written a letter to Maharashtra Chief Minister Devendra Fadnavis about certain
'factual irregularities' in Sanjay Leela Bhansali's Bajirao Mastani. Supreme Court of India had passed a historic judgment when Prakash Jha's Aarakshan had been banned in three states
by stating that no institution or state government can ban a film once the Censor Board has passed it. So, what is there in store for Bajirao Mastani? Will the makers stick to their
screenplay or cower before the dictats of unreasonable voices? What if Bajirao Mastani doesn't live up to the standards of morality raised by Sanskari Nihalani (he has long forgotten his
atrocious 'freedom-of-expression Khada Hai Khada Hai from his production Andaz by the way) considering it is not a conventional regular love story?


Hansal Mehta's Aligarh is having a five minute scene of homosexual love making involving Manoj Bajpayee. Homosexuality is illegal in India but does that stop gay sex or homosexuals thriving
in India? Is being a gay only about sexual orientation or is it also about emotions? The statistics may shock the puritanical murderers of freedom of choice. When something is a practical reality,
why can't it make its way into movies which have proved to be a great medium for depicting the social fabric of the country? The question once again is that will the producers Eros and director
Hansal Mehta fight for their right of freedom of expression? Will they get an overwhelming support from the film industry as they rightly must? They managed to hold the premiere of the film
(uncensored version) at MAMI film festival in Mumbai recently and the response has been resoundingly positive.


It is high time that the film industry takes itself seriously, come together as a unit and fight the menace of bizarre censorship and relentless attack on freedom of expression. What is sad is that
when one film maker or an actor is going through a tough time, there are many within the film industry who take pleasure in the discomfort of others. The film industry as a whole has to make a
choice, if you're happy to see someone else's house burn, the fire may engulf you as well. Sooner or later! Take a call.
BOLLYWOOD NEWS
Catch us for latest Bollywood News, New Bollywood Movies update, Box office collection, New Movies Release , Bollywood News Hindi, Entertainment News, Bollywood News Today & upcoming movies 2020 and stay updated with latest hindi movies only on Bollywood Hungama.