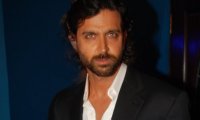 21st May 2010 is the date that has been blocked by Hrithik Roshan's fans world over. After all, it's the day when Hrithik's much awaited film Kites opens across cinema halls. Kites is extra-special to Hrithik as for the first time ever, the superstar will be seen or should we say heard crooning a song in the film. The song in question 'Kites In The Sky' is an English song that will be premiered on TV channels on the 29th of this month. In this interview, Hrithik shares his experience of recording this song. Read on!


What inspired you to sing in the first place?

I did not decide to sing, I was forced to do it. My uncle had tunes and Anurag had this ridiculous foresight that I could sing. Somewhere he had thought that I have all the talents: that I can act, dance and I do know music. So he believed that I can sing too for the film and it would be an extra bonus for it.


I obviously was not very gung-ho about it. But then he caught me very cleverly when he informed that it's going to be a lip synced song. In my head we had decided to make a very very honest film. I could not see myself lip syncing in this film on a song sung by another professional singer. He had me trapped.


When we started making the film, the entire grammar of the film was totally out of the normal world of making Indian films. We had decided from the beginning about the kind of songs we will have. There was no lip-synching song per se in the film. I had told him in casual conversation that if I had to sing in the film then it had to be a song in my voice. Somewhere he had remembered that and used that to get his way. He said we have lip-synching song and it had to have your voice and that was that.



Anurag told me that it's a lip-sync song. I could not see myself lip syncing in this film on a song sung by another professional singer. He had me trapped.

How did you rehearse for it?


Once I said ok fine and I will do it, they gave me 2 weeks to get into the mood of it. And I rehearsed in the most ridiculous manner. Early in the morning, I would start with my sa re ga ma pa dha ni sa. Right from the time I would wake up to brushing my teeth to taking the shower, all the time I was singing with hand movements trying to reach the highest scale and lowest note.


My niece has learnt the piano and she has this little Casio player which I had borrowed. And I have the knack of finding any tune on any instrument. So I practiced on that for a week. Then I realized that it won't work like that and I got a professional trainer. Susan came to help me and she is also the female voice in the song. I requested them if we can rehearse now and record the song later once we were back in Mumbai. However, the problem was that they were shooting this song at Las Vegas and we were leaving for Las Vegas immediately. So we had no option but to record. We decided to do a scratch and later record the song properly. But they loved the scratch so much that they did not allow me to improve on it.


I didn't consider myself a singer but to be honest to my character, I went along with everybody. I am extremely happy for the kind of honest film that we have made. Even thought it was not professional singing and its not the perfect voice but in the film, it renders honesty on screen.



Early in the morning, I would start with my sa re ga ma pa dha ni sa

So how was your experience while recording the song?

I thought I will pull it off. I had gotten myself to the point where I was enjoying singing. I am falling in love with the art of shutting your eyes from the world and going in meditative state where you just sing. It's a beautiful feeling. But when I went to studio it was totally different story.



They just blacked out the entire studio and this black out worked and helped me to come out of the inhibitions that were in mind.

They put you in this little compartment and you are not allowed to move because the mike is fixed and by moving, your voice will also move away. And while practicing I had been so mobile. I was like you are in training shoot. I was locked up in one place where I can't even move my legs because the breath shifts in different direction and force change on mike is super sensitive. Although I was fixed in one place I was still enjoying it because I was learning a new thing. It's always nice to have new challenge.


Finally I told them to just switch off all the lights of the studio because I wasn't being able to get my best out. So they just blacked out the entire studio and I could not even see my mike because it was so dark. This black out worked and helped me to come out of the inhibitions that were in mind. And that's how I finally worked. That day we had a flight in the night at 3.30. I started off at 9 morning, we packed up from studio at 1 in the night. I had not even packed my suitcase but the song came out very natural.


What was the reaction of your uncle Rajesh Roshan and director Anurag Basu when you were recording it in studio?

I didn't want anyone to be there in studio, so nobody was there in studio. It was just me and the female singer Susan. And I said let me just go with the flow and allow me to enjoy myself. When they heard they liked it a lot. They kept the scratch only as the song but now I am scared because it's going to come out in the audience.


And of course there is the whole pressure of knowing from where I am coming. My grandfather to my uncle and the entire musical family background, I couldn't let them down. So I am happy that it went off just fine. There is always an extra pressure on you to come out with the best in whatever you are doing.



Suzanne feels I am the best singer in the world. She compares me with Elvis Presley

How much did you enjoy singing and will you be singing more for your films?


I think yes, I enjoy singing. But then there are so many people who enjoy singing even though they can't sing. Everyone likes to sing, it's something natural in all of us. I have been singing myself to sleep whenever I am stressed out. I just sing any song like a broken record and keep going till I feel some relief. Then I go to sleep. After listening to this entire story, Anurag Basu has sort of shown in to the world.


What has been the reaction of your wife Suzanne towards your singing?


In this regard, I think she is obviously and completely biased. She feels I am the best singer in the world. She compares me with Elvis Presley. But I don't believe in that. I just feel it's all her love that comes out for me.
BOLLYWOOD NEWS
Catch us for latest Bollywood News, New Bollywood Movies update, Box office collection, New Movies Release , Bollywood News Hindi, Entertainment News, Bollywood News Today & upcoming movies 2020 and stay updated with latest hindi movies only on Bollywood Hungama.