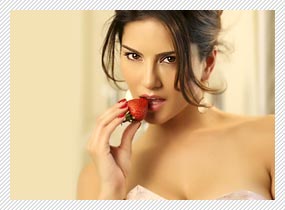 Considering that she's an import from the adult film industry and barely began her innings as an actress, Sunny Leone has blazed through Bollywood like wildfire, becoming one of the most sought after actresses
Sunny Leone's growing power in Bollywood
today. After making her Indian television debut with reality show Bigg Boss, the way was made for Sunny, bagging the lead role in Pooja Bhatt's Jism 2, which Mahesh Bhatt offered her on the reality
show. After the release of Jism 2, Sunny was seen in the item song 'Laila' in Sanjay Gupta's Shootout At Wadala. Her next stint is with Balaji Motion Pictures for Ragini MMS 2 and a
3-film deal with Parag Sanghvi's Alumbra Entertainment. So, despite being a porn star and making her way through Bollywood as an unconventional actress, her popularity has risen to a point where Sunny is already
being pegged as an A-lister, even though she has only one film to her credit. Bollywood Hungama gets renowned film critic Taran Adarsh, Balaji Motion Pictures CEO - Tanuj Garg and a few industry experts to
give us a gist on what makes Sunny Leone the hottest property in Bollywood today.
Taran Adarsh believes that Sunny Leone is the next big thing in show business. Talking about her screen presence in Bollywood, he says, "As of now, her screen presence is so terrific that you cannot take your eyes
off her... she looked great in the item song that featured her in Shootout At Wadala. The audience didn't see much of her talent in Jism 2 though, Ragini MMS 2 is her true calling, which is slated
to release this year. I think it's the freshness factor clubbed with a new face that matters. As a brand identity, I believe she is very strong and she is inundated with the various film and commercial offers coming her
way. It speaks a lot about her as a brand icon."
With being one of the most sought after celebrities, Sunny has 4 films in the pipeline already. Talking about the prerequisites in casting an adult film star for a Bollywood film, a prominent industrywalla says, "Sunny's
entry into Bigg Boss and her debut with Jism 2 made her quite the hot topic with everyone talking about her. Basically after Jism 2, we learnt that newer actresses were needed in the industry.
Going by her strong screen presence, she could probably become the face the public would want to see. Now she's signed up with Ekta Kapoor for Ragini MMS 2 as well. She's extremely professional and
grounded. She is very easy to work with, as comes with no starry airs that a potential star actress possesses."
Talking about the decision in signing up Sunny for Ragini MMS 2, Tanuj says, "We were convinced to take the brand up a notch, after observing the figures the first installment generated. This was thought of
when the Sunny Leone phenomena just hit India and with the brand image of Ragini MMS, she fitted the bill perfectly. She was shooting for Jism 2 around the time when we approached her for Ragini
MMS 2. Sunny loved the concept, after watching the first Ragini with her husband Daniel in LA and was quite keen to be a part of the project."
Considering the incredible interest that she has commanded with her two year stint in Bollywood, her upcoming films would be the true test in the industry. Even though she is relatively fresh, she commands a pay
bracket that is almost on par with some of the A listers in Bollywood. Says Taran, "If all her upcoming films click then it would be like adding another feather on her hat. She is already a public figure now, endorsing
various brands, so I don't think there is a stipulated amount fixed for her."
"In regards to a newcomer's pay bracket, the price aspect is between a producer and the actor, it's a producer's decision to go ahead with them. If a particular actor, actress or director demands a certain price in which
you agree, then it's feasible. The pricing aspect for an actress is not enforced, even if a film flops, the price tag doesn't decline marginally," says Taran. A film insider believes that it's justified that her pay packet be in
par with an A-lister, he says "She has brought a certain amount of business for Jism 2. I think Ragini MMS 2 is a great buzz around town so in a way I think it is reasonable."
Tanuj points out that a payment is made on the basis of return on investments. Shedding light on whether if it is justified for her to ask for as much as an established celebrity, Tanuj says, "We are not the sort of
producers who run amok and go crazy with spending huge amounts of money on our films... we pay according to the budget and estimated recoveries of the film. With what she would be offered by the others is really
an independent decision."
Although she has already established herself as the sex siren with Jism 2 and with an item number in Shootout at Wadala, her upcoming films could decide whether she's a versatile actor. Talking about
how much of an impact she would make, an industrywalla says, "With regards to her image being plastered with her latest item number, I think that most of the actresses big and small are doing these item numbers
today. This would be a continuous element that filmmakers would indulge in. She's changing her image in a way with signing up with top banners and people are not talking so much about her past, as they're talking
about her future prospects in the industry. This will change with the kind of projects that she is doing." Shedding light on what could be working for her, Tanuj says, "She looks up to the actors that we have, and posses
an inherent sense of humility which is a very important trait to have in this industry. Generally, the entertainment industry always has its darling of the season."
With her incredible adult film career and her blazing stint in Bollywood so far, brand managers are taking note considering her as a bankable endorser for their products. Talking about being a viable option of considering
Sunny as the face of a brand, Taran says, "It's rather too early to comment on whether she could lead a brand. As of right now, she is just starting out as an actress. Right now the favor towards her is very strong.
Ragini MMS 2, will mark her mainstream entry, the film would be a deciding factor that would show where she stands in the industry. Her purple patch will continue if she can deliver... she'll enjoy longevity in the
industry."
Echoing the same thought, a film insider adds, "There was a certain edge to Jism 2 and I think Ragini MMS 2 would reflect the same by the time it releases in October. I think Ragini would make
her an established star in Bollywood." Talking about Sunny Leone being a crowd puller, he adds, "When I watched Shootout At Wadala at Eros, a single screen theatre in Mumbai, the crowd in the stalls went
mad hooting and jumping on their seats when her item number came on screen. I think she is already carving out a niche for herself in the industry, this is one of the big reasons that production houses are signing her
up for their films."
Choosing an actress like Sunny Leone to work in the industry is a rather unconventional affair. Shedding light on the probable challenges in taking such a decision, Tanuj says, "Our idea at Balaji is to make the
unconventional conventional, going by our filmography you will find that we have always taken a leap of faith as a company. The way we cast for our films, is not the typical casting that you see in Bollywood. This is
visible with our films like Once Upon A Time In Mumbaai 2 where you have actors like Akshay Kumar and Imran Khan, who both represent two diametrically different worlds, coming together. We think typical is
boring so we thought that using Sunny for our film would be a different route, and also be the ace of the film."
Even though Sunny has her past in adult film industry, her future prospects in Bollywood won't simmer down yet. Talking about how she would have an unwavering stint in the industry, Tanuj says. "Some people have
an open past, while some don't. I don't think that should weigh down someone's future prospects. There's no point in getting ethical or moralistic about these things, because what an individual is capable of doing is
what really matters and not what they've done in the past. If there are people who are uncomfortable working with her, then it could only muster reasons known to them. Sunny Leone has immense drawing power that
no one can run away from, and that's a reality that no one could suspend."
BOLLYWOOD NEWS - LIVE UPDATES
Catch us for latest Bollywood News, New Bollywood Movies update, Box office collection, New Movies Release , Bollywood News Hindi, Entertainment News, Bollywood Live News Today & Upcoming Movies 2023 and stay updated with latest hindi movies only on Bollywood Hungama.