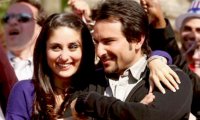 ''When a bomb explodes mainly the innocent die,'' says Vivek Oberoi towards the blood-red-hot finale when, to put it at the most basic level, all hell breaks loose.


Innocence is not quite snuffed out at the end of this explosive drama on international terrorism.


In Rang De Basanti Rensil D'Silva had taken screenwriting in Hindi cinema to a new level of expressionism. With his directorial debut coming as it does with the erroneously filmy title of Kurbaan, Rensil carries the spoken unspoken, visual and metaphorical language of mainstream cinema to an unvisited distant shore.


Blending the thorny theme of the political-cultural identity of the Muslim community post 26/11 with the commercial identity of contemporary Hindi cinema is not an easy task. The film manages to be many notches superior to other national and international films on global terrorism, a theme that now threatens to turn into a full-blown commercial formula.


Kurbaan averts a catastrophic collision of 'message' and entertainment by preserving a virile and healthy contempt for the trite expressions of formulistic terrorism in films that use fundamentalism as a villainous formula. Here the characters are not representational of Islamic ideology. They function in the brilliantly-designed plot as people who subscribe to the view that the Muslim community across the world are persecuted, hounded victims of an American oil-politics that threatens to annihilate the Islamic world.


This is a very thin ice for a debutant director to walk on. Rensil D'Silva's film says, sometimes right out loud, that a sense of aggressive isolation grips the entire Muslim community. There are either those (like the chanters played by Om Puri, Kirron Kher and Saif Ali Khan) who think a direct action plan of retaliation and retribution is required to save Muslims from mass destruction. Or, more alarmingly, there are those like Vivek Oberoi and his father (Kulbhushan Kharbanda) who are tacitly in favour of violence against their community's collective persecution.


Either way, Rensil's film looks at the theme of Islamic terrorism with fearless and brutal honestly. There's no attempt to dilute the damning exposition on the ghetto-styled fundamentalism of the Muslim community in the US.


After a rather pale preambular courtship in Delhi (with a couple of unnecessary kissing scenes thrown in for added value) the Hindu lecturer Avantika (Kareena Kapoor) flies into New York with her ever-so-suave suitor Ehsaan (Saif).


The narrative immediately and inextricably plunges Avantika (who becomes the audiences' viewpoint in the tale of terrorism) into the vortex of a 26/11-styled conspiracy being hatched in her backyard on a deceptively quiet suburban street filled with Asian homes.


If the closet terrorists in the narrative proves themselves master plotters, director Rensil D'Silva is no less. While the master-plotters in Kurbaan finally fail, Rensil walks past the finishing line with victorious strides. With cinematographer Hemant Chaturvedi (giving the narration a hue of heightened sinister ness) Rensil moves stealthily in and out of politically-challenged lives with the least amount of drama and ostentation.


The background score is kept at a bare minimum. The sense of heightened poignancy which is constantly created in celluloid dramas of the doomed is stubbornly averted. Kurbaan creates its drama from the characters' misbegotten sense of identity. From that vantage point of disorientation the film dexterously moved into the agile mode of action-driven conflicts.


From the pre-intermission point in the narration where Ehsaan and his accomplice are chased down by cops as they carry a dead Muslim wife's body for burial Kurbaan is one relentlessly breathless treatise on 'How To Create A Prolonged Climax In A Plot Without Losing The Theme's Bearings.'


The film has been shot as an extended crime thriller which penetrates deeper and deeper into the anatomy of a crime thriller until the core of the crisis is reached with painful bluntness. Miraculously the director avoids the shrill will right to the blood-spattered finale. There is room in the commodious narration for disgruntled characters from a multitude of Islamic countries huddled in the US to create retaliatory mayhem. But at the core there are just three characters, the terrorist, his pregnant and rebellious wife and the expose-driven journalist, played by Saif, Kareena and Vivek Oberoi.


Oberoi, in spite of his now-on-now-off Yankee accent plays the conflicted progressive American Muslim with a resolute understanding of the underlying politics that plagues his character's soul. But Saif Ali Khan is a disappointment. In a role that could have been a career-defining event the actor pitches a performance as a not-so-reluctant terrorist that simply swims on the surface. There's no attempt by the actor to understand the workings of Ehsaan's mind or to revisit Ehsaan's roots. What we see is a confused rather than a politically and religiously conflicted soul tormented by an ideological crisis.


Where is the mean-spirited guy who exploited and cheated Urmila Matondkar in Ek Hasina Thi? Or the innerving enigma of the tortured terrorist that Manisha Koirala
played in Dil Se? Wake up and smell the Kafir, Saif!


The whole humbug of watching a real-life pair making lingering love on screen is blessedly gotten over with in no time at all, though would the director please explain why and how the terrorist has sex with his heavily pregnant wife at a time when his life as a husband and a responsible citizen are falling apart?


Finally Kurbaan belongs to Kareena Kapoor. In her most consistently-pitched performance to date she pulls out all stops to play a betrayed wife with splendid sensitivity. Kareena accommodates her radiant beauty into an utterly credible character and performance. At her best, Kareena is incomparable. She proves it in Kurbaan.


Much of the credit for Kareena's compelling performance must go to the written word. Anurag Kashyap and Niranjan Iyenger enter the characters' dark and anguished world
with words that avoid rhetorical excesses. However a key classroom discussion on Islam and the Western World is ruined because even the American students speak in Hindi!


Kurbaan creates a kingdom of doom with a deep understanding of the bonds that bind and separate the Islamic world from the West. It is a critically important work
because it spells out uncomfortable truths in a cinematic language that's riveting and resonant without resorting to extravagant flourishes and fireworks.


Not to be missed.
BOLLYWOOD NEWS
Catch us for latest Bollywood News, New Bollywood Movies update, Box office collection, New Movies Release , Bollywood News Hindi, Entertainment News, Bollywood News Today & upcoming movies 2020 and stay updated with latest hindi movies only on Bollywood Hungama.