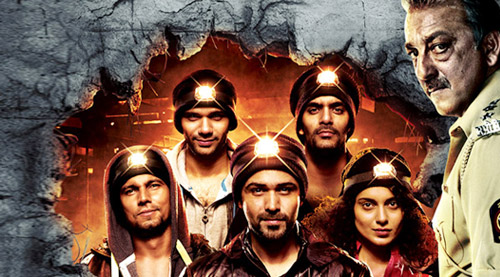 Ungli is what one would call a late bloomer. Don't get me wrong. It doesn't take long to get to the point. In fact the film's vigilante intentions are unmasked immediately after the film opens. No beating around the bush. No introductory songs.


No nonsense?


Well, not quite that. An utterly unnecessary and badly-choreographed item song by Shraddha Kapoor shows up like a bad omen. Before I finished shaking my head in dismay and disbelief the corruption in this anti-corruption film got worse. Emraan Hashmi was forced into doing what he knows best. The smooch is stuck into the script like a tail pinned to a donkey. And according to the script, Emraan is a cop.


We always knew the law is an ass. Four youngsters out to cleanse our country of corruption make a total ass of the law. Masked but alas not menacing Randeep Hooda, Neil Bhoopalam (remember his stellar turn as the honourable politician in Anil Kapoor television series 24?), Angad Bedi and Kangna Ranaut go for the jugular like four high school students playing Enid Blyton's Adventure 4.


There is a sense of mischief about the Swachch Bharat andolan undertaken by D'Silva's adamant quartet. I don't know whether that's good or bad. While the twinkle-eyed approach prevents the plot from tripping over with self-importance it also undermines the gravity of the situation where the rich and the privileged are shown to get away with much more than murder.


Significantly Rensil's film is able to show the murder of values without mauling the characters' innate sense of joie de vivre. This is where Ungli parts ways with Rang De Basanti, the other far more important film on youthful vigilantism that Rensil D'Silva wrote. In the earlier film the youngsters (the youngest of the group was Aamir Khan) took to the gun after being personally pushed to the wall.


In Ungli the belligerent bunch is driven into lawlessness from the word go.


For a film that wastes no time in preambles the narration is strangely sapless in the beginning, with episodes reading like scenes from a television serial, albeit a series you wouldn't want to miss to catch Bigg Boss.


Ironically it's Sanjay Dutt's entry that livens up the proceedings considerably. He plays a jaded cop with refreshing candour and he precipitates the film's climax.


We miss you, Mr Dutt.


The rest of the cast too is above average even at the lowest level. Barring Kangna who has a what-am-I-doing-here look whenever she appears, the smallest of characters are played with conviction. Randeep Hooda as a Clark Kent-Superman kind of newshound leading a dual life while wooing his Louis Lane (Neha Dhupia, capable as always) is unusually blithe in his grim part. I wish there was more of Neil Bhoopalam and Angad Bedi on screen. Whatever they do, they do with feeling and passion.


Emraan Hashmi's role seems inspired by Matt Damon in Martin Scorcsese's The Departed. Except that Damon wouldn't go around kissing just because he is expected to. The angst never reaches any pinnacle, though the cinematographer Hemant Chaturvedi struggles to give the characters a life beyond the limitations imposed on the script by the absence of a vitality in the execution.


Maybe the director wanted to keep the sloganeering against corruption quiet. Rensil takes a potshot at his own Rang De Basanti brand of protest when someone sneers at the culture of candlelight vigil.


Ominously Ungli seldom rises above expectations. But it does manage to keep afloat, touching raw nerves in the audience by addressing corruption on the streets.


There is a sequence where Reema Lagoo (long time no see) is snubbed by a series of auto rickshawallahs as she huffs for a ride home.


This is a moment when you want to murder the perpetrator of callousness.


In moments such as these Rensil D'Silva kills it.
BOLLYWOOD NEWS
Catch us for latest Bollywood News, New Bollywood Movies update, Box office collection, New Movies Release , Bollywood News Hindi, Entertainment News, Bollywood News Today & upcoming movies 2020 and stay updated with latest hindi movies only on Bollywood Hungama.