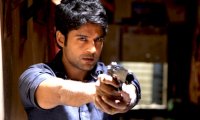 If there were any doubts about 2011 being the year of reckoning for Indian cinema, Shaitan, with its mounting mood of ricocheting restlessness, puts all doubts to rest. The skilful interweavement of strong storytelling and powerful performances (where do all these talented youngsters come from?!) is underpinned by a wild sense of humour that shows up at the oddest of places to remind us that cinema is not about following all the punctutation rules of storytelling. It's about knowing when and where to revv up the drama to just that right pitch of crescendo to carry us into a tripped-out world of hedonism and redemption.


This stunning tale of five misguided youngsters (no relation to Anurag Kashyap's Paanch, as reported) from the upper crust displays a flair for unleashing an energy that leaves us breathless with anticipation. It's tough to keep up with the film's unbridled zest for momentum. From the opening montages showing poignant scenes from the Kalki's character childhood with her troubled mother, to the dying moments when the five protagonists are rendered either dead or damned or both, this work of pop-art just sweeps you into its furious folds of angst and anxiety.


First-time director Bejoy Nambiar doesn't waste time in introducing the characters. We know them almost instantaneously. And we never stop distrusting their instincts and priorities. Though they amuse, they also alarm us with their abuse of the luxuries provided. There's a remarkable gallery of semi-pivotal characters who pin down the main drama with their dead-on impersonation of people you may or may not want to meet, but have run into somewhere or the other in this crazy bustle of contemporary existence that we call life.


A huge USP in many recent films set in the madness of the urban jungle is the raw energy of the outdoor locations. Shaitan assails you with the tension and the anxiety of people on the run. The camera is never inattentive. The street scenes and the sound-design are absolutely brilliant. Nambiar makes ample room on the soundtrack for incidental dialogues and sounds. And yet nothing that is said seems out of context.
With devilish dexterity we are taken into the homes, minds and fetishes of the five youngsters. In the first 25 minutes Nambiar constructs a cool case-study for the young quintet's self-destruction. Then he watches the trendy fund-flush world of designer labels and other costly indulgences come apart at the seams.


Some of the scenes are deliberately designed to exude the terror of over-indulgence. Fortunately most of the pay-off happens almost of its own volition.


Shaitan is a morality tale with a gut-wrenching twist. It dares to venture into the psychedelic world of the affluent urban young and then rips the veil of ecstasy apart to reveal the emptiness that defines every life lived on the edge of extravagance.
Miraculously Shaitan is a morality-tale that doesn't moralize. It creates a world of self-destructive pleasure pursuits but doesn't sit judgement on that world. Nor does it gloat when that world comes apart.


Nambiar gets terrific support from his cinematographer (R Madhi) and editor (Sreekar Prasad) in creating a world that is cinematic and dramatic and yet real enough the shake us out of our conventional faith in what Pure Cinema should be. Comparing Nambiar's style of storytelling to Quentin Tarantino, Guy Ritchie or Nambiar's mentor Mani Ratnam or Anurag Kashyap would be as self-defeating as comparing Shaitan to the other recent films on the young and the doomed.


Leave this one alone! Bejoy Nambiar creates his own world where the quirky and collapsible are constantly jostling for attention. The narrative is loose-limbed yet never flabby or self-indulgent. The film exudes the unbridled energy of a rock song but doesn't forget to include a melodic underbelly in its compositional range. The madly idealistic cop (Rajeev Khandelwal)'s disintegrating marriage to a woman (Sheetal Menon) who just won't talk (maybe because the others are doing so much of it) remarkably creates a space for itself in the stifling bustle of this film's main action.


That Bejoy Nambiar is a master storyteller is established beyond a doubt in the film's first few furious moments. He's also an exceptional talent scout. All the newcomers semi-newcomers and the relative veterans join forces to create a pyramid of compelling performances whose sum-total is decidedly substantial. A special word for debutants Shiv Pandit, Gulshan Devaiya, and semi-newcomers, Neil Bhoopalam, Kalki Koechlin (her malice-in- blunderland act is haunting) and Raj Kumar Yadav (the Ragini MMS hero in top form here as corrupt cop). Also Pavan Malhotra as a senior police officer. As for Rajiv Khandelwal as a twisted cynical successor to Amitabh Bachchan' angry cop from Zanjeer, this is a skilled actor with ample star-potential.


Shaitan is a work of many virtues about the myriad vices that plague the life of the young and the rich. It doesn't preach. It doesn't use Hindi abuse words for effect. And the camera chooses to focus on sagging moral values rather than heaving breasts.


The music blends into the volatile theme. There is a quaint re-mix of the Dev Anand-Mohd Rafi-S.D.Burman classic Khoya khoya chand as an ironical homage to the independence that the past generation fought for, and got. Today those ideals that seemed to define India's hard-earned democracy have come to nought.


Shaitan looks at the sub-zero level of moral values among a section of the urban young with a whimsical zest for a new kind of cinematic voice that is far removed from films about cops and desperados that we've come to know over the years. This is a defining moment in Indian cinema. Don't f..k with it.
BOLLYWOOD NEWS
Catch us for latest Bollywood News, New Bollywood Movies update, Box office collection, New Movies Release , Bollywood News Hindi, Entertainment News, Bollywood News Today & upcoming movies 2020 and stay updated with latest hindi movies only on Bollywood Hungama.