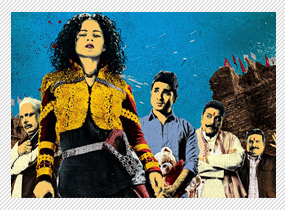 Hail the female. Kangna Ranaut plays the quirky queen of all she surveys. She lords over her doomed anarchic and wretched kingdom like a doped and excitable Paan Singh Tomar.


Subhash K Jha speaks about Revolver Rani
It's a dangerous world out there in the Indian heartland. Especially for women who have to fight prejudices and betrayals on so many levels. In a scene straight out of a street play Kangna Ranaut, playing what seems like a cross between Uma Thurman in Kill Bill and Seema Biswas in Bandit Queen, Kangna tells the mother of a young girl, "Teach her how to shoot a gun. It's the only way she can survive."


Revolver Rani (RR) is an enormously disturbing and yet deeply satisfying tribute to many things at the same time. Director Sai Kabir (who has previously made an unreleased film) pays a hefty homage to many filmmakers. Among them are Anurag Kashyap, Vishal Bharadwaj, Quentin Tarantino, Mehboob Khan and Shekhar Kapoor. And yet for all its derivative aspirations RR is a fiercely original piece of cinema, crafted with compelling concentration and impassioned intuition. The mayhem is meticulously executed .It serves as the evocative backdrop for the life of an outlawed bandit-politician.


Ranaut plays a woman of substance who, going by her high-octane energy level, seems to be guilty of substance abuse. And that's the least of her crimes. Alka Singh, as played by Ranaut in her second powerhouse performance this year, is the female goon who speaks most eloquently with the nozzle of her gun. There is an awkwardness to her Chambal ki boli that dissolves when she has to converse with a bandook ki goli.


Ranaut's askew personality and her lisping halting dialogue delivery give her character that cutting edge which signifies a remarkable performance and takes a potentially powerful performance into the realm of the truly inspired.


I wonder what Alka Singh would have been if Ranaut had not played this feisty women! Alka's epic saga is partly cartoonish, partly a documentary on bandit-politics spiced together to make the woman an outrageously endearing outlaw.



At heart RR is a heartbreaking love story of a crass powerful female politician who falls for a sleazy selfish Bollywood aspirant. We can see what a jerk he is. She can't. As she goes through a sham marriage and a very real pregnancy with the certifiable asshole, Kangna's character's blind love turns into frustration and fury in front of our eyes.


Vir Das plays the wannabe star who ends up as a trapped fluttering toyboy to the lusty politician, with an intimacy and incredulity that make the character appear both cheesy and pathetic and yet comic.


In the lust-relationship Sai Kabir reverses the traditional gender equation making the female hero the sex-hungry predator and the male companion an object of her lust. In the second-half when Alka Singh wants to turn her infernal kingdom into a nursery of paradisaical normalcy, the director indulges and pampers her womanly instincts without mocking the trigger-happy woman's sudden swerve into softness and femininity.


The other qualifying relationship in Alka Singh's life is the one that she shares with her uncle, played with habitual authenticity and unconditional credibility by Piyush Mishra. Mishra plays the kind of ambitious power behind the protagonist's throne who would stop at nothing to realize his furious political ambitions.


It's a dangerously unbalanced world filled with outrageous deceit yet seeking to find some semblance of normalcy. Sai Kabir pulls out all stops to let his protagonist swim in the tides of blood and anarchy. Wading through the muck Alka endeavours to find herself a Utopian balance in her unbalanced world. The end is a shocker, as it knocks off the bottom from Alka's world and lets her slide into the abyss without prejudice.



Revolver Rani is a film of baffling contradictions and anomalies. It starts with ten minutes of dreadfully self-conscious political humour (change the prelude, Mr Director!) and then steers adroitly into Alka's love life with a cocky contempt for conventional signposts of female empowerment. The feminist hoardings are all bypassed in favour of creating untried rules of unorthodox womanhood.


More than the political intrigue I was enthralled by Ranaut's growing love for the thoroughly undeserving 'Cham-cham'(yup, that's the cheesy nickname for her toy boy). The desperate passion she feels for this cad is so palpable as to make love appear as the greatest crime in Alka Singh's world of pervasive outlawry.


Director Sai Kabir's film is wacky, goofy and ultimately acutely tragic. The proceedings in the plot are as unpredictable as its kinky capricious female hero's untamable curls. With all steel guns and iron bras, Revolver Rani is raunchy, sexy, quirky and fey. Giving a feverish vigour and velocity to Ranaut's Phoolon-on-steroids act are Aarti Bajaj's unsparing editing and Suhas Gujarathi's state-of-art cinematography that misses nothing and spares no one .Media persons are ruthlessly satirized. The female anchor who comes on intermittently with updates on Alka's bedroom and boardroom politics makes Ghalib sound like Yo Yo Honey Singh. She is wickedly funny without knowing it. This is a whacked-out world where violence is born of an innocent misinterpretation of politics as a place for bullies and businessmen.


Like Ranaut's Alka Singh, there is no artifice in the technique applied to the proceedings in the plot. Revolver Rani is as real as a comicbook heroine can get. And if that seems like an irreconcilable merger of two separate worlds, then so be it.


Commercial Hindi cinema has come of age.
BOLLYWOOD NEWS - LIVE UPDATES
Catch us for latest Bollywood News, New Bollywood Movies update, Box office collection, New Movies Release , Bollywood News Hindi, Entertainment News, Bollywood Live News Today & upcoming movies 2022 and stay updated with latest hindi movies only on Bollywood Hungama.