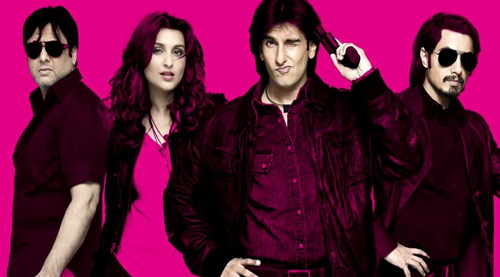 K-k-k-kill da da dil dil..... As this poetic gem by the wizard of lyricism Gulzar played in the background and foreground(to lip or not lip,that's hardly the question)one thing became very clear. Everyone involved with the film had a great deal of fun.



Wish we felt the same.



Kill/Dil is one of those misfires gun shots of masala cinema that reads like a fun fest on paper. I am sure everyone must have ROFL(Ranveer's semi-illiterate character doesn't know what ROFL means, teehee) while shooting and enactingthe scenes and even before that there must have loads of laughter while reading the script.



In principle, these unprincipled characters who live and die by the gun must have seemed interesting.



On screen, Kill/Dil is as flat as the midriff that Ranveer loves to flaunt whenever the script permits. Not that the script here is too particular about what goes and what doesn't. This is a free-for-all guns-and-romance spree where Gulzar Saab's poetry slyly meets Ranveer Singh's buffoonery. Half-way down the narration you realize director Shaad Ali has run out of designer-cool tricks.



Enough of those chic shots of our two heroes riding down busy highways gunning for unsuspecting victims.Yes, our heroes Dev and Tutu are assassins.



You could've fooled me! They look like a couple of petty pick-pockets. But God and the screen-writers (3 of them,actually....what's that they say about too many crooks....sorry, cooks?) have loftier plans for our heroes who eat, laugh, cry and kill together.



But never sleep together.
The heroes are assigned boarding-school double-decker beds, just so that we don't get any homosexual ideas. This is Jai and Veeru from Sholay without Jai clambering on Veeru's shoulder on the mo'bike.They sing togetherbut the lyrics are aboutassassination and jubilation.Yash Raj Films had gone into a similar turbulent territory of dosti versus love in the recent Gunday.


I have to admit Kill/Dil is a smaller disaster than Gunday. Ranveer, who played one of the two buddies in the earlier films as well, is far more entertaining here. He's still way over the top.But, here he is hammy in a pleasant way. Trouble starts andthe killings for him end,when Ranveer's character Devfalls in love with the neighborhood femme fatale, a weirdly freelancing heiress played by the forcibly glammed-up Parineeti Chopra, who seems to have her hands in every single pie that she can lay her manicured fingers on.


Just what she sees in the ruffian Dev is something only the film's writer can answer. The romance which overtakes the Ranveer-Ali Zafarbromance is among the many inexplicable mysteries that squeeze and smother the life out of this tried-and-testedaction-comedy masquerading as Tarantino's distant-cousin.


Another mystery: why does Gulzar Saab's voice-over show up in three places to remind us that violence begets only violence?Why bring the man of such indomitable refinement into a film that reeks of raw rancidity? And why the songs??? Good Lord,they burst out of the narrative's seam like a fat man's paunch in a shirt sizes too small for him.


Undoubtedly, some of the purportedly funny situations hit the mark. When Dev falls in love and reforms from a hit-man to an insurance agent his caller tune changes from Pankaj Udhas's Chitti ayee hai to Lataji's Rahen na rahen hum.
Ha ha.



The characters including the supposedly sinister villain Bhaiji break into dance without a care about who's watching. I can understand the script's eagerness to make the villain dance as he's played by Govinda. The actor par excellence is not only in back in form here he imbues his uni-dimensional part with unexpected humour and charm.


Welcome back, Govinda.Wish we could saythe same about the director. His first film in7 years, and this is what Shaad Ali comes up with?!


Is this the same filmmaker who once made the endearing Bunty Aur Babli ? Shaad brings down with him some of our very best technicians like cinematographer Aveek Mukhopadhyay and editor Ritesh Soni who have done their most patchy work in this film.Ultimately, it's the company you keep.


Just goes to prove. The 7-year itch can be quite a bitch.
BOLLYWOOD NEWS
Catch us for latest Bollywood News, New Bollywood Movies update, Box office collection, New Movies Release , Bollywood News Hindi, Entertainment News, Bollywood News Today & upcoming movies 2020 and stay updated with latest hindi movies only on Bollywood Hungama.