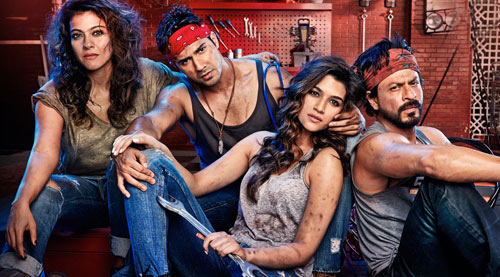 Sample this for starters: Varun Dhawan who plays Mr Khan's kid-brother (no kidding) enters what looks like a pawn shop with enough on sale to fill up a mall, picks up two wrist watches and informs Johnny Lever (playing a South Indian with an accent no South Indian would be caught dead with) that he would like to tie two wrist watches on the hands of his friend/sidekick Varun Sharma (a questions how did 'Shetty & Team' tell the two Varuns apart on the sets?).


Why? "Kyonki tab ussey pataa chalega ki woh do ghadi ka mehmaan hai". Ha ha.


This, let me sadly inform prospective viewers, is one of the high-points in the humour repertoire of this utterly pointless film.


Directed by 'Rohit Shetty & Team' - yes, that's how the credit titles read - Dilwale borrows the first word from the title of Shah Rukh Khan and Kajol's most well-known movie and turns the pair's aura into one big farce fest with the humour touching rock-bottom. And the romance just a little above.


Dilwale is one of those terrible mistakes that superstars like Shah Rukh and Rohit Shetty make in the mistaken belief that they can get away with anything in the name of entertainment. For the first 20 minutes of the film's playing time, nothing happens. Except that we get to know Shah Rukh's character (named Raj in some parts, Kali in others, just for the record) has a terrible past and he dotes on his kid brother.


Just when you begin to wonder if the rest of the script got lost in transit while the team whooped it up in Bulgaria, in walks Ms. Sunshine Kajol bringing some hope to the rapidly-sagging comedy. Kajol is the film's only hope of salvation. Alas, even she can only drag the carcass of this intended comedy this far and no further.


The action (in the flashbacks) jostles with the comedy in the hall of shame. The cars blowing up the guns going rat-a-tat are all stuff we've seen in Rohit Shetty's earlier films.


So what's new?




There are some sweet romantic moments in flashbacks when Shah Rukh turns young (he wears sneakers to prove it, while courting Kajol). But soon after the narrative falls apart completely. There is this whole on-going gag in the second-half where Varun's character believes his brother Shah Rukh was named 'Ramlal' in the past and Kajol was called 'Pogo'. The conception, execution and elaboration of the Ramlal-Pogo joke takes up a majority of the second-half.


Really, Shetty & Team are a busy bunch. And we are the eternal dimwits sitting in the dark taking in the fast and furious flow of fatuousness.


Speaking of fast and furious, some scholar someday must find out about Rohit Shetty's obsession with automobiles. They are there everywhere in this film, speeding, somersaulting and exploding. Otherwise just standing around looking bored! Someone should also find out why Shetty's narrative always run off to Goa and why homes there are always shown to have fresh coats of paint preferably in navy-blue.


And why is it funny to waste talented actors like Sanjay Mishra (mouthing names of consumer products with psychotic relish), Mukesh Tiwari (referred to as 'Garibon Ka Jackie Shroff' ), Boman Irani (making so many faces you wonder if his character is supposed to be epileptic), Pankaj Tripathi (so brilliant in Anurag Kashyap's films, here reduced to playing the token minority representative), Vinod Khanna and Kabir Bedi are wasted in roles of sidekicks lunatics and other fringe players.


But these questions, some other time. Right now I only want to ask the very powerful Mr. Shah Rukh Khan and Mr. Rohit Shetty one question.


Why????
BOLLYWOOD NEWS
Catch us for latest Bollywood News, New Bollywood Movies update, Box office collection, New Movies Release , Bollywood News Hindi, Entertainment News, Bollywood News Today & upcoming movies 2020 and stay updated with latest hindi movies only on Bollywood Hungama.