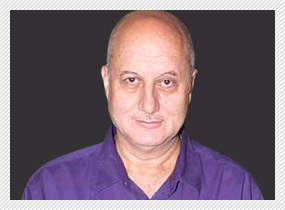 In an illustrious career spanning over 450 films, Anupam Kher has portrayed a variety of characters with solid conviction. He is now super-excited about his next film Special 26 which sees him in a completely new light. In an exclusive interview with Bollywood Hungama's Nikhil Ramsubramaniam, Kher talks about re-uniting again with his 'A Wednesday' director Neeraj Pandey, the asli power of Special 26, his fondness for Akshay Kumar, and the euphoria surrounding his big Hollywood release Silver Linings Playbook that has bagged 8 Oscar nominations. You don't wanna miss reading this one...


When an actor of your caliber has such an impressive body of work, it's hard to pick favourites; yet you seem to be mighty kicked about Special 26. What's the main reason for that?

Special 26 is a cheeky, fast-paced and light hearted thriller. It doesn't give you time to think and I feel it even has a great repeat value. Every time a character challenges the actor in me, I get lot to bite on. I always believe in re-discovering the actor in me. When you have a team like the one we have in Special 26, you have no excuse but to be perfect. Then I push myself to give my best. Life is about re-inventing yourself as a person and only when you grow as a person, you grow as an actor.


The promos have generated tremendous buzz, especially your dialogue 'Asli Power Dil Mein Hoti Hai'. Who came up with that gem of a line?

It was always there in Neeraj Pandey's script. The script is the real hero of the film. Neeraj's script is so foolproof that very rarely do you have to make any changes.


In the recent past a lot of people feel that Neeraj Pandey's A Wednesday is among your best works. Do you think he has outdone himself this time with Special 26?

He certainly has and I will leave that for the audience to decide. Neeraj Pandey is my godfather of the New Millennium. He is one of the most remarkable filmmakers I've worked with in my whole career. In 4 years since A Wednesday, he has matured even more and has only got better with each passing day like wine.


Tell us something more about your character in the film...

Special 26 gave me an opportunity to play a character which has two shades to it. One is that of an ordinary person, a middle-class farmer in Punjab who has 8 kids and is devoted to his family. The same man then becomes this great trickster and slaps people around as he is now posing as a tough CBI officer. It's a character with a lot of tongue-in-cheek humour.


You seem to be sharing great camaraderie with your co-star Akshay Kumar. Are you happy to see him doing different kinds of films?

Hats off to Akshay Kumar for being part of an ensemble cast. He is a big star for a film like this. He just surrendered himself completely to Neeraj Pandey's vision. He brings his stardom yet he re-invents himself completely as an actor. It's remarkable how Akshay has evolved as an actor and a person. We bonded big time. I loved spending time with him. He is very genuine, very disciplined and very punctual. When you are punctual and disciplined, you respect other actors. He is a warm Punjabi guy who believes in jhappis. He is a good listener which is the greatest quality about any person. He keeps re-inventing himself with his choice of films and enjoys great connect with the audience.


How was it working with the other cast members be it Manoj Bajpayee or Jimmy Sheirgill or Kajal Aggarwal?

It's great working with such an ensemble cast of awesome actors. One of the most important scenes of the film is between Manoj and myself. It could only happen because I had an actor like Manoj in front of me. We come from a similar school of thought and like to give cues to our co-actor even if we are not in the frame. Jimmy and I have worked together in the past as well and he is a fantastic actor. I didn't get a chance to share screen space with the new girl Kajal Aggarwal. Other actors like Divya Dutta and Rajesh Sharma are also fantastic in the film. In fact every actor who has even just two lines in the film has given it his best.


How much of the film has been actually taken from real life incidents like the Zaveri Bazaar heist which took place in the 80's?

A lot of it is inspired from real life incidents. This group of people used to act as CBI or Income Tax officials or any other powerful authority. The real CBI did try and catch them but they were smart. However there are some records with the CBI of these bunch of people .The Zaveri Bazaar shop case features in the climax of the film.


From the promos, it seems a lot of attention to detail has gone in to recreating the 80s?

The production design is fantastic with some amazing people in the team. In today's time to shoot on actual locations in Mumbai, Delhi, Kolkata and recreate it as if it's the 80s is no joke. A lot of scenes we actually shot on the streets. That's how we make memorable films...we don't compromise.


You've been in the news for your big Hollywood film Silver Linings Playbook bagging 8 Oscar nominations? That must be exciting...

Yes...I am thrilled. Silver Linings Playbook is a landmark film of my career. It's been a great experience working with such talented actors on that film. Of course, I am excited about the Oscars but I am first more excited about the Screen Actors Guild (SAG) Awards which I'd be attending on Jan 27. I've been nominated as a part of the ensemble cast of Silver Linings Playbook. Imagine one small ball room filled with the world's best 200-300 actors and me sharing the same table with Robert De Niro, Bradley Cooper, Chris Tucker, and Jennifer Lawrence. I am really looking forward to that.


You play Dr. Cliff Patel in the film and for the first time an Indian actor has a substantial role in a mainstream Hollywood film. That must be heartening...

Yes I did 3 auditions before I was finalized. I auditioned twice on Skype. Out there, they don't test your capability as an actor. They are keen to see whether you fit that particular character. Overall it's been a great experience working on this film.


Your fans in India are dying to watch Silver Linings Playbook. When is it releasing in India?

It's releasing on 22nd February...the week when the Oscars are scheduled to take place. We just finalized the release date.
BOLLYWOOD NEWS
Catch us for latest Bollywood News, New Bollywood Movies update, Box office collection, New Movies Release , Bollywood News Hindi, Entertainment News, Bollywood News Today & upcoming movies 2020 and stay updated with latest hindi movies only on Bollywood Hungama.