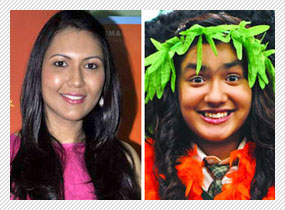 After I sat down with filmmaker Sonam Nair and the new vibrant kid on the block Riya Vij aka Gippi, I felt they not only shared an actor-director relationship but it seemed more like long lost siblings have come together for a fun chat on movies and more. What started out as a light hearted and a candid conversation ended up being a no-holds-barred banter on Gippi's harlem shakes, fascination for pakodas, identity crisis and the ideal man. So if you are wondering, what on earth is Gippi and what coined this bizarre name and this slice of life story, this fun-filled conversation will unravel some unheard facts about the new teenage sensation and the new face amongst the rare breed of female directors. Here's Sonam Nair and Riya Vij... uncensored!
Even though the film has a social message, did you at all feel that people may make fun of you in real life too?
Riya Vij: I do what I want and that's what everyone should do. Keeping in mind the health, you shouldn't become obese yet eat what you sometimes crave for.
Do you feel as a director this will be the next Taare Zameen Par in the making when it comes to a change in the system or as an individual or parental guidance?
Sonam Nair: That's not why I made it. But getting the feedback on just the trailer, not parents but kids are writing to me on Twitter and Facebook saying - Thank You - for they are feeling that something of their life out there could be worthy of cinema. They are proud to be how they are and who they are.
And what made you go - Ok, Riya Vij is my Gippi.
Sonam Nair: Riya has auditioned in abundance (laughs). It wasn't like love at first sight. It was curiosity at first sight. In real life, she is a very shy and a demure girl unlike Gippi. She really grew on me. Each time her expressions changed, I found her more fascinating. But after a bunch of auditions with many kids and Riya, I decided that she wouldn't act in the film but be real. That's why I cast Riya.
Are you a movie buff? And name some of your favorite movies
Riya Vij: I like watching movies but I am not an addict. Hum Tum is on the top of my list. Student Of The Year is my recent favourite.
And how did you manage to impress Sonam by being shy? How did you manage to face that camera?
Riya Vij: I am not a changed person. I think Sonam was very supportive including the entire crew. I was coming to Dharma office for a few days before the shoot began. I was acquainted to the assistant directors then. So going to the sets was actually going to the office (laughs).

And what were you told to do in the audition?
Riya Vij: There were a few situations that were given to me without dialogues. They gave a few of us actor's situations and told us to be random characters and act. It was very instinctive and I liked the process.
Did you relate to any of your real life friends while interacting with your onscreen friends?
Riya Vij: I think I can see a lot of Dhurva, my best friend in real life when I was acting opposite Aanchal, who plays my best friend in the film. I could relate my friend to Aanchal.
Your Taaha crush. I want to know!
Riya Vij: (laughs) He plays Arjun and Gippi likes Arjun a lot but he turns out to be a spoilt hunk. Arjun is a heartbreaker but Taaha is not (laughs). He is a very sweet guy. As for my crush off screen, I like men with no ego and attitude. I really like Sidharth Malhotra. He's my latest crush.
Why a directorial debut like Gippi? I mean, why a genre like this? Why not a rom-com or a comedy or a romantic one?
Sonam Nair: I couldn't see myself directing anything else besides Gippi. I wrote a sweet low budget movie that could be easily produced and executed well. It's good to do something different for your first film. I wanted the film to be synonymous with me and I think Gippi is just me. I hope people notice me well after my directorial debut.
What was Karan Johar's first reaction when you bravely entered his cabin with the idea to make Gippi?
Sonam Nair: I gave my story to Ayan Mukerji and he took it to him. Ayan convinced Karan to read the first three pages. He called me the next day and told me, 'Let's produce'. I was in denial. Then the day after I sent him a text saying 'Thank You so much'. I kept looking at Karan's reply. It took a long time to realize that I am making a Dharma film.
At this age your first film. Do you aspire to be a star in the years to come?
Riya Vij: I never really thought of becoming an actor or getting into Bollywood. I just gave an audition and luckily for me it worked out. I knew that they had auditioned kids in Mumbai and then they came to Delhi. I thought the chances were slim for me to get selected. So here I am. Gippi is one out of 30,000. It's too early to decide on my future in films.
You are doing your kind of Harlem Shake in Gippi, aren't you? On the bed, in the school, with friends, etc? And what about fashion - like - from baby to baby doll?
Riya Vij: I've always loved music but dancing, not really. I've learnt dancing during the shooting of Gippi and that has really got my confidence up. I am not into fashion but I like wearing comfort rather than branded clothes.

What's your fascination with pakodas?
Riya Vij: Both of us, Gippi and I love pakodas. We love eating fried food.
Sonam Nair: I love pakodas especially cooked by my mother. I wanted Gippi to have a taste of that too.
Teenage actors - brats or professionals?
Sonam Nair: They are all professional and how! The casting was the most difficult thing but the toughest task was that all the kids were new. All of them wanted to do a good job. Yes, they would forget their lines but eventually I had to hold their hands and extract the best out of them. None of them knew about camera angles, their mark, etc. It was physically draining. The advantage is that the kids will give you twenty to thirty takes. Their enthusiasm is contagious.
Are you a changed person after doing this film?

Riya Vij: Yes, I now go to Sanskruti school. I changed the school a few days ago (laughs). My previous school really wants me back now (laughs). We were planning to keep a special screening. I now have stingers coming up to me and friends who were not in touch for years are now in touch. No matter how big you become but you should always have your head above your shoulders and you shouldn't develop ego. Keep it simple sometimes. It works.
Watch Promo: Gippi
BOLLYWOOD NEWS
Catch us for latest Bollywood News, New Bollywood Movies update, Box office collection, New Movies Release , Bollywood News Hindi, Entertainment News, Bollywood News Today & upcoming movies 2020 and stay updated with latest hindi movies only on Bollywood Hungama.