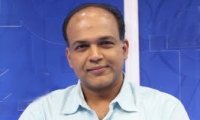 Say Ashutosh Gowariker and it's the vision of mega films like Lagaan and Jodhaa Akbar or a socially relevant Swades that comes to mind. Now turn on your TV sets and browse through any music channel and it's the sound of 'Su Che' or jokes around 'Tom & Jerry v/s Tom Cruise' or the romantic strings of 'Jao Na' that are more visible. You are suddenly transported into a different world and it's difficult to believe that the name against 'Directed By' is Ashutosh Gowariker himself. In this exclusive two part interview, Joginder Tuteja catches up with the filmmaker and gets to know a lot more about the transition that he went through and whether What's Your Raashee? is indeed a small-n-cute film that it is perceived to be or is it just a comparison factor (due to his earlier work) talking? Over to Ashu...


You somehow never seem to be setting easy goals for yourself. After a historical Jodhaa Akbar, one would have expected you to relax but you went on to make What's Your Raashee with 12 leading ladies!

[Laughs] Yes, I always had this thing in mind to make a romcom. During Jodhaa Akbar itself, I became sure that my next would be a light hearted movie. I thought that from production point of view, it would be much easier. After working with 100 elephants, anything else would have been comparatively easier after all (laughs). I told Sunita about this as well and she was thrilled and happy. We both believed that it would be fun to do What's Your Raashee? After a month, I told her that this new story will have 13 songs. Now that was the first shock for her. Later I gently slipped in this other piece of information that there would be 65 locations for the film. This is where she indeed hit the roof!



After working with 100 elephants, anything else would have been comparatively easier after all

Were there protests?

Not really (smiles). Jokes apart, we knew about the story and believed that it did carry great potential. The only change we made was to stop calling WYR as a light film because the production, yet again, was going to be big. The film itself threw so many challenges. Though we were aware that it won't be that easy after all, we ended up realizing its full impact only later once the shooting began. Right from setting locations to getting new looks in place for Priyanka, there were challenges all the way.


It must have required a shift in mind set for you though to make a chic urban flick, right?

Yes, I had to change and adapt myself to a very different kind of thinking. I tend to approach directing just like acting. Just like the way you have to mould yourself as an actor as per the character you are playing; something similar is required in direction too. My acting background helps because I have done diverse films like Saleem Langde Pe Mat Ro, Indrajeet, Kabhi Haan Kabhi Naa etc. My roles have ranged from being dark to light hearted. Similarly in direction too I had to change my style.


And what exactly were these changes?

I had to bring a change in my cinematic grammar. WYR is by nature a different kind of a film. It is more indoor and is more dialogue driven. It has a lot of comic silences. As a director, you have to observe the actors more. Moreover, I wasn't making a remake that I could have afforded a ready reference material.


But the film is adapted from a novel?

That's true and it has also been made as a 13 episode TV serial 'Mr. Yogi' in 1989. Later it was also made as a play in 1995. I watch a lot of plays, whether they are in English, Hindi, Gujarati or Marathi. I like to attend cultural events as well as art galleries. They help in sharpening your mind. Lot of times you retain certain things in mind. This story was one such thing. Even then I thought of making it as a movie and went to the source to know more about it. Once I decided that I had to bring it to the big screen, the sheer joy of creating that world was something that was so satisfying. Of course that satisfaction can only become complete once audiences too accept your film.


The film appears to be truly contemporary though...

Yes, it is completely contemporary. It's a movie set on Gujaratis in different parts of Mumbai ranging from Dahisar to Juhu. It's a 'smile through' film.


The smiles are supposed to last for more than 3 hours though, right?

[Laughs] Yes, it is certainly three hours long. However, for me, length is always secondary. How much does the film hold you and what's its content is always more important. When you have a long film, you know that the maker has a lot of stories to tell. Only otherwise is a movie 2 hours long. In any case, there are instances when even 2 hours movie don't work and seem like 4 hours long. I guess in current times, it is only economic consideration (around multiplex show timings) that possibly drives a film's length rather than hard and fast rules.



There are instances when even 2 hours movie don't work and seem like 4 hours long

Was Ronnie Screwvala, your co-producer for What's Your Raashee?, as convinced?

Me and Ronnie are clear about the economic consideration for our film. We may loose that fourth show in a single screen or those couple of shows in a multiplex. However, I don't think audiences would mind that because they would still return to watch the film if they don't get the tickets in the first instance. It's this very understanding due to which association between Ronnie and me has been for so long. We have shared the same vision.


Watch this space to read the second part of the interview with Ashutosh Gowariker
BOLLYWOOD NEWS
Catch us for latest Bollywood News, New Bollywood Movies update, Box office collection, New Movies Release , Bollywood News Hindi, Entertainment News, Bollywood News Today & upcoming movies 2020 and stay updated with latest hindi movies only on Bollywood Hungama.