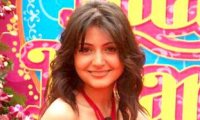 Anushka Sharma may be playing a wedding planner in her next film Band Baaja Baaraat but she is absolutely clueless at this point of time when asked
how she would like to plan her own wedding. In an exclusive interview with Bollywood Hungama's Nikhil Ramsubramaniam, Anushka talks about her 3 film
journey with YRF, her role as a wedding planner and her equation with newcomer Ranveer Singh. Read on!


After Rab Ne Bana Di Jodi and Badmaash Company you are back for your third film with YRF namely Band Baaja Baaraat. How has the
journey been so far?

It's been fabulous. For someone like me who didn't anticipate entering the world of films, and now working with one of the most premiere production houses in
the country is a huge high. It's been a nice working relationship with Yash Raj Films. I am happy that I am working with people whose policies and values I
respect and vice versa. What's also encouraging is the fact that all 3 of my films with Yash Raj have been completely different from each other and it's
given me a chance to portray varied characters.



It's been a nice working relationship with Yash Raj Films. I am happy that I am working with people whose

policies and values I respect and vice versa.



From the looks of it, Band Baaja Baaraat seems like a story about two wedding planners and their journey. Could you tell us more about it?

The film is not just about wedding planners. It's a romantic comedy and talks about the journey of these two characters - Bittoo Sharma and Shruti Kakkar-
their coming of age, and the ups and downs in their relationship. The backdrop of the film is wedding planning but we are not making any kind of documentary
on wedding planners.


In Rab Ne Bana Di Jodi, you played the character of the shy Taani, in Badmaash Company you played the bold and bindaas Bulbul. How's your
character of Shruti Kakkar in Band Baaja Baaraat?

My character Shruti Kakkar is a contemporary girl; she is a girl of today. In many ways Shruti is a mix of Taani and Bulbul. She is the most balanced
character I have played. She is someone who every young Indian girl will be able to identify with. She is very real, endearing, and enterprising. She is also
'moophat' and her language is a bit crude at times, she doesn't mince her words. She truly defines the girl of today who wants to do something after
graduating out of college rather than just get married and manage a home.


How similar are you to your character of Shruti Kakkar?

I think like Shruti, I am also independent, very enterprising and straight-forward. These qualities are similar but like I said, every girl would be able to
identify in some way with Shruti Kakkar. I identify a lot with her.


Not many Hindi films have depicted wedding planners as a profession so what kind of research did you guys undertake to get your character right?

Yes…as you said no Hindi film has depicted wedding planners, so it was a new concept that we were executing. Having said that, wedding planners work in
pretty much the same way like an event management company, except that they specialise only in weddings. As actors we had enough on the script to play with.
Besides Maneesh our director and Habib Faisal who has written the film, come from Delhi, so they knew enough about the weddings in Delhi which helped us in
getting our nuances. We also corresponded with a few wedding planners in Delhi to get some more details about their profession. What I really had to work on
was the lingo because the way I speak in the film (with a little bit of crassness) is not how I talk in real life, hence it was a challenge of sorts for me.

What I really had to work on was the lingo because the way I speak in the film (with a little bit of

crassness) is not how I talk in real life hence it was a challenge of sorts for me.



Could you tell us a bit about your look and styling in the film?

My look is very contemporary. Clothes are not very important in BBB. Clothes are just complimenting the character. While shooting in Delhi, we
observed the way the young girls dress and keeping that in mind we decided on Shruti's costumes. Niharika Khan, the stylist has done a fabulous job. You'll
see me wearing a lot of kurtis with a stole and t-shirts with a stole in the film. I personally think that some of the clothes from the film will create a
fashion statement of sorts and girls would like to have them in their wardrobe


The film has a very North Indian feel to it, do you think it has a pan India audience?

Absolutely. The language in the film is very youthful and this is how the youth of today speaks. One of the biggest USPs of the film is the dialogues. There
is nothing very filmy about the dialogues, it's very real and identifiable.


Music of all your films so far has been superb, how do you rate the music of Band Baaja Baaraat?

I would say that out of all my 3 films till date, the music of BBB is my favourite. I love 'Ainvayi Ainvayi' as it's a really nice foot-tapping
number and even 'Tarkeebein' is a cool song that is sure to be liked by the youth. It's a young and fresh album and I relate to it as a youngster. I
know for sure that songs of BBB would be a favourite at all the weddings this season.


You debuted with the 'Baadshah of Bollywood'- Shah Rukh Khan and then worked with established stars like Shahid Kapoor and Akshay Kumar (in the
forthcoming Patiala House). How was it working with an absolute newcomer like Ranveer?

It was fabulous working with Ranveer. He is a very sincere actor and very dedicated to his craft. His energy on the sets is infectious. He is extremely
animated as an actor which is one of the best traits an actor can possess. He knew that he had a huge opportunity in his hands and hence wanted to make the
most of it. Credit must be given to him as not many actors get launched in such a big way and that too without having any filmy background. He has made it on
his own. My entry into the world of films has also been pretty much like his and hence we kinda connected with each other's journey and got along really
well. Yes, I've worked with some very big actors but at the end of the day all that matters is whether you as an artist are prepared or not when you arrive
on the sets. In that regard, Ranveer was thorough in his craft and has a tremendous work-ethic.



Ranveer is extremely animated as an actor which is one of the best traits an actor can possess.

How has the experience been with debutant director Maneesh Sharma?

Maneesh and I go a long way. He was the associate director on Rab Ne Bana Di Jodi and I clearly remember he was the first person who auditioned me for
Rab Ne. We became good friends during the filming of Rab Ne and have continued our friendship ever since then. I always knew that Maneesh was going to
direct a film soon but didn't know at that point of time that he would want me to star in his first film. On the sets of BBB, he was extremely
focussed and wanted to get the job done at any cost. For me it was great working with a friend because I could be extremely honest with him and didn't have
to hold back anything. He understands me really well and I think he is one director to watch out for. After watching the movie, people will agree with me.
After Band Baaja Baaraat, what are your future projects?

After BBB, there is Patiala House opposite Akshay Kumar which releases in February. I am looking forward to that film too.


Aren't you also doing Rohit Dhawan's Desi Boyz?

As a policy I don't comment on films that I am going to be doing or thinking of doing until the production house confirms it themselves. So I wouldn't like
to comment on that.


Finally Anushka, if you had to plan your wedding what kind of wedding would you have?

Dude…you want me to answer this question? I am not even thinking about my wedding at this point of time. My intelligence and creativity has all been used in
planning the weddings in the film. Now for my own wedding, I'll have to take a break for say 4 years and then decide.
BOLLYWOOD NEWS
Catch us for latest Bollywood News, New Bollywood Movies update, Box office collection, New Movies Release , Bollywood News Hindi, Entertainment News, Bollywood News Today & upcoming movies 2020 and stay updated with latest hindi movies only on Bollywood Hungama.