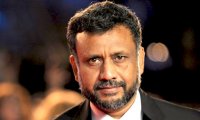 Exhausted and sapped after the release of Ra.One, Anubhav Sinha relives the 5-year old experience


Ra.One is already a huge franchise. A sequel?

I won't deny Shah Rukh and I have already spoken about a sequel. Ra.One has taken so much out of us. Now it all depends on how successful it becomes. It's a miracle, I've survived a super-hero film. I've given five years of my life to it.


Has your son Shlok seen Ra.One as yet?

He watched it at the Dubai premiere this week with me. In fact Shlok and Shah Rukh's son Aryan were the chief advisers over the technical aspects of Ra.One. Aryan saw portions this morning (Sunday) and had valuable comments to make.


Whether it's Krissh or anything else Bollywood films have never been able to match up to Hollywood standards of super-hero films. How have you made sure we've this time made a super-hero film of international standards?

I cannot answer this. I'm too close to the film to know whether it matches international standards. But yes, I've tried my best. I don't think we can fully match up to international standards. But we will give them a fair competition in Ra.One. The reason we can't match their standards is because what they spend on visuals effects is the entire budget of our film.


That is no excuse. We've been made to believe Ra.One matches the standards of Superman and Wolverine?

There is no end to how much money could be put into a super-hero film. Ra.One is not really in competition with any of super-hero films here or abroad. We took up a story and it required a certain amount of resources. And those resources were made available to me. Let's not forget, Hollywood has been doing the super-hero genre for at least thirty years. They're way ahead of us in terms of technique. Over the decades, they've created the right technical resources for the genre whereas we're still in our infancy. We did try to imbibe as much of their (Hollywood's) know-how regarding the genre. Happily whatever people have seen in the trailers of Ra.One has been perceived as being of international standards by the audience.


Are there more surprises in store when the film releases?

You'll be happy to know we've revealed only 30 percent of what we have to offer. There are at least three action sequences in Ra.One that people have no idea about.


The train sequence in Ra.One has been compared with Shankar's Robot?

That's absurd. Almost every super-hero film has an action sequence on a train. How can you compare them? If there's a shoot-out sequence in Ra.One would you say it's taken from Road To Perdition?


Shankar had met Shah Rukh for Robot. Was that the starting-point for Ra.One?
Not at all! I had approached Shah Rukh with three ideas. He chose to do Ra.One. As far as I know Robot was offered to Shah Rukh after I offered him Ra.One. In fact when I was doing a full narration of Ra.One Shah, Rukh smiled and said, 'Guess what? Robot too has a stunt on a train sequence.' In fact as soon as we knew someone else was doing something similar we tried to stay away from what was already been done.


So did you consciously make the train stunt in Ra.One different from Robot?

When Robot was released I went to see it. I studied their train sequence and made sure ours was nothing like theirs. Look, I wanted to shoot a big action sequence in the heart of Mumbai. And what better place to shoot the heart of Mumbai than the local train?


How are you feeling now that Ra.One is released?

Exhausted. Triumphant. Jubilant. There were so many efforts by so many quarters to bring me down. To prove I was not the film's director. But here I am. The film with a budget of Rs.150 crores is ready.


That kind of a budget, isn't it giving you sleepless nights?

I really don't know if that is the real budget. Shah Rukh and I never discussed the budget. That number's floating around. Yes, it is a daunting number.


All the films you had done earlier were relatively very small?

Ra.One does have a gigantic budget. But I am not a stranger to creating a visual drama that goes beyond the parameters of the given genre. I started on television. And I did the biggest television show of the country Sea Hawks. Dus and Cash were not really small-budgeted films. But in terms of numbers, yes Ra.One is a big responsibility.


Shah Rukh says he has gone broke making Ra.One?

Going by the number of prints-900 prints overseas alone-we will be safe and home over the weekend. But I am not looking at the weekend. That's the power of Shah Rukh and the super-hero genre. I am looking at numbers beyond the weekend. The success of the film will depend on the people who see the film over the weekend and recommend it to others.


How did you feel when people said Karan Johar and Tarun Mansukhani had helped you direct Ra.One?

Even Mr. Yash Chopra is said to have directed Ra.One. It was a beautiful moment when he came on the set with the President of Russia. Yashji is God to me. I requested him to say 'Action' for a song that I was shooting. It was an overwhelming moment for me. Tarun came to help Shah Rukh because his right-hand men Bobby Chawla and Karim Morani were not available. That's it. Karan did shoot for 2 days out of the 160 days that we shot Ra.One. We've acknowledged his contribution in the credits. Everyone-Arjun Rampal, Kareena Kapoor-gave all of themselves to Ra.One.


Did you expect the track 'Chamak Challo' to gather so much momentum?

When we were doing it, I was constantly on Vishal-Shekhar's head. I wanted to create an anthem-like item song. Earlier I had done the same with 'Mind Blowing Mahiya' and 'Dus Bahaane'. This time, though, the term 'Chamak Challo' came from Vishal, not me. I've to admit Vishal Dadlani is the best film lyricist after Gulzar Saab. Yup, I respect him that much.


You and Shah Rukh part ways now?

For Ra.One? Yes. Then there will be Ra.One 2.In fact Shah Rukh already has the plot worked out till Part 5. I'd like to write a book about working with Shah Rukh.


BOLLYWOOD NEWS - LIVE UPDATES
Catch us for latest Bollywood News, New Bollywood Movies update, Box office collection, New Movies Release , Bollywood News Hindi, Entertainment News, Bollywood Live News Today & upcoming movies 2021 and stay updated with latest hindi movies only on Bollywood Hungama.