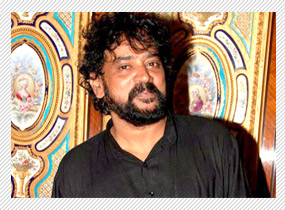 Santosh Sivan remembers his mentor Ashok Mehta…


"I think a lot of what we see in Indian cinema today is attributable to Ashok Mehta. What he did with candles in Shyam Benegal's Trikaal was beyond the imagination of Indian cinema at that time. He brought a certain respect, almost a kind of awe, for cinematography and cinematographers in India. I came into the picture much later. Ashok was a true pioneer. When I started out as a cinematographer, I had two idols, Subrata Mitra who did all of Satyajit Ray's works and Ashok Mehta who never restricted himself to one style or genre. I think that's what I liked immediately about his work. If Ashok could shoot the exquisite 36 Chowringhee Lane, he could also apply his skills and expertise to an out-and-out commercial film like Andar Baahar with equal fluency. He didn't shy away from going commercial. I loved his love for cinema of every genre. He was one of the first people I met when I came to Mumbai for the first time when I was doing the cinematography of Aditya Bhattacharya's Raakh in 1989.


Ashok was very encouraging. He was a friend of Aditya and he would tell Aditya to let me shoot the way I wanted to. For a newcomer in any field, it is very important get the right guidance and encouragement. For me, Ashok Mehta, like Subrato Mitra, was a pioneer and a trendsetter in visual arts. I was a fan of Ashok's work from the time when I was studying at the Pune film institute. His camerawork was extremely innovative in 36 Chowringhee Lane, Utsav and a whole lot of films. His work in Trikaal fascinated me no end. He shot in actual candle light. How did he do that? I sat with him to find out, because in those days there was no way a cinematographer could shoot in natural candle light without losing out on visual sharpness. I remember in Stanley Kubricks's Barry Lyndon there was a lot of candle-lit photography. But that was all done with the support of sophisticated technique. Barry had sophisticated lenses. Ashok never had any such props. Ashok shot in real candle light without the help of artificial light in Trikaal. I don't know how he did it!


The amazing thing about Ashok was that he carried a hard-bound script of Moksha, the film that he eventually directed, from the time I first met him. He had indefatigable energy and tireless spirit until the end. No one and nothing could crush his spirit. We would often run into on another professionally and personally. Curiously many of our most intense discussions on photography took place in the air, during flights. During M F Husain Saab's Gaja Gamini which Ashok shot, I'd often run into him because I was very close to Husain Saab. I later did Husain Saab's Meenaxi and then Ashok would drop in. So you see there was never that edge of competition between us that exists between two professionals in the same field especially when the junior begins to do fairly well for himself. But I was very clear on this issue. Ashok was the Guru. I was the Shishya. I was eager to learn from him. And luckily for me he wasn't secretive about his craft and aesthetics. Whenever we were shooting closeby, we'd drop into one another's sets, check out one another's lighting, shots, etc and be at liberty to make suggestions. Ashok gave me that liberty to make comments on his work. He was very open-minded and kind. You will never hear any of his directors and associates saying anything negative about him. He made everyone he worked with feel special.




And he wasn't snobbish about commercial cinema. On the contrary he extended his aesthetics into commercial cinema, every kind of cinema bore his stamp. I've tried to exercise the same democratic attitude in my cinematography. I've shot The Terrorist with the same passion as Yodha. Ashok never got bored with any kind of cinema. He's a great source of inspiration for cinematographers for generations to come. I am not saying this just because he's gone. I felt and said the same when Ashok was alive. His work has a way of reaching out to people who didn't understand the nuances of cinematography. They'd watch the frames appreciatively and say, 'Ashok Mehta did it'. Recognition is such a strange word. But Ashok's visual mastery was recognized by film institutions, film festivals and by ordinary moviegoers. Visual language, at the end of the day, is universal. Ashok mastered that language and made his art accessible to both connossieurs and commoners. Abroad, Ashok's unusual blend of colours-I'd say a very Indian blend of colours-attracted immediate attention. I feel Ashok and I shared many common experiences and maybe that's why people who understand cinematography compare us. We both understood painting and in fact worked on one film each with M F Husain Saab. We could connect on many levels. I even interviewed him once in Chennai for a documentary. I just came to Mumbai to pay my last respects. I had the greatest respect for him. When I saw that trademark hat of his next to his body I couldn't take it. I fled. I've lost one of my greatest influences. He never made me feel like a junior. He made me feel special even when I was a nobody."


Watch the video: Ashok Mehta's Funeral
BOLLYWOOD NEWS
Catch us for latest Bollywood News, New Bollywood Movies update, Box office collection, New Movies Release , Bollywood News Hindi, Entertainment News, Bollywood News Today & upcoming movies 2020 and stay updated with latest hindi movies only on Bollywood Hungama.