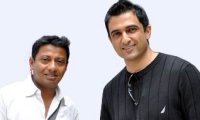 Two strangers. One I met for the first time in 1999. The other I met last week at my house party. Now rephrasing it: Two stories, One interview. Meet the creatively gifted Sanjay Suri and Onir. How can I ever forget my first interview in the year 1999. I recall entering the Trident Hotel a few yards away from the Ahmedabad airport. There he was dressed in a blue chequered shirt on his waist high denims held tight by his black belt saying, "Try and make it look like you aren't acting. Just be real" And real he was with no starry tantrums nor the usual debutant over confidence. So, what's not to love about Sanjay Suri? He's a little bit sharp, a little bit funny, a little bit volatile, and hugely charismatic. Certainly he came across alluring back then. It's 2011 and he still is the same, except his hair. It's more like a 'hair today gone tomorrow' kind of a story. Having said that, he looks dapper than what he used to twelve years ago. Suri, today possesses an air of slick confidence that I haven't noticed in him before. The reason is his film I AM. Produced and acted in the same, Sanjay having spent a decade and more in the wilderness of Bollywood has an honest revelation to make, "I AM is a movement and I am proud of that. I AM started as an idea and it got delivered." But just then Onir delivers, "The passion to make money has surpassed the passion of making good cinema". A fitting reply to one and all, a bitter truth that is eating our film industry from within. Some may find I AM over sentimental or a bit too personal but it does succeed in pulling at the heartstrings, and to all intents and purposes, Onir does prove that he can deliver and how! So get ready to witness I AM come April 29 with brilliant performances in what is an engrossing film - a gripping drama played out against the backdrop of realism and society. And as I set free my last question, Onir's orbit eyes soften, "I don't care about a house, a car or whether I am travelling by a train or a bus as long as I keep making films that I want to because I am what I am - a passionate filmmaker." UK's Harrow Observer columnist and Bollywood Hungama's London correspondent meets the zealous, ardent and devoted film makers Onir and Sanjay Suri and brings you the exclusive excerpts from what goes down as my longest interview ever transcribed. I AM liking this!


I AM independent!


Onir: I AM was something that we started as an experiment. We wanted audience participation right from day one till the day of the release. In a way, I AM has become a movement. In times when people have to say that such films should not be made and are least interested in them, I proudly say that there is actually an audience who puts in the money and makes a truly independent film happen. I AM is a purely independent film and I am proud of that.


I AM a movement!


Sanjay Suri: I AM has become a movement of sorts. Even though I'd like to believe that movement is a big word (laughs). It's also an approach and an attitude to stop the business of always complaining about 'people aren't buying our film', etc. The difference here was that we took action with the help of so many people. If you have a good story to tell, you can make a film. Period! So whether I AM becomes an inspiration for many young filmmakers or becomes a case study of what to do and what not to do, one thing's certain, I have learnt a lot from this process.


I AM passion!


Onir: The snowball effect started from the day we received our first cheque of One Thousand rupees. It was a small amount but it was also a green signal. Within one and a half months, we were shooting our film. What one needs to do is redefine the word commercial. Very often, you have a hundred crore film that loses eighty crores. In what sense does that film become commercial? A three crore Udaan makes fifteen crores or whatever. Is that commercial? Each film has its target audience and so has I AM, as long as it's made within that budget. Today, we have faceless people behind studios who keep changing studios. The passion to make money has surpassed to the passion of making good cinema.


I AM responsibility!


Sanjay Suri: Onir is right. When the only aesthetic in movie making is money, what you get is huge losses. If I may take it a little further, a big responsibility comes in the sector of distribution. Certain films cannot take a burden of worldwide release or even a pan India release. We do not have alternative platforms for such films but in the West, they have emerged. In India, we need to move fast on that.


I AM hope!


Sanjay Suri: I AM has given some ray of hope to people who wanted to enter the industry and never knew how to get in. From within the industry, such things keep happening but I AM taught that nothing is impossible. A film was created out of nothing. I AM started with an idea and it was delivered.


I AM expressive!


Onir: I AM is a dream cast come true for me. The first image that struck me of any woman playing a kashmiri muslim was Manisha Koirala from Dil Se and Bombay. She is one actress who I think is so beautiful. Her face is so expressive. It was a dream to work with her. I couldn't even meet her because she was in the U.S. So I sent her an email with the script. Two days later she sent an email saying that she would love to do it and that she is coming a week before we started shooting.


I AM talent!


Onir: All the actresses, like Manisha, Juhi and Nandita Das are playing thirty plus women in I AM. So I wanted a powerhouse of talent when it came to acting. For the role of Afia played by Nandita, I was looking for an actress who could speak Bengali and had the Bengali element. Nandita was perfect for Afia.


I AM value!


Sanjay Suri: When it comes to I AM, there is a lot of value addition to craft. There is so much that all actors bring on to the script. Not many do that. It's really lovely to see such talented actors coming together under one film. Thanks to Onir, he has made the best choices.


I AM important!


Onir: Casting Anurag Kashyap in I AM was an accident because I had no plans at that time to cast him. By the way, Abhimanyu was the first story in the film that we shot. It talks about the child sexual abuse. But Anurag sent me a message saying that he was really proud of me that I was making such a film and told me that he too wanted to make a film one day on a similar subject. He offered me help and said that he was also sexually abused for six years when he was a child. I called him to seek his help in casting the right actor for the role of an abuser and he said, "I'll do it because this film is important for me."


I AM vulnerable!


Onir: In My Brother Nikhil, Sanjay shaved his head and that was his look. Here, I wanted a certain vulnerable, flamboyant and a 'show off' look. In real life, Sanjay looks like a very nice person and I wanted to break that. His role needed to attract attention and he has and how (laughs).


I AM society!


Onir: What binds these four stories together is that they are different. But I broke them down into basics. One wants to be a mother. One wants to go back home. One wants to be able to love and One wants to be able to talk about his childhood. They are subjected to all these feelings because of society, law and social certain traditions.


I AM intelligent!


Sanjay Suri: Every individual has a different skill set. If we say that filmmakers like Anurag Kashyap and Onir are pseudo intellectuals, we are just slotting them. Yes, they are intelligent but without the word pseudo. One should not undermine anyone's intelligence but also not use it as arrogance. Everyone can add value in their own space.


I AM recognised!


Onir: In Hollywood, independent cinema is really on the rise. It is getting recognized. I AM could've made ten times the news if there was some big banner or a superstar backing our project. Today, even a bad film will have certain publication carrying big articles trying to push the film but it will not put up a small article about how it has got a few awards and recognition.


I AM tough!


Sanjay Suri: Largely, any communication, whether it is media etc., builds perception. Now perception building takes a bit of time if you do not have sponsored news. If you do not have sponsored news, you won't have time to build on a word of mouth film. A King's Speech does well in the overseas but look at the awareness it created after it won the Oscars. Then there was Biutiful that no one bothered to watch. I guess it's our audiences who are very ready at one level but at the other level, they are not. India isn't an easy country to make cinema. It's really tough.


I AM exploring!


Sanjay Suri: I know as an actor, I am very comfortable in doing certain things. But I do not want to be in that comfort zone. I am exploring and I am in search of certain characters and roles. Challenging and coming easy are two different things in acting. Thanks to Onir, he has given me some demanding roles to play. Bas Ek Pal was the best example. But sometimes I feel I am underutilised. I want to go in areas I haven't explored in acting.


I AM thinking!


Onir: It's ironical but I am thinking about my own identity and suddenly this whole awareness of your identity being criminalised in the country you are living in hits you. I don't want to do that anymore. I want to fight against a lot of things as long as I am empowered legally. But it amazes me what kind of society we live in. The one where the police hits you with a lathi if you are spotted at bandstand with a girl? Or the one where the police ignores the so many people shi****g in the open every morning?


I AM searching!


Sanjay Suri: I am searching for quite a lot of things in my life. When I come back to my film, I am at peace with myself. Especially with the I AM Megha story that hasn't been told ever on celluloid. I am saying this without being biased or taking sides. There has been a complete silence for twenty one years as far as the ethnic cleansing is concerned. I am at peace that I am alive now. The strange thing is that I never told Onir about making this story but he kind of knew that this story needed to be told. I AM isn't a docu drama but a personal story of each and every individual.


I AM what I am!


Onir: Today I stand as a passionate filmmaker. For me, the most important thing in my life is to make my films the way I want them to make. I don't care about a house, car or whether I am travelling by a train or a bus. What matters is that I have a film and that is what I am - a passionate filmmaker.
BOLLYWOOD NEWS
Catch us for latest Bollywood News, New Bollywood Movies update, Box office collection, New Movies Release , Bollywood News Hindi, Entertainment News, Bollywood News Today & upcoming movies 2020 and stay updated with latest hindi movies only on Bollywood Hungama.