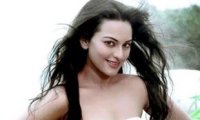 With five releases this year, Sonakshi Sinha, who debuted with the super-hit Dabangg, is in an enviable space.
Now that the first look of Rowdy Rathore is out, Sonakshi Sinha's coy glances and sexy back in a backless choli are grabbing eyeballs. Like they did at the time of Dabangg almost two years ago. Trade analyst Komal Nahta says that she's looking good in the promos and her expressions are very catchy. "She's definitely here to stay," he says. Her co-star Akshay Kumar calls her a puri bhartiya naari, while actor-turned director, Arbaaz Khan who has started filming Dabangg 2, describes her as a 'natural' actress who needs no prodding when performing.
We are on the sets of Dabangg 2 and she's sitting in her vanity van while her hairdresser arranges her long plait. The bright yellow saree, flowers in her hair, a long plait -- the look in the sequel is similar to the one she sported in Dabangg. Except, like she laughs, she lives in a bigger city, and gets to wear better sarees. She is aware that her first film was a box-office winner and all eyes will be on her when her next film, Rowdy Rathore, opens on June 1.
You have Rowdy Rathore, Joker, Son Of Sardar, Lootera and Dabangg 2 releasing this year. Does that make you nervous?
I am very excited because when I sign a film and work on the character I am very curious to see how it will turn out on screen. I am waiting for my films to release. Rowdy Rathore releases first. I feel that I am making my debut once again.
What excites you the most about Rowdy Rathore?
The fact that the film has Akshay Kumar returning to action after a long time and it's a complete masala-action entertainer, Prabhudeva style. I am also excited about my part of this spunky girl from Patna and I have done some nice dance numbers.
He's superb! Prabhudeva just needs to get used to the people around him and then he's hilarious. He has such a good sense of humour and has everyone around in splits. He gave me a chance to do some action in the film and I enjoyed it as it reminded me of my schooldays when I would participate in sports like volley ball, football, tennis, horseriding, etc.
Like Dabangg and now Dabangg 2, you will be seen as a typical Indian girl in ethnic wear in RR. Is the Indian look cramping your style?
I wear westerns for my endorsements and my shows, so if people feel I suit a certain character I don't mind! I am an Indian girl, I have an Indian face and body, so be it. What's wrong with that? I was talking to Preity Zinta the other day, and was telling her how people keep asking me why I play Indian roles and characters that are rooted to our culture. She said that when she started working, filmmakers offered her only roles that required her to wear western clothes while she craved to play more ethnic characters, but no one gave her one till Veer Zaara happened. She advised me not to worry as I was already working with the biggest directors and top co-stars.
You have been quite inaccessible of late.
That's because I am working hard. I have been all over the nation shooting for five films. I don't even have time for my workouts, and it's only the hard work that has helped keep my weight in check.
Now that you are working in big films with top actors, do you get the star treatment at home?
No way, I have double trouble at home and both my brothers still treat me and rag me like they used to as before!
What makes you feel like a star?
I am still the same. Acting is a job that I love, and look forward to going on the sets every morning. Actually the people (parents, friends) around me behave the same as before, so I feel the same too.
How's it working with Prabhudeva?
Were you in awe of Akshay Kumar when you started working with him?
No, I have never been awestruck by anyone except my father (Shatrughan Sinha). He was the only one I was completely in awe of when I was a kid and I used to take his autograph on my hand. I didn't need anyone else. When I was in class seven, Kaho Na... Pyar Hai released and all the girls went crazy over Hrithik Roshan. I also did, but very briefly. But then I have been meeting stars over the years, like Salman Khan is a family friend and my dad was doing a film with Akshay.
How has your dad, who is extremely protective about you, taken to his daughter being a big star?
He is taking his time getting used to the fact that I am very busy working. If he calls me, and I am shooting, or I cannot make it to a family event or a friend function, he goes 'Hmmm, achcha itne busy ho gayi ho'.
From the clutch of films that are releasing, which film does he like?
Of course, dad does not sit for my narrations but before signing a film, I obviously ask him because of the vast experience that he has. He has liked them all because they are all very nice and the characters are in my comfort zone and his as well. He's very happy.
You are working with Salman Khan after a year and a half. Has he changed in any way?
Salman still treats me like he did in during my first film. If I make a mistake, he makes it a point to tell me. He hardly compliments me because he says if he praises me it will go my head. I told him it's not going to go to my head and that I am doing five films now, but no, he won't!
You are his lucky mascot.
If I am it's a good thing, but don't jinx it by saying it.
How come you decide to do a sci-fi like Joker?
After Dabangg, Joker was the best thing that came along. I liked Shirish Kunder's story idea and vision because it was so different, and with a co-star like Akshay it seemed like the next natural step. And then Farah Khan and Akshay were producing it. It was a good learning experience because I learnt a lot about filming a movie to be converted into 3D.
Do you voice your opinion if you don't agree with something in a script?
I don't interfere much in terms of scripts, especially if it concerns another actor's part. If I feel there's something unnatural about my character I voice my opinion.
There is a lot of talk linking you and Ranveer Singh.
Ranveer is not my type. If there are reports it could be because someone is trying to get their film hot. It affects me at times because I am answerable to my parents.
How is he as an actor?
Oh! he's full of energy, and just the opposite of what I am as an actor. He likes to prepare for his scenes and rehearse a lot, you know what you call method acting. He continues to stay in character even when the camera is switched off. I, on the other hand, hate to rehearse and I switch off with the camera. It makes for an an interesting combination and it shows on screen. Director Vikramaditya Motvane is happy with both of us in Lootera.
You have worked with mature actors like Salman, Akshay and a relatively newcomer like Ranveer. Is there any difference between them?
There's a big difference. The established ones like Salman and Akshay don't take their work or stardom too seriously and are generally very chilled out. I like that about them and have imbibed that attitude. Like them I don't feel that I am in a race and I don't have to prove myself by showing a person down.
The younger lot are competitive and too much into their work as they are trying to make a gain a foothold in the industry.
Do you regret missing out on working with Kamal Haasan in Vishwaroopam and working in Race 2?
No, I am sure I will get a chance to work with him again. And I always believe whatever happens is for the best. I get offers from the South and I would like to do a film in another language, like a Telugu, Tamil or Bengali, but as of now my dates are a problem.
Is it true you were sceptical about doing Once Upon A Time In Mumbaai 2 as you did not want to do another film with Akshay?
Nothing of that sort. Milan Luthria must have seen our chemistry on-screen and cast us together again. And then I am also opposite Imran Khan in the film.
What do you enjoy most about your work?
I enjoy travelling. I have seen some of the most exotic places in India while shooting for my films.
What is happening to your family's production company?
My brothers will definitely do something with our production company when they are ready with the right package, in terms of a good script and director, and I would love to be part of it. Actually a lot of star kids start with their production that way but I have taken the ulta rasta.
How much does your fashion background help you, as you are constantly in the public eye?
Looking a certain way and dolling up is the least of my priorities right now. When you are working, you come home so tired that you barely want to go out. It's a pain to work on yourself and pose for the cameras. I like being casual. To dress up is a big task. But if there is an occasion, I have my designer friend and together with my inputs we put something together.
How do you feel when you see yourself on screen?
I feel weird. I don't think I will ever get used to it. I still feel a bit strange. But I guess it does not matter if I like myself or not, people should like me.
How do you react to rumours in tabloids?
I have stopped reading my interviews because journalists write the opposite of what I say. So much of it untrue. I don't even want to clarify it and now I don't even care.
Do you enjoy performing on stage?
I love it! The energy on stage is so different and I love doing the filmi dance, which is the only dance I know. I remember I tried to learn Odissi when I was young. It required a lot of squatting and I was too fat to do it and I would come home crying every day telling my mom I didn't want to do it. I learnt Kathak four years back and I enjoyed it. But I got bored. I like to keep doing different things as I get impatient.
Would you like to be part of niche cinema?
I would love to, but I have been in the industry for only one year and a half and I still trying to find a foothold here. I would say Lootera is a niche film because it's something really different.
BOLLYWOOD NEWS
Catch us for latest Bollywood News, New Bollywood Movies update, Box office collection, New Movies Release , Bollywood News Hindi, Entertainment News, Bollywood News Today & upcoming movies 2020 and stay updated with latest hindi movies only on Bollywood Hungama.