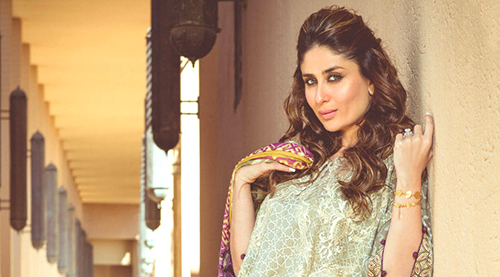 Kareena Kapoor is someone who lives life on her terms and does not mince words when it comes to calling a spade a spade. It is this very Kareena Kapoor, who is now all set to go unconventional with her upcoming film Ki & Ka, in which Arjun Kapoor plays her love interest. For the uninitiated, Ki & Ka is a film that is about breaking gender stereotypes that has Kareena Kapoor playing the 'Ki' and Arjun Kapoor playing the 'Ka'.

Satish Sundaresan of Bollywood Hungama caught up with this livewire actress for a freewheeling interview. Here are the excerpts.

Kareena, to start with, what was the first thing that attracted you to the script of Ki & Ka?
It was the concept and the fact that Balki was making a totally different kind of love story. Generally, any boy would say that he wants to be like his father. But, in Ki & Ka, the boy says that he wants to be like his mother. That is one of the many things that make the film different from other films.

Do you relate to your character Kia in the film?
Yes, I do relate to Kia because, she is married, independent, working and very much a modern girl of today. She is someone who follows her dreams and ambitions. And, at the same time, she is in an amazing relationship with Kabir (Arjun Kapoor), a guy who has no ambitions in life! My character Kia is extremely supportive of Kabir who doesn't want to be a corporate psychopath, but, would rather want to be at home. You will have to see the film to understand the concept.

If one goes by the film's title Ki & Ka, it is you ('Ki') who precedes Arjun Kapoor ('Ka'). Does your name precede Arjun's name in the credits roll as well?
Yes. But then, that's because, seniority wise, I have done lot more work than him. But, I don't mind if they write Arjun's name before mine (laughs heartily).

Did you discuss this film's unique concept with Saif Ali Khan? If yes, what was his reaction?
Yes, I did discuss the film with Saif and he said that it was absolutely fine for me to do the film. He said 'You need to be the modern woman that you claim to be'.

How much do you have a say in any film's casting?
I never have a say during the process of casting. I look out for my role and the script, as, for me, that's most important. I am not interested in who is acting in the film etc… I think, maybe that's why; I am one actress who has worked with every possible actor.
Ki & Ka is a film that talks about gender differences (in reel life). In your opinion, do you feel that the gender differences exist within the industry in real life?
It's a very male dominated industry and the box-office numbers are driven by the Khans. But, now, things are changing. A film like
Neerja
has done so well because it had an amazing script.
Anushka Sharma had once said that the hero always gets the best room (vanity). What's your take on that?
Well... if he is a gentleman, he should definitely offer his heroine the better room.
Have you ever come across such a situation?
I haven't gone to see my heroes' rooms. So, I really don't know (laughs uncontrollably).
This year has seen many celebrity break ups. Do you think stardom takes a toll on celebrities who are in a relationship?
I feel, in any relationship, one has to take time out to nurture it. You just cannot say that you don't have time.
When will you break your promise and join any social networking sites like Twitter etc..?
NEVER! Imagine people are wishing each other on Twitter. I get to read in the newspapers that people are wishing each other through the social sites, which I am not at all in favour of.
Is there a deliberate reason as to why you don't want to be a part of social networking sites?
I would want to pick up the phone and call somebody whom I want to speak to, rather than just communicating with that person through social networking sites! For me, speaking directly to the concerned person is more personal. At the same time, I would like to use Twitter to spread awareness about what's happening in and around the world. Let me also tell you that, my presence on Twitter is taken care of, by my millions of fan clubs which are present. They (my fans) are extremely protective about me and will 'bajaao' anyone who says anything wrong about me. (laughs).
There's a lot of buzz around your next film Udta Punjab. Can you tell us more about your character?
Udta Punjab is a drug drama film, wherein I am playing a doctor. Besides this, I cannot reveal anything else. While Ki & Ka is more quirky and real, Udta Punjab is dark and intense.
What is the status of the film Baadshaho?
I am not doing the film. I really don't know where these rumors originated from!
Lastly, what's your take on the Katrina-Ranbir break-up?
I think it's a very personal issue and I don't get involved in anybody's personal life, as a rule.
BOLLYWOOD NEWS
Catch us for latest Bollywood News, New Bollywood Movies update, Box office collection, New Movies Release , Bollywood News Hindi, Entertainment News, Bollywood News Today & upcoming movies 2020 and stay updated with latest hindi movies only on Bollywood Hungama.