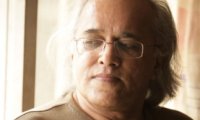 Acclaimed British novelist and screenwriter Roald Dahl once quoted, "When you're writing, it's rather like going on a very long walk, across valleys and mountains and things, and you get the first view of what you see and you write it down. Then you walk a bit further, maybe up onto the top of the hill, and you see something else. Then you write that and go on like that, day after day, getting different views of the same landscape really. The highest mountain on the walk is obviously the end of the story, because it's got to be the best view of all, when everything comes together and you can look back and see that everything you've done all ties up. But it's a very, very long, slow process."


And that's exactly what our acclaimed Indian screenwriter Kamlesh Pandey incorporated, or as I say, he must've overheard Roald. One of India's finest story tellers has just got one of the finest stories to tell in the form of Prakash Jha's Aarakshan. In the words of Kamlesh Pandey, "Aarakshan, currently being directed by Prakash Jha, starring Amitabh Bachchan, Saif Ali Khan, Manoj Bajpayee, Deepika Padukone and Prateik Babbar, is based on Kamlesh Pandey's story."


The writer was very open about his interpretation of the story, and the heavy research that went into it. "This isn't a film of fiction; it's based on concrete material that was revealed via my intense research which went into Aarakshan. I found this strange fact when I was researching the story in Varanasi and met some of the boys", he tells me.


Kamlesh Pandey further reveals, "Aarakshan exposes for the first time that the mafia in UP is a direct consequence of the reservation policy introduced by ex-prime minister V.P. Singh in late 80's. What happened was that the 30% reservation cut down the chances of bright, intelligent upper caste boys of UP who were preparing for their IAS, IPS, IFS and other high profile civil service jobs. UP has always dominated in IAS, IPS and IFS exams. Since there are virtually no industries in UP, these civil service exams were the only career option for talented boys and girls. Most of these boys were upper class Brahmins who helplessly saw their career opportunities go to other, lower castes due to reservation. Since they came from educated upper castes, business or trade was not in their DNA."


On hearing some revealing truth about the film, I ask one of the most important questions to Kamlesh, "And who plays what in Aarakshan?" To which Kamlesh quotes, "Amitabh Bachchan plays a teacher who has a daughter played by Deepika Padukone. Prateik has a small but a significant role in the film whereas Manoj Bajpai plays a local goon. But what's interesting is Saif's character, who is a student joining the mafia. After Omkara, this is Saif's yet another role that'll possibly get him accolades."


Pandey promises that Aarakshan is a film to look out for its honesty and disquieting truth, "Aarakshan also brings into limelight the education system of our country. Bright and deserving students had no option but to turn to crime like extortion, etc. That's why the UP mafia is full of Shuklas, Mishras, Tiwaris, Dubeys and Pandeys."


And then the joke, "I am not one of the Pandeys", he laughs out.


He further gets serious and says, "The brilliant boys who could have been IAS, IPS and IFS became the mafia. This is the main difference between the Mumbai mafia which consists of mostly illiterate goons, and the UP mafia who are very literate - most of them graduates and post-graduates and some even PhDs. Those who could have used their qualification in serving the country started using their qualifications for crime."


Well, this is a clear indication that Prakash Jha's Aarakshan will be yet another grim, dark and a startling look at our education system that leads to crime in one of the most feared states of India - UP.
BOLLYWOOD NEWS
Catch us for latest Bollywood News, New Bollywood Movies update, Box office collection, New Movies Release , Bollywood News Hindi, Entertainment News, Bollywood News Today & upcoming movies 2020 and stay updated with latest hindi movies only on Bollywood Hungama.