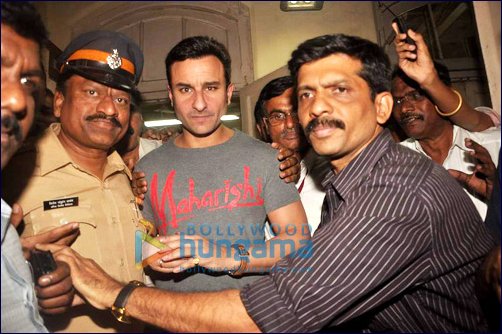 >
Saif Ali Khan surely is truly a Nawab with his own style and panache. The actor, who was arrested and taken to Colaba police station yesterday following an FIR complaint, was seen sporting a grey T-shirt which had the word 'Maharishi' written on it.
It does require some guts or should we say irreverent piece of thinking to wear a T-shirt saying 'Maharishi' when you have been accused of assaulting somebody. We couldn't help but share these funny pictures with you and would like to know what you think of it.
Go ahead and let your creative juices flow and come up with a wacky caption for these pics. You may post in your feedback in the comments section below:
Check out the video: Saif 'Slapgate'... Publicity Stunt Or Reality?