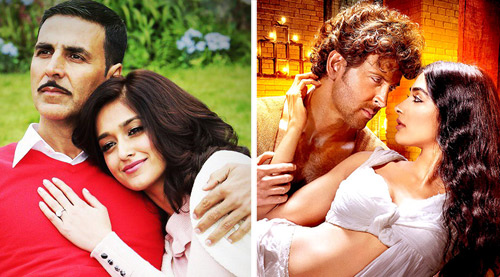 Rustom races towards a century (Rs. 100 crore nett collections) after crossing Rs. 75 crore in 5 days, decimating Mohenjo-Daro from the box-office sweepstakes. The corresponding figures are around Rs 40 cr., though the budget is about or more than double of Rustom's Rs. 50 crore!
The B-O performance of Rustom has proved superior to all Akshay Kumar films until now. Was this because it had a weak opponent on a holiday weekend? If so, what makes for a weak opponent? Let us analyze the films on the vital aspects that make or break any movie.
Audience Preferences
This is perhaps the first-ever time that a film with about 300 lesser screens has scored over a bigger screen-count film (Mohenjo Daro touched over 2600 screens against 2317 for Rustom). Part of the difference could perhaps be explained because Mohenjo Daro had more single-screens (as part of UTV's deal). But, this alone does not explain the chasm in the collections. By day 2, Rustom made Rs 30. 54 crore, and coincidentally, this was the exact figure notched up by the other film-but in three days!
The long weekend helped Rustom, but could not salvage Mohenjo Daro. On Day 5, the first 'normal' weekday, the former film notched up Rs. 7.67 crore as against Rs. 3.10 crore for the latter. Conventionally, it is believed that a hit to super-hit movie should make more than half of its opening day collection (Rs. 14.11 crore) on the first working day (in this case Tuesday) after the opening weekend. The former film passed the test, though this time it was day 5, not day 4.
Overall, the audience went totally towards Rustom. And why was that? Apart, that is, from the innate instinct it has always had for smelling a good movie, and even more so, a bad one. For starters, the August 15 weekend is about patriotism, and post-Namastey London, Holiday, Gabbar Is Back, Baby and Airlift, Akshay Kumar is the consolidated icon of desh-bhakti.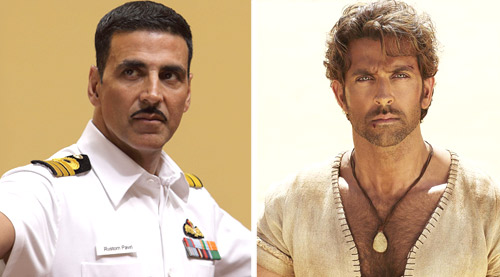 Marketing & PR
Rustom was shrewdly projected as a film with patriotic overtones, whereas in actual fact, there were only patriotic undertones in it. The trailer was designed in that fashion as well, released without fanfare, and created the right hype for it. As Akshay Kumar stated, they saved a lot of the exorbitant money normally spent on marketing and PR as the people now knew what the film was about, that it had a suspense element and-most important-that they wanted to watch it!
The reverse buzz was generated by the other film, which was set in 2016 B.C. and the trailer created a confused and thus negative vibe. The haphazard promotions failed to enthuse, and the film was already perceived as a weak product trying to ride only on Hrithik Roshan's superstardom with nothing else exciting in it. Interestingly, Hrithik Roshan barely met the Mumbai media, but for a few leading names. Was this over-confidence on the part of the producers? We hope not!
Superstardom
It is axiomatic and been proved hundreds of times over decades that no star, however big, can take a bad film to success-and, at best, a superstar can make a disaster a mere flop, or convert a potential flop into a break-even film. It is the film and its content that makes an actor or actress, never the reverse!
And it was the same situation here: against Akshay Kumar's positive new image as a patriotic film hero, we had Hrithik Roshan cast in what seemed like a routine and vague romantic-cum-emotional- cum-action role. Both are very good actors and powerful superstars, and both can, performance-wise, rise above a film. And so, Akshay Kumar rose over even a decent film, converting a success into a hit and giving a powerful performance, whereas Hrithik Roshan was in the position Shah Rukh Khan was in Fan-it was finally a waste of their (admirable) effort in a project that was just not worth their time! But no matter what the outcome, they still remain superstars even today.
Lucky days, solo & clashing releases:
Those who (as it turned out, rightly) predicted doom for Mohenjo Daro on the day it was announced, had their worst fears realized after watching the film. The audience too, discovered that this was just another potboiler film of revenge, love and duty, only set in India's pre-historic era! In effect, this tale could have been told equally well or badly in any period between 2016 B.C. (in which it was based) to 2016 today!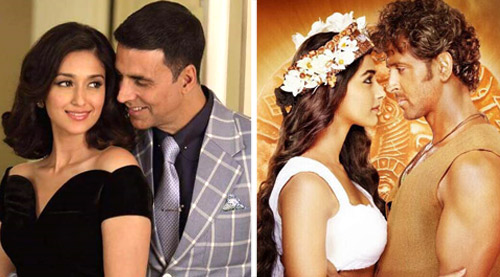 A long weekend, that too near Independence Day, is always looked at as a booster for the box-office. But had the film not foolishly decided to clash with Rustom, it would have perhaps fared a bit better on Hrithik's star-power. Rustom, obviously lost some money too, but, with the other film being a loser from concept to execution and marketing, it managed to score high and almost crushed the other film.
Idealists within the trade and industry always feel that clashes of big films should be avoided. To a good extent, that is true. Gowariker had already come off second best to Gadar-Ek Prem Katha with Lagaan 15 years ago, and he should have known that subjects work, not superstars. Interestingly, as with Rustom and Mohenjo Daro, both the earlier films were also period dramas, set 55 and over 100 years ago respectively. This time, it was 55 and 4032 years respectively!
Also, the only clash during which films did comparatively similar business was in Christmas 2007, when Taare Zameen Par at Rs. 60 crore was just a wee bit behind the more expensive Welcome at Rs 70 crore.
Cinematic Calibre
An issue-based film like Rustom that tackled infidelity, a naval scam and a courtroom drama set interestingly against the novel backdrop of the jury system (that existed then in India) with all the charm of a naval background would need complete non-talents in writing and direction to mess it up, especially when it intertwined three real stories into one. This, happily, did not happen.
On the other hand, Mohenjo Daro was nothing but a burst of fervid imagination from the makers and writers, who indulged in a screenplay 30 to 40 minutes too long for the material, with absurdities and incongruities galore. Viewers ended up deriding the content, unmoved by the exorbitant resources spent in making the 'grand' film, including the tacky VFX.
Music always has been another big factor in imparting a basic appeal and an alluring sheen to any film.Rustom's music was no classic, but 'Tere Bin Yaara' added to the allure with its emotion-laden lyrics and catchy tune. Mohenjo Daro, on the other hand, had songs that just did not register, forget helping the film.
In the final analysis, for an Akshay Kumar film, Rustom made history, while the other film was consigned to it.
BOLLYWOOD NEWS
Catch us for latest Bollywood News, New Bollywood Movies update, Box office collection, New Movies Release , Bollywood News Hindi, Entertainment News, Bollywood News Today & upcoming movies 2020 and stay updated with latest hindi movies only on Bollywood Hungama.