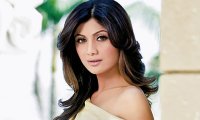 Shilpa Shetty is one person who needs no introduction. The actress with a million watt smile started her career with Baazigar and since then
>
she has come a long way. She won Celebrity Big Brother UK and became one of the most popular faces in UK, she has her own perfume line S2, owns IPL team
Rajasthan Royals, a chain of spas and much more. She is happily married and busy with her business ventures and endorsements.
The glamorous actress has just finished shooting for a new music video called Bollywood Ki Star on Rishi Rich's label with Romy Shay, a UK-based
singer, who is also a relative of her husband Raj Kundra. She talks about her new music video, venturing into the real estate, her film The Desire- A
Journey of A Woman and more.
Bollywood Ki Star is your first music video for a private album in your 18 year acting career.
Yes, this will be my first music video for a private album. It is a Rishi Rich, Mumbai Rouge and Vee Breezy production. It is sung by Romy Shay who is very
talented and hardworking.
How did you get the offer to be a part of Bollywood Ki Star?
Romi is my sister in law's brother in law, I don't know if you got that (laughs). He is a part of the family and I was told that he sings really well. We
just met once and he told us that he got signed up by Rishi Rich and had just recorded his first song. He then played the song and I loved it and I said "My
God! This is a fab song!" and he was like you know it's called Bollywood Ki Star and I can't think of casting anyone but you. He requested me to do it
and I was more than happy help him.
Are you done shooting the video?
We just shot the video in London. The video is shot by Andy Morahan, whose credits include working with Michael Jackson, George Michael and Guns and Roses.
He is a very big name in Hollywood.
What is the concept of the music video?
The concept is very sweet, it is about this guy who is thinking about this Bollywood star (played by Shilpa), and he talks about how he likes the way she
walks, he likes the way she talks. In the climax of the video his wish gets fulfilled when I actually come and meet him.
Tell us about your experience of shooting the video.
I enjoyed working on the video. The shoot went really well and I had a great time. The video is very apt and matches with my personality. All I can say is
that Romy's the rockstar... I'm the Bollywood star and Rishi Rich is the star maker! It's a star endeavor.
What genre of music is it?
I don't know what genre you can put it in. It is more like Indie Pop.
What are you wearing in the music video?
I play my self, a Bollywood actress and have three different looks in the song. I am styled by Dolce & Gabbana.
You have also forayed into the real estate sector and launched a website
We have launched a website called www.grouphomebuyer.com. It is our first venture in the e-commerce business and is a very interesting one because for a
change I am trying to not just make money but also help people. It is all about group home buying, when you buy things in bulk you definitely get a discount.
So it is wholesale buying and basically making real estate buying easier for people by saving their time and money. It has been received really well and we
have got a really good response from the people.
Your upcoming film The Desire- A Journey of A Woman is winning laurels globally, you even got nominated in the Best Actress category at the New Jersey
Independent South Asian Cine Fest (NJISACF)
I am very excited for the film. I don't hype the film that much before the release, I want people to see it and decide for themselves. It is a tailor made
role for me as I play the role of a dancer in the film. I am very grateful to God that I got the opportunity to play such a beautiful role. I am happy that
all those who have seen the film in the international circuits have liked the film and are really appreciating my performance in the movie.
The film also won Best Production by a Woman
Producer…
Yes, my mother won that award and I am very proud of her. I think she really pulled it off. There was a point when the film wouldn't have been released. I
honestly never told her to produce it, but she believed in the film. She really liked the script and thought that it will do well. She put her heart, soul
and faith into it. She is still managing everything single handedly. I have given her no help...poor thing. So I am very, very proud of her, she really
deserves it.
When is The Desire- A Journey of A Woman releasing in India?
Well that is a question that has to be directed to the producer (laughs). I haven't discussed it with mom but she definitely wants to market the film well.
She doesn't want it to release in a time when all these big films are releasing. She wants a good date so she will release it as an when she feels that time
is right.
What about your film The Man with Sunny Deol?
The Man got shelved unfortunately.
Any new films or endorsements that you have signed?
No new projects but I am still doing endorsements. In fact I just signed on a couple of endorsement deals but I can't talk about it.
What about the party you were planning to throw Shane Warne and Liz Hurley to celebrate their engagement?
They are both lovely people and are very happy to be with each other. I am really happy for them, but unfortunately I can't throw any parties now as my
husband's mama is very ill. We have even cancelled our Diwali party. So no celebrations for us.